A Life Apart Reader's Guide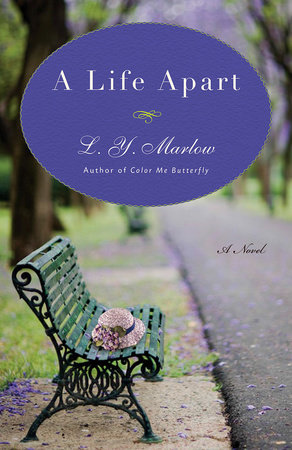 A Life Apart Reader's Guide
READERS GUIDE
We hope you enjoy this discussion guide for A LIFE APART by L.Y. Marlow.  Please note that L.Y. loves supporting book clubs and is available to join book club discussions of A LIFE APART or COLOR ME BUTTERFLY by phone or SKYPE.  To learn more, visit the book club info page on her website: www.LYMarlow.com
Introduction
From the author of Color Me Butterfly, a poignant novel about a decades-long love affair and the complicated and unbreakable ties between two families that live worlds apart. 
Morris Sullivan joins the navy in 1940 with a love of ships and high hopes. Though he leaves behind his new wife, Agnes, and their baby daughter, he is thrilled to be pursuing his lifelong dream—but things change when he is shipped off to Pearl Harbor when the war begins. When he narrowly survives the 1941 attack thanks to the courage of a black sailor he doesn't know, Morris is determined to seek out the man's family and express his gratitude and respect. On leave, he tracks down the man's sister in his own hometown of Boston—and finds an immediate and undeniable connection with the nurturing yet fiercely independent Beatrice, who has left the stifling South of her upbringing for the more liberal, integrated north. 
Though both try to deny their growing bond, their connection and understanding is everything missing from Morris's hasty marriage to his high school sweetheart and from Beatrice's plodding life as she grieves the brother she has lost. At once a family epic and a historical drama that brings the streets and neighborhoods of Boston vividly to life from World War II through the civil rights era to the present day, 
A Life Apart
 takes readers along for the emotional journey as Morris and Beatrice's relationship is tested by time, family loyalties, unending guilt, racial tensions, death, and the profound effects of war.
Questions and Topics for Discussion
1. The introduction opens with "You may think I got no right to be here, no right at all." What do you think was meant by these words and what significance did it have on the story?
2. The book begins with the bombing of Pearl Harbor. What did you think about how Morris's life was saved by Robert, the young black sailor, and how this incident changed the course of Morris's life?
3. What did you think about Morris and Bernard's friendship, and the way the black soldiers were segregated from the white soldiers, and the impact it had on Morris and Bernard's relationship?
4. When Morris first meets Beatrice, why do you think there was such a profound connection between them, especially given a time when interracial relationships were frowned upon?
5. What did you think about the letters between Morris and Beatrice and Morris and Agnes? Do you think they revealed what he felt about both women? Why do you think the author chose to use the letters?
6. How culpable was Beatrice in the pain that Morris caused Agnes? How much do you think she blamed herself for the hurt they caused Agnes and their daughters?
7. Why do you think Agnes was so enamored with portraying the perfect family?   Do you think she knew about the love affair between Morris and Beatrice?
8. When Morris brings Sam and Sadie Mae to meet Agnes and Emma for the first time, do you think Agnes was right to throw them out of her home and heart?
9. What did you think about the relationship between Sam and Sadie Mae and how they viewed their differences, especially Sadie Mae?
10. Why do you think Beatrice agreed to help Morris take care of Agnes? Do you think that this was wrong for her to do? 
11. What did you think about the friendship between Agnes and Beatrice? And the power of forgiveness?
12. Do you think you could forgive a person given the same circumstances?
13. Do you think Morris regretted his choices that ultimately hurt two families? If so, how did he portray his remorse? 
14. How does the book portray interracial love affairs, which were taboo during that time? Were there any scenes in the book that resonated most with you? 
15. How do you think blended families affect our society today? Do you think it's more accepted today, then it was during that time? 
About this Author
L. Y. MARLOW
 is the author of 
Color Me Butterfly
 and the founder of Saving Promise, a national organization dedicated to raising awareness of and preventing domestic violence. She lives in Maryland.
Back to Top