Tell the Wolves I'm Home Reader's Guide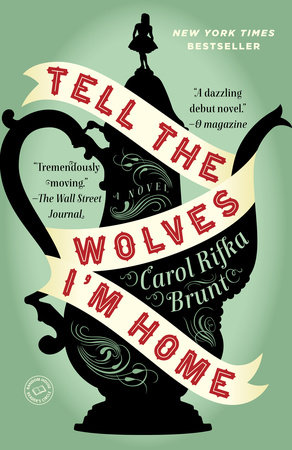 Tell the Wolves I'm Home Reader's Guide
READERS GUIDE
Tell the Wolves I'm Home, A Novel by Carol Rifka BruntA Reader's Guide
A Conversation with Elin Hilderbrand and Carol Rifka BruntELIN HILDERBRAND
lives on Nantucket with her husband and their three young children. She grew up in Collegeville, Pennsylvania, and traveled extensively before settling on Nantucket, which has been the setting for her eight previous novels. Hilderbrand is a graduate of Johns Hopkins University and the graduate fiction workshop at the University of Iowa.
Elin Hilderbrand:
I am always asked at the start of every interview where I get my inspiration for each novel I write.
Tell the Wolves I'm Home
is a beautiful, haunting story about a young girl dealing with the death of her uncle from AIDS. What was the seed of thought that got you started?

Carol Rifka Brunt:
I've found over the years that if I'm truly immersed in writing fiction—even if it's a story that isn't working at all—the subconscious starts to offer up its secrets. I was working on some short stories when the image of a dying uncle (I had no idea it was AIDS at the time) painting a final portrait of his niece came to me. I could see the apartment; I could sense the reluctance of the niece. I could also sense that there was a much bigger story behind what I understood initially. Usually, if a scene or idea keeps coming back to me over the course of months (or sometimes even years) there's something there. There's something nagging to be worked out. That was very much the case with this idea. I had several unsuccessful shots at writing the scene, until one day June's voice was there and I knew I had my way in: I'd hit on the heart of the story.
EH:
It's not unusual for an author's debut to be a coming-of-age novel—and yet it's also hard to make this kind of story fresh and original. Were you conscious of this as you wrote? What is your favorite coming-of-age novel and how did that book influence you?

CRB:
I actually didn't think of this as a coming-of-age story for a long time. I saw it more as an unlikely friendship story between June and Toby. Since June is fourteen, and the events of the novel are life-changing, the novel automatically becomes a coming-of-age story. In fact, it seems every novel with a teen narrator is labeled coming-of-age, and I'm not sure if I fully agree with that. It has the effect of ghettoizing all teen-narrated stories. If the same events happened to a slightly older narrator, the book would just be called fiction. I actually had to go back and make the coming-of-age element more apparent because it really wasn't a big part of my way of thinking about this novel.
June's voice was there right from the start, so I always knew it would be narrated by a teen. To use a teen as the lens to see AIDS in the eighties wasn't something I'd seen before, so I didn't worry so much about freshness or originality. If you always see your characters and their places and concerns as individual and specific, then I think you will always end up with something unique. As soon as you start thinking about the work and characters in terms of labels—such as "teen" or "coming-of-age"—that's when you risk slipping into more stereotypical territory.
After all of that, I have to admit that a lot of my favorite books are coming-of-age stories. I love
Skellig
by David Almond,
How I Live Now
by Meg Rosoff,
Harriet the Spy
by Louise Fitzhugh,
The House on Mango Street
by Sandra Cisneros, and
The Bluest Eye
by Toni Morrison. I always say that every book I've ever read influences my writing in one way or another. I really hoped to create a book with emotional resonance, something readers would connect to, and the novels I've mentioned all do that very well. They were a real inspiration in that way.
EH:
One of my favorite things about Tell the Wolves I'm Home is the setting in time and place—New York City and its bedroom communities in the 1980s during the height of the AIDS epidemic. Your details are keenly observed. What kind of research did you do?
CRB:
The one thing I didn't want to do was write an autobiographical first novel. Let alone an autobiographical coming-of-age novel. Such a cliché! And yet, as I started writing, the gravitational pull of my own place, my own time, seemed to become irresistible. I started with an idea that was entirely not autobiographical and inch by inch it dragged me back to Westchester in the eighties—the place I grew up, the place I lived when I was June's age. So, to answer your question, I didn't do very much research at all into time and place. Writing can sometimes work like a time machine. You think you don't remember the fine details of a place from your past, but as you write the most surprising things come out. Things like a Fred Flintstone grape jelly jar drinking glass or Bonne Bell lip gloss. Things you never knew you still stored in your brain.
Once I understood that AIDS was the illness Finn had, New York in the eighties felt like the best place I could set it. Once I came to terms with writing about a place I knew, it became such a liberating thing. I was able to really inhabit the setting in a way that allowed it to be a seamless part of the whole story.
EH:
One of the most interesting relationships in this novel is the one between June and her sister Greta. The sister relationship is nearly always an emotional tango—complicated and lovely. Can you talk a little bit about how this relationship developed for you over the course of writing the book?
CRB:
I'm very much an organic writer in that I don't know a lot about how the story will develop until I get there. Greta started off as the cruel older sister. I really enjoyed writing her mean, quippy dialogue, but I didn't know if or how she would redeem herself over the course of the book. Getting Greta's storyline right was actually one of the most difficult aspects of writing this novel. She's self-destructive, mean, and—although talented and successful in so many ways—clearly struggling with herself. I always knew I wanted to avoid a big "Ta-da!" moment where Greta revealed some external reason for being such a tortured soul. I didn't think this novel could take an announcement of pregnancy or an affair with a teacher (quite a few readers have said they wondered about Greta and her drama teacher) or any other "big issue" kind of rationale for her behavior. There was no way there could be enough room in this book to do anything like that with the depth and justice it would deserve, and it would have swung the story too far away from the one I wanted to tell. What I did remember so clearly from when I was a teen was how the smallest of problems could seem hugely magnified. So, rather than one big reason for her behavior, I wanted Greta to suffer from a slow mounting of smaller situations. More erosion than explosion.
Although Greta always knows more than June, I think June is the wiser one. She despises Greta at times, but underneath it we still see how much she cares for her. At times it's frustrating to see. I think as a reader you want to tell her to give up on Greta, but she can never quite do it.

EH:
I love how June's parents are reminiscent of the teacher in the Charlie Brown cartoons—they are a bit like wonky voices heard from offscreen for most of the book. June and Greta are left to largely raise themselves. And yet, at the end of the novel, we learn more about how June's mother was emotionally tied to her brother. She struggles with accepting Finn's homosexuality, lifestyle, and love for Toby. What was it like to write from the point of view of a character who is initially so intolerant?

CRB:
I've had feedback from readers who have said that they really disliked Danni. That they thought she was responsible for all the hurt in the story. I never felt that way about her. I loved all of the characters in
Tell the Wolves
. Danni's jealousy never felt anything but human to me, something that anyone could feel. This may not come across fully in the novel, but I never thought Danni really had a problem with Finn's homosexuality. In my mind, she used that as a way to hurt him, to redress the sense of abandonment she felt when Finn left her behind all those years ago. By forcing him to exclude Toby from his relationship with Greta and June (on the pretense of not wanting to expose her daughters to that kind of "lifestyle") she's able to wield a small amount of power over him. To me, it always felt like a sad and desperate thing to do, rather than a fully cruel thing. "You can't have everything," she says in the book, and she wants to make that true for Finn, the way she felt he had made it true for her. Unfortunately for Toby, he ends up as a pawn in all of this. He's the one who ends up hurt the most by her actions.
EH:
Your use of Finn's painting, and the ways the girls amend, are nothing short of brilliant. What is your background in art? How did you get the idea to use the painting as a form of dialogue between people who couldn't speak to one another honestly face-to-face?
CRB:
I always wish I had a better answer to questions like this, but, again, the whole idea of the painting being visited by the two girls was such an organic thing. As a writer, you're always asking, "What if?" I knew as soon as Greta was handed the other key to the safety deposit box and dismissively said she'd never visit that she wasn't telling the truth. What if they're both going down to see the painting? What if they're both trying to leave their mark there? The idea of using the portrait as a way for the girls to "speak" to each other sprung from those initial thoughts. The portrait almost functions like a continuing version of Finn—a beautiful and beloved thing that both pulls the sisters together and tears them apart.
I also wanted to give the book a slightly magical feel. The portrait and its vault, like the basement space in Finn's apartment building, and the woods at night, all have a little bit of that sense. They are places and objects that are real in the story but function a little bit outside the world of true realism.
As for my background in art, I can't really claim much beyond spectator status. I took as much art as I could in high school, but I can't say I was very good. The idea of negative space is something I remember from my high school art teacher, actually. While writing
Tell the Wolves I'm Home
, I made several trips to the National Portrait Gallery in London just to look and get a sense of where the power comes from in the best portraits.
EH:
Who are your favorite authors? What are your reading habits?
CRB:
I seem to have about seven or eight books on the go at any one time. Of those, I might finish two or three. Favorites are always shifting and changing, but over the last few years it seems that a lot of my favorite books have been nonfiction.
The Immortal Life of Henrietta Lacks
by Rebecca Skloot,
Nothing to Envy
by Barbara Demick,
The World Without Us
by Alan Weisman,
Stuart: A Life Backwards
by Alexander Masters, to name a few.
EH:
Tell the Wolves I'm Home
is a triumph. I love being excited by an author's debut work, because most times the writing only gets deeper and richer. Are you working on something new?
CRB:
Thank you very much. Tell the Wolves started out as a very short story. As soon as I finished I knew there was a lot more to tell. Right now I'm working on a number of short pieces, one of which feels like it's headed in the same direction. It seems I need to trick my brain into writing a novel. I wish I were the type of writer who could come up with a solid outline and write from there, but it seems I'm the sort who needs to make many, many false starts before finding the real story. It's a pretty slow process, but along the way there are so many unbelievably satisfying "Aha!" moments: wonderful little epiphanies when a character's motivation becomes achingly clear, when a line of dialogue becomes suddenly loaded with meaning, when my conscious mind realizes what my unconscious was doing all along—that I'm not sure I'd really want to do it any other way.
Questions and Topics for Discussion
1. Toby initiates a relationship with June that necessarily involves secrets kept from her parents. Can this ever be right? Is it ever okay for an adult to have a secret relationship with a child, even if it's formed out of the best of intentions?
2. Every relationship in the book is tinged with jealousy and/or envy. How is this played out in each of the relationships? Can jealousy ever be a positive thing? Does loving someone too much always lead to jealousy?
3. How do you feel about Danni, June's mother? How much is she to blame for the events in the book?
4. What did you make of June's special feelings for Finn? Have you ever felt the wrong kind of love for someone in your own life?
5. "The sun kept on with its slipping away, and I thought how many small good things in the world might be resting on the shoulders of something terrible" (page 233). How does this speak to the events in Tell the Wolves I'm Home? Can terrible things like AIDS result in good?
6. "You get into habits. Ways of being with certain people" (page 206). Toby says this to June when they're talking about her relationship with Greta. Many sisters (and brothers) have fractious relationships as teenagers, then grow up to be friends. Do you think that will be the case with Greta and June? Have you had an experience like this with your own sibling(s)?
7. If you remember the late eighties, do you remember anything about your perception of AIDS and the fear surrounding the disease?
8. How has society's reaction to homosexuality changed over the last twenty-five years? How would this story have been different if it took place in 2012?
9. Greta is older, savvier, and knows more than June, but June sometimes seems wiser than her sister. How is this so? Does knowledge equal wisdom?
10. Do you think June will ever show Greta the secret basement room and the stash of Finn's paintings, or will she always keep this to herself?
11.  Do you blame June for what happens to Toby toward the end of the book? Do you think June will ever forgive herself for what happened that night?
12.  Do you think the portrait was more beautiful before or after it was restored to its original state? Can a work of art be improved by external additions, or is the artist's vision and intention the most important aspects of art?
13. June would like to escape to the Middle Ages. All her favorite places are escapist in nature. Would June actually be happy if her wish of time travel were granted? How does that wish change over the course of the story? Is escapism ever valuable? How do you escape?
14. Of all the themes in the novel (love, loss, regret, family relationships, etc.), which one do you think is the most important and why?
Back to Top