A Hologram for the King Reader's Guide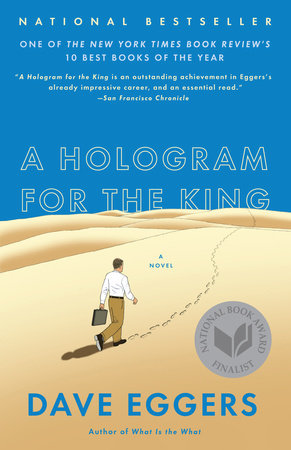 A Hologram for the King Reader's Guide
READERS GUIDE
The questions, topics, and other material that follow are intended to enhance your group's conversation about
A Hologram for the King
, Dave Eggers' wry and moving novel about the human costs of our new information economy.
Introduction
Alan Clay is a self-employed consultant whose personal life is a mess and whose financial situation is even worse.  He has just arrived in the Kingdom of Saudi Arabia, where in KAEC, King Abdullah Economic City, he awaits a meeting with the king himself.  Alan plans to make a presentation to the King of a holographic teleconference system.  If all goes well, the company he is consulting for will be awarded the IT contract for the entire new city, and in turn Alan will be flush and successful for the first time in years.  He will even be able to pay his daughter's college tuition so she won't have to drop out.
But the city isn't built yet, and Alan and his team have been ordered to set up in a white plastic tent on the beach with no wireless signal and no air-conditioning.  Days and weeks pass, and the king does not arrive. Yet Alan hangs on because he has no choice: his survival depends on this deal. While he waits, he becomes friendly with his driver Yousef, a Saudi with personal trouble of his own; with Hanne, a young Danish expat who generously shares her siddiqi, the forbidden alcohol of choice in the Kingdom; and Dr. Zahra Hakem, a woman so intelligent, attractive and kind that she threatens to reawaken Alan's moribund emotional life.
In A Hologram for the King, Dave Eggers creates a besieged and bewildered anti-hero whose life has fallen apart because he has failed to adapt quickly enough to America's new economic reality.  He has clung too long to the old model, in which creativity and innovation were useful in creating American-made items, like cars and bicycles.  Eggers takes us around the world to show how one man fights to hold himself and his splintering family together in the face of the global economy's gale-force winds.
Questions and Topics for Discussion
1. In the first few pages, we learn many things about Alan Clay: he lacks the courage to spend more time with a woman he is attracted to; he lacks the money to pay his daughter's college tuition; he is divorced; his house is on the market but has not yet sold; he owes money to many people.  We are told, "he had made a series of foolish decisions in his life.  He had not planned well.  He had not had courage when he needed it" (4). Do you feel distant from Alan, or do you feel empathy for him?  Does your response to him change as the novel proceeds?  Can you think of similar protagonists in other novels you have read?
2. The story of Charlie Fallon's suicide comes up in the first chapter (5-6), and then intermittently throughout the novel (59-60, 128, 183-84).  What does Charlie's suicide mean to Alan, and why does he keep thinking about it?
3. Alan "had moved from Schwinn to Huffy to Frontier Manufacturing Partners to Adam Clay Consulting to sitting at home watching DVDs of the Red Sox winning the Series in '04 and '07" (11).  What has caused the decline of Alan's career?  Is there any way he might have averted the situation in which he now finds himself?
4. Alan sits next to a drunken man on the plane to Saudi Arabia who argues that the United States is a nation in decline: "We've become a nation of indoor cats," he says.  He attributes the decline partly to the fact that "People were done manufacturing on American soil" (13).  Is Alan's life exemplary of this crisis in American identity?
5. While Alan's whole life depends on selling an IT system to King Abdullah for the new Economic City, Alan's driver Yousef believes the city will never be built.  But the friendship between Yousef and Alan continues nonetheless.  How are Alan's jokes important to the friendship? What is appealing about Yousef?  What does he distrust about Alan?
6. How is digital technology—which Alan is now trying to sell to King Abdullah—different from the creation and export of manufactured things?  How do the young people Alan is working with on the hologram presentation differ from him in their assumptions about work and business?
7. There is interesting tension between Alan's former life, in which he was involved in the production of real goods (bicycles) and his situation during the course of Hologram¸ where he is, essentially, selling NOTHING — a mirage, a dream, an image. Is this a commentary on America's role in the global marketplace?
8. Hanne gives Alan some contraband alcohol, which he enjoys alone in his hotel room. How do Alan's alcohol-fueled reflections affect the mood of the novel?  Why is Alan surprised by what he sees at the embassy party Hanne takes him to (141-46)?
9. Is it surprising that Alan doesn't encourage Hanne's attempts to seduce him? Why does he think that without sex, "life was altogether more streamlined now" (177)?  How does he respond to the physical presence of his doctor, Zahra Hakem (153)?
10. To what degree are Alan's difficulties in the present related to his marriage to his ex-wife, Ruby (Chapters xvi, xxi, xxiii, xxix)?  How has his failed marriage affected his relationship with his daughter?
11. Intermittently, Alan is mentally writing a letter to his daughter, Kit.  One of the statements that comes to him is, "The key thing is managed awareness of your role in the world and history. Think too much and you know you are nothing. Think just enough and you know you are small, but important to some.  That's the best you can do" (102-03).  Discuss the value or limitation of this statement as a maxim for life.
12. Yousef takes Alan along to his father's house in the desert.  Impressed that Yousef's father saved the money from selling shoes to build the enormous house, Alan reflects on a wall he built back at home (235-38).  What does the story of Alan's wall reveal about bureaucratic barriers to action, independence and productivity?
13. What does Alan learn about the realities of life in the Kingdom of Saudi Arabia through his conversations with Hasan, Yousef, and Yousef's friends?  Are their ambitions for the future as restricted as his own? Based on these relationships, do you think the novel could have been set in another country and successfully addressed the same themes and issues—i.e., is Eggers more interested in exploring the culture of Saudi Arabia and the Middle East or Alan Clay?
14. "It will be good to be the one to see and shoot the wolf," Alan thinks (260). How does Alan manage to nearly kill the shepherd boy, and what does he learn about himself in that moment (261-62)?
15. What function does Alan's mental letter to his daughter serve in his own mind?  What is he trying to communicate to her?  Does their trip to see the launch of the space shuttle Atlantis show him to be a good father (270-76)?
16. When the benign cyst is removed from Alan's neck, he feels confused: "If there was no tumor attached to his spine, dragging him to these recent depths, then what was the explanation?" (277).  Does the fact that there is nothing physically wrong with him imply that he will now feel better psychologically? 
17. Alan tells Zahra a story about a camping trip with his father (304-07).  What is the meaning of the story, and how does Zahra react?  Does Alan's romantic visit with Zahra seem to imply a happier time ahead for him, or not?
18. Alan finally does make his presentation to King Abdullah.  How does the ending work and what response does it create in you?
19. Eggers has chosen for the epigraph—"It is not every day that we are needed"—a quote from Samuel Beckett's Waiting for Godot. The character Vladimir says, "Let us do something, while we have the chance! It is not every day that we are needed. Not indeed that we personally are needed. Others would meet the case equally well, if not better. To all mankind they were addressed, those cries for help still ringing in our ears! But at this place, at this moment of time, all mankind is us, whether we like it or not."  Is Alan an American everyman?  Why might Eggers have chosen this passage for the epigraph? What does Alan's plight suggest about the last few decades of American history, and also about Alan himself as a man experiencing what one might call an existential crisis?
About this Author
Dave Eggers is the bestselling author of Zeitoun, winner of the American Book Award and Dayton Literary Peace Prize.  His novel What Is the What was a finalist for the National Book Critics Circle Award and won France's Prix Medici.
Suggested Reading
Hilary Mantel,
Eight Months on Ghazzah Street
; Saul Bellow,
Herzog
; Don DeLillo,
Underworld
; Stephen Elliott, "The Rumpus Interview with Dave Eggers"; Richard Ford,
Independence Day
; Denis Johnson,
Angels
; Arthur Miller,
Death of a Salesman
; Rick Moody,
The Ice Storm
; Lorrie Moore,
The Gate at the Stairs
; Cressida Leyshon, "Talking with Dave Eggers about A Hologram for the King"; Philip Roth,
American Pastoral
; Richard Russo,
Empire Falls
; Gary Shteyngart,
Super Sad True Love Story
.
Back to Top