The Virgin's War Reader's Guide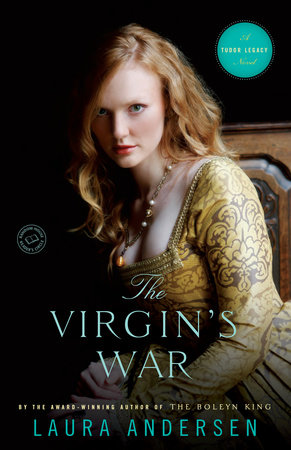 The Virgin's War Reader's Guide
READERS GUIDE
Because thou has offended our sovereign the King's grace in committing treason against his person . . . thou hast deserved death, and thy judgment is this: that thou shalt be burned here within the Tower of London, on the Green, else to have thy head smitten off, as the King's pleasure shall be further known of the same.
—Duke of Norfolk, pronouncing sentence against his niece,
Queen Anne Boleyn, on 15 May 1536
More than ten years ago, I set out to write one book reimagining history if Anne Boleyn's final miscarriage had never happened. A story of a king-who-never-was, of the friends who loved him and broke his heart . . . and of the sister who was left to pick up the pieces.
I'm fairly certain Queen Elizabeth would find both The Boleyn Trilogy and The Tudor Legacy Trilogy presumptuous. I only hope she would not find them insulting. More than a year before any of these books were conceived—the very first time I wondered what might have happened if Anne Boleyn had not miscarried her baby boy in January 1536—I got as far in my thinking as "And if that boy had been healthier than Edward VI, then neither Mary nor Elizabeth would have ever been queen" before mentally recoiling at the thought.
Physics, I understand, posits the Many Worlds theory, in which every permutation of choice and event leads to a timeline split from the one we currently experience. I don't care how many timelines might exist: I cannot conceive of a single one in which Elizabeth Tudor was not Queen of England. On every visit I've made to Westminster Abbey since beginning this series, I pause a moment in the north aisle of the Henry VII Chapel to pay my respects at her tomb. And I offer the same silent plea to this greatest of English queens: "Don't be mad."
Would I meet Elizabeth if I had the chance? Yes. Fearfully and trembling. And I imagine the interview might go something like this:
ELIZABETH: So you are the scribbler who has played so fast and loose with my life and heart.
LAURA: Your Majesty. [Quite likely attempting to curtsey without utter humiliation]
E: Why take so bold a chance?
L: For your mother's sake, at first. Anne Boleyn was in an impossible situation almost from the moment your father fell in love with her. Is it wrong to wish fate had been a little kinder to her?
E: Fate . . . or my father?
L: That is not for me to say.
E: And yet you had so much to say on so many topics of which you can have no knowledge. Walsingham would consider you the worst sort of meddler—the ignorant sort. And yet . . . I admire cleverness. And there are elements approaching cleverness in how you dealt with men like Northumberland. That is certainly a man who would have found a way to get himself executed no matter what world he lived in. And Guildford never had the nerve to carry off plotting.
L: I thought you might not mind the possibility of Mary Stuart's escape. As you were so notably reluctant to condemn her.
E: I did not at all enjoy your implication that Mary Stuart could ever have outwitted me. The situation you created there serves as perfect justification for never marrying. No man to attempt to master me . . . and no child as a hostage to fortune. Though I admit, Anne is not an entirely displeasing imaginary child.
L: May I ask you about Robert Dudley?
E: You may not. That is one liberty too great.
L: If you were to leave your own memorial, what would it be?
E: Perhaps what I spoke at Tilbury in 1588. Not 1586, as you so casually altered in your timeline. I believe that I fulfilled what I promised then. Until the last day of my life, I placed my chief strength and safeguard in the loyal hearts and goodwill of my subjects, and then I laid down my life, my honour, and my blood for God and my people.
Despite that fantastical conversation, the truth is we do not have to imagine what Elizabeth might say about her own legacy. She said it herself, in a speech to her final Parliament in November 1601. [Note: Elizabeth often used king and prince interchangeably with queen to denote her position.]
To be a king and wear a crown is a thing more glorious to them that see it than it is pleasant to them that bear it . . . There will never Queen sit in my seat with more zeal to my country, care to my subjects and that will sooner with willingness venture her life for your good and safety than myself. For it is my desire to live nor reign no longer than my life and reign shall be for your good. And though you have had, and may have, many princes more mighty and wise . . . yet you never had nor shall have, any that will be more careful and loving.
In my books, I wrote an Anne Boleyn—and a Mary Tudor—and a Philip of Spain—and a Robert Dudley—who never existed. But mostly, I wrote my own Elizabeth. One who did not have to ask why she was addressed as Highness one day and simply Lady the next. One who did not have to worry about being the center of plot after Protestant plot. One who was not arrested at the age of twenty and taken to the Tower. One who did not have to always wonder whether she would be executed before her half sister died. One who did not scratch on the window at Woodstock:
Much suspected by me, nothing proved can be. Quoth ELIZABETH prisoner.
And yet, I had to write an Elizabeth who possessed and developed the character traits so notable in her long reign as queen: intelligence, subtlety, practicality, devotion to her people, reluctance to commit to a divisive course until there was no choice, vanity, humour, touchy about her privileges but self-aware enough to know it. What I did in these six books was imagine a different path, different choices, that would bring Elizabeth to essentially the same place in history.
There is a tradition that Anne Boleyn wrote a poem in the days before her execution on Tower Green.
O Death! rock me asleep; Bring me to quiet rest; let pass my weary, guiltless ghost out of my careful breast. Toll on, the passing-bell; ring out my doleful knell; let thy sound my death tell. Death dothe drawe ny; there is no remedie.
Despite the story wrought from my imagination, there was no remedy for Anne Boleyn. She died at the command of her king and husband on 19 May 1536, leaving their not yet three-year-old daughter to an uncertain future. I like to think, when I visit Westminster Abbey, that Anne looks with pride on her daughter's memorial, and the achievements listed in Latin around Elizabeth's tomb.
Sacred to memory: Religion to its primitive purity restored, peace settled . . . the Spanish Armada vanquished; Ireland almost lost by rebels, eased by routing the Spaniard . . . and lastly, all England enriched. Elizabeth, a most prudent governor 45 years, a victorious and triumphant Queen, most strictly religious, most happy . . . She died the 24th of March, Anno 1603, of her reign the 45th year, of her age the 70th. To the eternal memory of Elizabeth queen of England, France and Ireland, daughter of King Henry VIII, grand-daughter of King Henry VII, great-grand-daughter to King Edward IV.
Daughter, I would add, of Anne Boleyn, who took as her motto: The Most Happy. In her daughter, I think Anne would have found all the happiness she could desire.
Questions and Topics for Discussion
1. In what ways does the title of this novel reflect its content? In what ways does it not?
2. The Virgin's War is the last in the Tudor Legacy trilogy. What surprised you most? Were you satisfied by the conclusion?
3. Based on your knowledge of Tudor history, what changes would you say made the largest difference in the outcome of the changed course of events?
4. If you had to describe the relationship between Queen Elizabeth and Princess Anne in one word, what would that word be?
5. Throughout the book, it is clear that political relationships and personal relationships are at a dramatic impasse. Which motivation—the political or the personal—do you believe is more vital, either to yourself or to the story?
6. How do the bonds between characters inform their actions? For example, had Anabel and Kit not been in love, do you think she would have wanted the annulment from James so deeply?
7. Pippa stayed away from Matthew for fear of hurting him, and Maisie stayed away from Stephen for fear he could never love after Ailis. Do you think these women took the right courses of action in denying their feelings in favor of practicality? How would their lives have been different if they had followed their hearts?
8. Imagine your favorite character is transplanted into modern times. What would he or she be doing, in his or her career, spare time, et cetera?
9. Both Anabel and Elizabeth make serious sacrifices for what they consider to be the greater political good. What do you think were the hardest choices these royal women had to make?
10. While Anabel is clearly on the English side, she and her mother pretend that she wavers towards the Spanish—and Catholic—cause. In what ways can you relate to the princess's loyalty to her crown, despite what the other half of her parentage may think about it later?
11. As Pippa imagined as a teenager, she and Matthew most certainly found themselves in terrible danger. What does this say about fate versus free will?
12. How does Navarro's character change from the beginning of the book to the end? Do you ever pity him? Do you hate him? Do your feelings for him ever change?
Back to Top