A Touch of Stardust Reader's Guide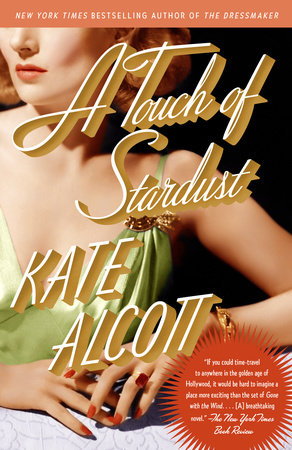 A Touch of Stardust Reader's Guide
READERS GUIDE
Questions and Topics for Discussion
1. Did the relationship between Carole Lombard and Clark Gable make you think of a modern-day Hollywood couple?  Or do you consider them singular icons without equal today?
2. Which behind-the-scenes anecdote about the making of Gone with the Wind surprised you the most?
3. Did A Touch of Stardust inspire you to find out more about Carole Lombard and to watch her films?  The author has some suggestions 
for you, listed below.
4. The next time you watch Gone with the Wind, will you see it in a different way?  How has the novel changed or enriched your viewing experience?
5. Do you think women working in Hollywood today are treated differently from the way they were treated in 1939?
6. Gone with the Wind wrapped just days before Britain declared war on Germany. How does the political atmosphere function in the novel?
7. Carole Lombard is a colorful character who leaps off the page in A Touch of Stardust.  What did you like the most about her?  What did you like the least?
8. Julie Crawford is a small-town girl who quickly becomes a Hollywood insider.  How does her character evolve over the course of the novel?  Does she change for the better?
9. Andy Weinstein is a charming yet complicated character.  Did your opinion of him shift at different points in the novel?
10. If you could be a personal assistant to a Hollywood star from the past or present, who would it be and why?    
Suggested Reading
NOTES ON SUGGESTED READING FROM THE AUTHOR  
An Empire of Their Own
by Neal Gabler, is an excellent history of Hollywood  
Gable & Lombard
by Warren G. Harris (1974) holds a rich trove of interview material, which he used also for his later book,
Clark Gable: A Biography
.  
Irene Mayer Selznick's memoir,
A Private View
, provides an insider/outsider perspective on the make-believe world of the movies in their most glittering years–from her perspective as David Selznick's wife and the daughter of Louis B. Mayer.  
Scarlett, Rhett, and a Cast of Thousands
, by Roland Flamini, is a lively recounting of the filming of
Gone With the Wind
.    
Mank: The Wit, World and Life of Herman Mankiewicz
, by Richard Meryman.  This biography of my husband's father brought the story of Hollywood close to home.  
KATE ALCOTT'S FAVORITE MOVIES STARRING CAROLE LOMBARD
A favorite is
My Man Godfrey
which she made with her ex-husband, William Powell (1936). There is a scene where she keeps drying a plate over and over, anxiously hoping that Powell will admit to the same attraction she feels for him, that is funny and poignant and memorable.  
Twentieth Century
is on my list of favorites, too. Carole plays an actress trying out for a part that calls for restraint, and she can't do it, she keeps bursting out with her natural ebullience, and you just feel you want to cheer her on.     
I could go on and on.  I love the scene where she finagles a way to keep her typewriter from being repossessed in
True Confesstions.
KATE ALCOTT'S FAVORITE MOVIES STARRING CLARK GABLE  
As for Clark Gable, the standout, from my perspective, is
It Happened One Night
(1934) with Claudette Colbert. He was perfect for the role.    
And definitely his portrayal of Rhett Butler in
Gone With the Wind
.  There is  irony in the fact that this role–the one he resisted the most–is the one that brought him enduring fame that went beyond his image as a standard matinee idol.
Back to Top