Vinegar Girl Reader's Guide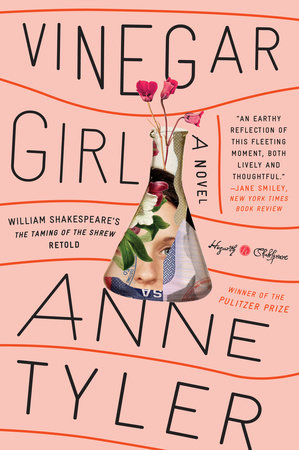 Vinegar Girl Reader's Guide
READERS GUIDE
In order to provide reading groups with the most informed and thought-provoking questions possible, it is necessary to reveal certain aspects of the story in this novel. If you have not finished reading Vinegar Girl, we respectfully suggest that you do so before reviewing this guide.
Questions and Topics for Discussion
1. Compare and contrast Tyler's Vinegar Girl with Shakespeare's Taming of the Shrew.
2. Do you think Tyler's Kate was less of a "shrew" than Shakespeare's Katherine?
3. Discuss Kate and Pyotr's first meeting. Did you think there was a connection or chemistry there from the beginning?
4. Did you like how Tyler transformed the misogynistic Petruchio to the quirky Pyotr? Do you think he was a good match for her sarcastic Kate?
5. Kate is unsatisfied with her life at home and at work, but has done nothing to change her situation. Do you think her father strong suggestion to marry Pyotr was actually what she needed to change her life?
6. Discuss the character of Bunny and the role she plays in Kate's life.
7. Tyler is a master writer when it comes to depicting family relationships. Discuss the family dynamic in Vinegar Girl. Do you think all families struggle with the balance of acting selfishly and selflessly?
8. Were you surprised when Kate was so upset when Pyotr does not show up to the church on time?
9. Discuss Kate's speech at the end of the novel. Do you agree with her?
10. What was your reaction to the story's Epilogue? Is that how you imagined Kates' life to turn out?
Back to Top