Flags of Our Fathers Teacher's Guide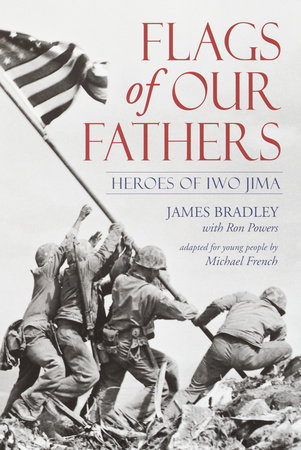 Flags of Our Fathers Teacher's Guide
TEACHING GUIDE
NOTE TO TEACHERS
"I hope young readers of
Flags of Our Fathers
will understand that the flag raisers are not the supermen of popular imagination, but ordinary American boys who were called to duty." –James Bradley


Flags of Our Fathers: Heroes of Iwo Jima
is the compelling adaptation of the New York Times bestseller–now abridged for young people. This book about the valor of teenage soldiers is one that will capture young readers today with its accessible style, riveting battle scenes, and vivid accounts of the courageous–and often tragic–lives of young soldiers. Drawn from over 300 interviews and extensive research, Flags of Our Fathers is an excellent choice for parallel reading during a study of World War II.
ABOUT THIS BOOK
This is the inspiring true story of six young men who came together in the heroic battle for the Pacific's most crucial island.

On Sunday, February 25, 1945, Americans opened their newspapers to the picture of six soldiers raising the United States flag atop Mount Suribachi on the Japanese island of Iwo Jima. They were ordinary young men who responded when their nation called them to duty. Three of them never returned home, and three came home deeply affected by their experience in the Pacific. Their picture became a symbol of glory and valor in the eyes of most Americans, and their heroism was celebrated from coast to coast. This is their story.
The book includes detailed maps and an eight-page photo insert that will help to make World War II history come alive for young-adult readers.
ABOUT THIS AUTHOR
James Bradley is the son of John "Doc" Bradley, one of the six flag raisers on Iwo Jima. In the course of writing
Flags of Our Fathers
, James Bradley conducted more than 300 interviews with World War II veterans and their families. He lives in Rye, New York. James Bradley welcomes visitors at www.jamesbradley.com
Ron Powers is a Pulitzer Prize—winning journalist and the author of
Dangerous Water: A Biography of the Boy Who Became Mark Twain
. He lives in Vermont.
Michael French has several books for young readers to his credit, including
Basher Five-Two: The True Story of F-16 Fighter Pilot Captain Scott O'Grady
, which he cowrote with Scott O'Grady. Michael French lives in New Mexico.
TEACHING IDEASPRE-READING ACTIVITY


Ask students to use books in the library or to check the Internet site www.iwojima.com to read about the Battle of Iwo Jima. Instruct students to write down important facts about the island and the tactics of the enemy. Then have the class brainstorm disadvantages that the American soldiers faced as they encountered the Japanese. Discuss why the Battle of Iwo Jima is considered one of the most important battles of World War II.
QUESTIONS FOR GROUP DISCUSSION


1. Engage the class in a discussion about the meaning of patriotism. What is the relationship between duty and patriotism?
2. Private Tex Stanton, Second Platoon, Easy Company said, "Life was never regular again. We were changed from the day we put our feet in that sand." (p. 69) Ask the class to discuss how the Battle of Iwo Jima changed the men who fought there. Compare and contrast how each of the six flag raisers were changed.
3. John Bradley said, "I saw some guys struggling with a pole and I just jumped in to lend them a hand. It's as simple as that." (p. 98) How does this quote symbolize the life of John Bradley? Discuss why he never talked about the flag raising at home. After his death, his family found a box with mementos of the flag raising. Why do you think John Bradley kept this box when he refused to discuss the famous event?
4. Ask the class to discuss the qualities of a hero. John Bradley never viewed himself as a hero and felt that the real heroes of the Battle of Iwo Jima were the men who gave their lives. What role did the media play in making the six flag raisers heroes? How might these six men be considered symbols of all the heroic men who fought at Iwo Jima? In the book, James Bradley discusses the difference between a hero and a celebrity. How did President Roosevelt turn these heroes into celebrities?
5. The statue of the six flag raisers at Arlington National Cemetery reads: "uncommon valor was a common virtue." Ask students to discuss this inscription. The three surviving flag raisers attended the unveiling of the statue on November 10, 1954. Of that day, James Bradley writes, "Never again would they meet, never again would they serve the photograph." (p. 178) How had these men "serve[d] the photograph"? Discuss whether or not future generations who visit the statue will fully understand the impact of the original photograph on the American people.
6. Ten years after he helped raise the flag at Iwo Jima, Ira Hayes, the Pima Indian, died from alcohol and overexposure to the freezing weather. Rene Gagnon attended Ira's funeral, but John Bradley declined. Discuss why Bradley did not go to the funeral. What did John Bradley mean when he said that Ira's death "makes him truly a war casualty"? (p. 181) Discuss how John Bradley and Rene Gagnon might also be considered war casualties.
7. Discuss why James Bradley and his family wanted to go to Iwo Jima after John's death. How does this book further immortalize the six flag raisers? Why is it important to immortalize our nation's heroes?
CONNECTING TO THE CURRICULUM

LANGUAGE ARTS
–The photograph of the six flag raisers was taken by Joe Rosenthal and later served as a model for the bronze statue by Felix de Weldon. De Weldon's, however, is the only name on the edifice of the sculpture. Ask students to write a letter to Congress convincing them that the names of the six flag raisers and the photographer should be placed on the edifice of the statue.
What is the difference between a legend and a heroic tale? How might the raising of the flag on Iwo Jima be both? Ask students to pick one of the six flag raisers and write a heroic legend about him.
SOCIAL STUDIES
–Ask students to use library books or Web sites to research the war in the Pacific. Have them construct a time line of major events from the bombing of Pearl Harbor on December 7, 1941, to the surrender of Japan on board the USS Missouri in Tokyo Bay on September 2, 1945.
MATH
–Some of the men who fought in World War II volunteered, but many were drafted immediately following high school. Ask students to research the draft system. When and why did the draft end? Instruct each student to survey at least 10 people in the following age groups about whether the draft should be reinstated in the United States: ages 16—19; ages 20—35; ages 35—50; and ages 50—65. Ask students to use the data from their survey and construct a graph that reveals public opinion regarding the draft.
DRAMA
–Meet the Press began airing on radio in 1945. Ask students to stage a Meet the Press show that includes interviews with John Bradley, Ira Hayes, and Rene Gagnon after they attended the unveiling of the Iwo Jima memorial at Arlington Cemetery. John Bradley died in 1994, and in 1998 some of his family returned to Iwo Jima to place a commemorative plaque atop Mount Suribachi. Stage a Meet the Press television show and interview the Bradley family after they returned from that trip.
VOCABULARY
Instruct students to write down unfamiliar words and try to define them by taking clues from the context of the story. Such words may include
armada
(p. 5),
pragmatist
(p. 11),
commodity
(p. 11),
vulnerability
(p. 13),
cavorted
(p. 15),
reconnaissance
(p. 31),
macabre
(p. 43),
leathernecks
(p. 52),
desecrated
(p. 61),
carnage
(p. 76),
annihilation
(p. 78),
fusillade
(p. 89),
galvanic
(p. 122),
fray
(p. 125),
iconic
(p. 145),
surreal
(p. 149),
stoicism
(p. 173), and
tableaux
(p. 186).
BEYOND THE BOOKINTERNET RESOURCES
Iwo Jima
www.iwojima.com
Displays the famous picture and covers the battle of Iwo Jima.
Battle of Iwo Jima Anniversary Salute
www.cybertours.com/~awriter/anniversary.html
Provides an anniversary salute to the Battle of Iwo Jima.
Atomic Bomb: Decision
www.dannen.com/decision
Documents on the decision to use atomic bombs on the cities of Hiroshima and Nagasaki.
OTHER TITLES OF INTERESTRELATED TITLES
by theme and topic
Dear Great American Writers School

Sherry Bunin
Self-Discovery • Self-Esteem
World War II • Writing
Ages 10 up / 0-440-22038-6
Farewell to Manzanar

Jeanne Wakatsuki Houston
& James D. Houston
Cultural Diversity (Asian/Asian American)
Prejudice • World War II
Ages 12 up / 0-553-27258-6
Heroes

Robert Cormier
Heroes • Values in Conflict
Responsibility • Self-Discovery
World War II
Ages 12 up / 0-440-22769-0
In My Hands

Memories of a Holocaust Rescuer
Irene Gut Opdyke with Jennifer Armstrong
Courage • Patriotism
Survival • World War II/Holocaust
Ages 12 up / 0-679-89181-1
The Last Mission

Harry Mazer
Holocaust/Jewish Studies
Survival • Coming of Age
Ages 12 up / 0-440-94797-9
COPYRIGHT
Prepared by Pat Scales, Director of Library Services, the South Carolina Governor's School for the Arts and Humanities, Greenville, SC.
Back to Top