Fear of Flying Reader's Guide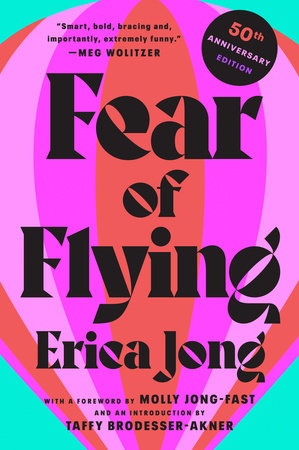 Fear of Flying Reader's Guide
READERS GUIDE
Questions and Topics for Discussion
INTRODUCTION

Originally published in 1973, the ground-breaking, uninhibited story of Isadora Wing and her desire to fly free caused a national sensation—and sold more than twelve million copies. Now, after thirty years, the iconic novel still stands as a timeless tale of self-discovery, liberation, and womanhood.
ABOUT THE AUTHOR
Erica Jong grew up on Manhattan's Upper West Side and attended Barnard College, where she majored in writing and literature, and she later received her M.A. in eighteenth-century English literature from Columbia University. She left halfway through the Ph.D. program to write her groundbreaking first novel, Fear of Flying, which went on to sell 20 million copies worldwide. She is also the author of many award-winning books of poetry, novels, and non-fiction including Sappho's Leap, Fanny, Any Woman's Blues, and Fear of Fifty. She lives in New York City and Connecticut. Her work has had a major impact on women's lives all over the world.
A CONVERSATION WITH ERICA JONG
Does it bother you when people assume the novel is simply autobiography?
In the thirty years since Fear of Flying was published, the line between autobiography (or memoir) and fiction has blurred.Fear of Flying was at the forefront of this trend. But it was never a literal autobiography though it had autobiographical elements. It's not unusual for a first novel to have such elements. Early on, some critics (like John Updike) saw similarities between my novel and Catcher in the Rye. That's another book that uses an autobiographical New York City setting but also takes the protagonist on a journey that is mythical.
Is this a book only a young writer could write? Is there anything in the book that embarrasses you now?
The rambunctiousness of this novel screams youth. It reads like a manifesto of liberation. As an author ages, things seem less black and white. We gain in subtlety but sometimes we lose a certain youthful madness. Sometimes, at readings, I perform an excerpt from the book and I blush at my own youthful recklessness. Sometimes I wish I could be that reckless now.
You went on to write two more books about Isadora Wing. What makes a character someone you want to revisit?
Isadora became an icon for women searching for freedom. I wanted to show how she dealt with motherhood, divorce, addiction, new relationships. Because she was so important to so many readers, I felt her story had to go on.
Some readers think Isadora has a casual approach to marriage. How does her marriage reflect your own views?
The generation that came of age in the sixties married too young and without much of an idea of the burdens of marriage. Then we discovered how tough marriage is, how much compromise is required. Often we divorced our first spouses. Now our kids, who often grew up with divorced parents, are more realistic about marriage, more cautious about commitments. In general, that's a good thing. They see marriage more realistically than we did. I think their chances of successful marriages are greater than ours were.
Did it bother you that Fear of Flying was seen by some as a scandalous book?
Initially I was troubled by some people's emphasis on sex in the novel. I never thought it was a book about sex. I thought it was a book about freedom. As time went on I came to see that Isadora's fierce honesty about her sexual feelings had so impacted readers that conservatives felt they had to denounce her—and me. There's less fornication in the book than there is fantasy. Perhaps it's as threatening to have a woman talk and think freely about sex as to actually do it. At any rate, Isadora's openness did change the way both women and men thought, talked, and wrote about sex.
You said somewhere that when you were writing Fear of Flying, you thought of killing off Isadora but were determined that she not die for her sins. Why?
So many novels—Anna Karenina and Madame Bovary are but two examples—punish female sexuality with death. I found myself fantasizing that Isadora's answer to her dilemma would be suicide. I think I was influenced by the cultural archetype in which women die for sexual passion. But then I realized I had to transform that archetype. I thought it was important to grant women the possibility of passion without draconian punishment. Not that passion is easy or without conflict. But death seems an excessive punishment.
Women seem much freer today than they were in 1973. Why do you think Isadora's dilemmas still have relevance?
We are still in the midst of an unfinished revolution. Outwardly women seem to have more freedom but it is still difficult to combine love and work, still difficult to find happiness with the opposite sex, still difficult to find emotional freedom. Isadora poses questions that women still pose to themselves. Women still feel that they need a man to verify their identity. Many things have changed in society but women are still conflicted about achieving fulfillment.
What do people ask you most about Fear of Flying?
People always ask how I got the guts to write such an intimate book. I don't really know the answer. I was driven to write it. I wanted to document all the things that go on in a woman's mind. I wanted to get the female psyche down on paper. And I must because the most frequent comment I get about the book is: You read my mind.
What is the harshest criticism you have received?
The harshest criticism has always been that Isadora is self-absorbed. I think our culture says that women who wonder about their own fulfillment aren't doing what women should do—which is take care of everyone else. We don't seem to criticize male protagonists for probing their own psyches. But women are held to a different standard. We are supposed to be caregivers both emotionally and psychically. It's very hard to break out of that mindset. But how can women become important writers if they are thought to be unfeminine when they look into the female mind?
Whose praise meant the most to you and why?
The most meaningful praise came from John Updike and Henry Miller, who both recognized, in very different ways, that I was trying to do something new for women in fiction.
QUESTIONS FOR DISCUSSION
Isadora struggles to be her own woman in a man's world. How do you think things have changed for women since the 1960s and how are they the same? Isadora says relationships are always unequal, that the ones who love us most we love the least and vice versa. Do you agree?
How was Isadora shaped by her mother and sisters? Do you think her mother's advice to eschew the ordinary has caused her pain or happiness?
The book ends on an ambiguous note. What do you think happens when Bennett walks in on Isadora? Why? Is the ending affirmative or a come-uppance? Is the bathtub scene a rebirth as some have said?
What is it about Isadora's voice that provokes empathy?
One of the most quoted lines from this novel is "Men and women—women and men—it will never work." The tone is clearly ironic. Why do you think this line speaks to people?
What do you think Isadora means by the "zipless fuck"? Why do you think this fantasy struck a chord? Is this a platonic ideal, as the author says? Is it even possible?
Isadora often blurs the distinction between fantasy and reality. Is this seen as a virtue, a vice, or both?
Isadora seems to feel most free when she's experiencing sexual pleasure and when she's writing. What's the connection between these two aspects of her world?
Do you think we should have "men's" fiction and "women's" fiction, rather than a mix of both?
Back to Top