The Fourth Bear Reader's Guide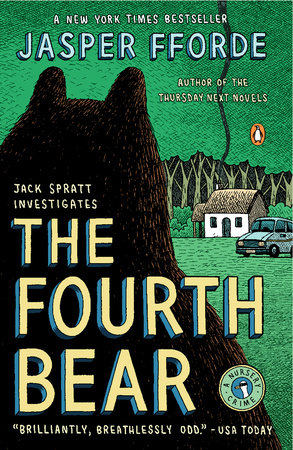 The Fourth Bear Reader's Guide
READERS GUIDE
Questions and Topics for Discussion
INTRODUCTION
A serial killer made of gingerbread, aliens who get tipsy on binary code transmissions, a used-car salesman named Dorian Gray with a pristine automobile and a deadly guarantee–it's all in a day's work for Detective Chief Inspector Jack Spratt; his contrarian partner, Mary Mary; and the ragtag crew of the Nursery Crime Division. This time, the world's most brutal serial-killer confection, the Gingerbreadman, has managed to escape St. Cerebellum's secure hospital for the criminally deranged. After twenty years of falsely peaceful incarceration, he's looking for revenge against Jack, the officer who barely escaped with his life during the Gingerbreadman's initial arrest. But numerous suspensions and public speculation about Jack's mental state have forced Superintendent Briggs to place Jack on medical leave, leaving the case in the incapable hands of the friendly but incompetent David Copperfield.
Meanwhile, the Nursery Crime Division's most vocal adversary, columnist Josh Hatchett of The Toad, declares a truce with Jack. His sister, Henrietta, a fussy journalist with blond ringlets who also goes by the nickname Goldilocks, has disappeared. She had been on the verge of uncovering a big story that would help further her pet "right to arm bears" cause. A breadcrumb trail of clues leads Jack from a house of three porridge- abusing bears to a small group of fringe scientists growing enormous vegetables and eventually to an unfinished theme park owned by the secretive QuangTech corporation, where he discovers Goldilocks's body parts.
But who had it in for her? Was it a fourth savage, porridge-mongering bear who ran away from the crime scene? Was she a victim of the competitive cucumberista farmers protecting the oversized fruits of their labor? Or was it an associate of her ambitious secret politician lover? Jack is clearly the only man who can solve this mystery. That's because nursery crimes aren't just his jurisdiction; they're a part of his life. Jack has known about his own Dubious Reality status since his first poetic marriage to a fat-eating wife–a fact he's never been able to admit to his beloved second wife, Madeleine.
After five years of trying to hide his true nature from Madeleine, and under pressure from his abusive PDR (Persons of Dubious Reality) neighbors Punch and Judy, Jack finally spills his secret to Madeleine, who feels betrayed and hurt by his duplicity. Dismissed by his boss, shunned by his wife, hunted by the murderous Gingerbreadman, and thwarted by the reclusive ursine community, Jack must unravel the mystery of the fourth bear before his own couplet comes to an untimely end.
Jasper Fforde plays with the literary figures in the canon the way children play with toy figurines, creating full-scale imaginary worlds from scraps of children's literature. But he doesn't just use the nursery crime pun for laughs–Fforde carves away the cute rhymes to reveal the dark heart at the center of Western culture's childhood tales. His whimsical, vividly imagined remixes of these well-known fairy tales would have made the brothers Grimm proud.
ABOUT JASPER FFORDE
Jasper Fforde traded a varied career in the film industry for staring vacantly out of the window and arranging words on a page. He lives and writes in Wales. The Eyre Affair was his first novel in the bestselling Thursday Next series. The Big Over Easy is the first in his new Nursery Crime series.
DISCUSSION QUESTIONS
Fforde creates plot devices around plays on words: "thermocuclear" for nuclear cucumber bombs, Project Ginja Assassin, the right to arm bears, etc. What are some other examples of Fforde's wordplay?
 
Jack Spratt's Nursery Crime Division covers not only nursery rhymes but also fairy tales like Goldilocks and the Three Bears, and "juvenilia" (p. 8) cautionary tales. What other sources could "Persons of Dubious Reality" come from? What other literary forms could the NCD cover?
 
Fforde borrows several characters from literature: Prometheus, Caliban, and David Copperfield to name a few. How does Fforde use these literary figures to advance his story? What essential characteristics do the characters retain from the originals?
 
Jack Spratt reasons with his wife, Madeleine, that she couldn't possibly be a PDR because her last name is Usher, and " 'Usher' doesn't rhyme with much except 'gusher' and… 'flusher.' " What other rhyming names can you think of from nursery rhymes? What other characteristics do nursery rhyme protagonists have in common?
 
Jack says to his wife, "I am real… In a collective-consciousness, postmodern, zeitgeisty sort of way" (p. 185). What role do nursery rhymes play in our culture? What purpose do they serve? What accounts for their long-held prominence in children's culture? Do you consider them part of the oral tradition or the written tradition?
 
Politicians and bureaucratic offices have negative connotations in The Fourth Bear– Sherman Bartholomew turns out to be a straight man posing as a gay man to further his political platform, the NS-4 seems to be involved in shady dealings with unsanctioned self-governing bears, etc. What do you think Fforde is trying to say with his portrayal of government agents?
 
Out of all the nursery rhyme characters you are familiar with, which do you feel the most affinity for? How would you render your own life in a nursery rhyme?
Back to Top