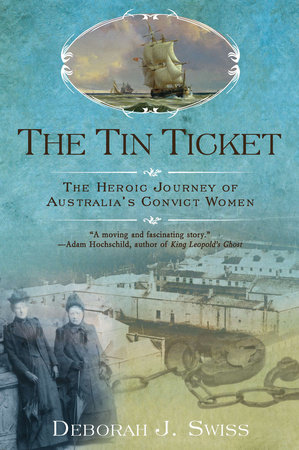 The Tin Ticket
The Heroic Journey of Australia's Convict Women
The Heroic Journey of Australia's Convict Women
By Deborah J. Swiss

By
Deborah J. Swiss
By Deborah J. Swiss

By
Deborah J. Swiss
Best Seller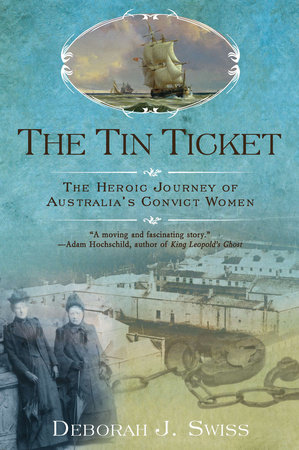 Nov 01, 2011 | ISBN 9780425243077
People Who Read
The Tin Ticket

Also Read
Inspired by Your Browsing History
Praise
"The Irish feature in disproportionate numbers among the convicts transported to Australia. The number of female Irish convicts rose considerably in the aftermath of the great Irish Famine, a period which also saw the transportation of more than 4,000 Irish orphans girls as "breeding stock" for the new colony. Deborah Swiss brings new light and insight into the story of female convicts transported to Australia and in telling this story through the lives of a number of individual women brings home to us both the tragedy and the triumph of these resilient women."
-Mßirtfn + Fainfn, Ambassador of Ireland

"Deborah Swiss eloquently and engagingly uncovers a buried and important piece of Australian "herstory," convicted women who endured injustice, cruelty, and hardship. Even more than that, Swiss skillfully illuminates their essence in their extraordinary resilience, determination, and courage. An inspiration to all."

-Birute Regine, author of Iron Butterflies: Women Transforming Themselves and the World.

"The Tin Ticket powerfully illustrates the unimaginable vulnerability and desperation that came with being poor and female two hundred years ago in Britain. But the stories of the women in this book are not too different from those of the millions who are trafficked across continents even today for cheap labor or sex. And like these women, the founding mothers of Australia exemplify the same remarkable resilience and resourcefulness that women show to pull themselves and their families out of adversity. The Tin Ticket tells their story, and enriches our shared history as women and as human beings."
-Ritu Sharma, Co-Founder and President, Women Thrive Worldwide

"History books far too often scant the stories of women, of the poor, and of those swallowed up in the prison system. Deborah Swiss has broken this triple barrier to bring us a moving and fascinating story — both of forgotten people who were ruthlessly exploited, and of a remarkable woman who did much to help them."
-Adam Hochschild, author of King Leopold's Ghost and Bury the Chains, co-founder of Mother Jones.
Back to Top