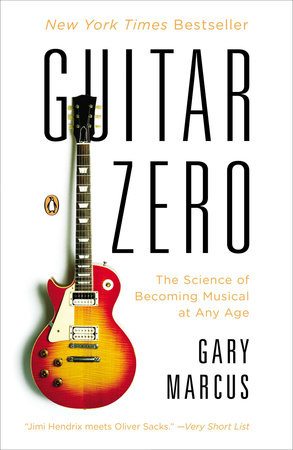 Guitar Zero
The Science of Becoming Musical at Any Age
The Science of Becoming Musical at Any Age
The New Musician and the Science of Learning
By Gary Marcus

By
Gary Marcus
By Gary Marcus

By
Gary Marcus
By Gary Marcus
Read by
Gary Marcus
By
Gary Marcus


Read by

Gary Marcus




Best Seller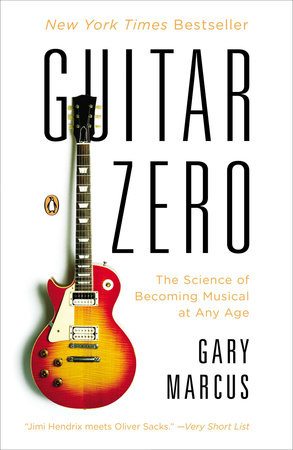 Dec 24, 2012 | ISBN 9780143122784
Buy the Audiobook Download:
People Who Read
Guitar Zero

Also Read
Inspired by Your Browsing History
Praise
"Jimi Hendrix meets Oliver Sacks in this great new science book." — VeryShortList.com


"Guitar Zero is a refreshing alternation between the nitty-gritty details of learning rock-guitar licks and Mr. Marcus's survey of the relevant scientific literature on learning and the brain . . . makes some delightful counterintuitive fine points. . . . For those who look forward, in 'retirement,' to honoring the lifelong yearnings they have neglected, Guitar Zero is good news."
—
Norman Doidge, The Wall Street Journal
"[Guitar Zero is] the sort of book where Steven Pinker (Dr. Marcus's mentor and collaborator) mixes with K. Anders Ericsson (the psychologist most associated with the '10,000 hours' theory of expertise) and Tom Morello (the lead guitarist from Rage Against the Machine)."
—
The New York Times
"This book in the end is about more than a desire to shred like Eddie Van Halen. Marcus examines how our brains are affected by creativity—learning a musical instrument, for instance, or a new language—and how these experiences remain open to all of us, no matter our age."
—
Los Angeles Times
"An entertaining and enlightening memoir, filled with insight about music, learning, and the human mind, by Gary Marcus, one of the deepest thinkers in cognitive science."
—
Steven Pinker, bestselling author of The Better Angels of Our Nature
Back to Top