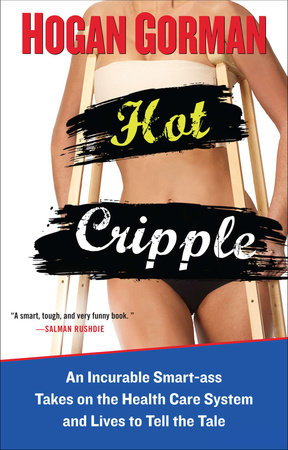 Hot Cripple
An Incurable Smart-ass Takes on the Health Care System and Lives to Tell the Tal e
An Incurable Smart-ass Takes on the Health Care System and Lives to Tell the Tal e
By Hogan Gorman

By
Hogan Gorman
By Hogan Gorman

By
Hogan Gorman
Best Seller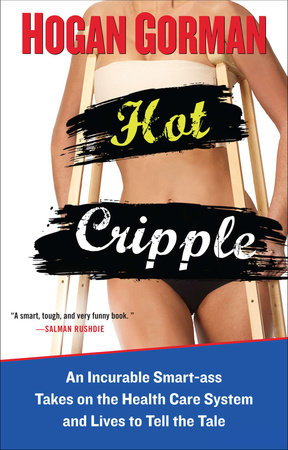 Paperback
Mar 06, 2012 | ISBN 9780399537288
Paperback

$16.00

Mar 06, 2012 | ISBN 9780399537288
Inspired by Your Browsing History
Also in Biography & Memoir
Praise
"Hogan Gorman has written a smart, tough, and very funny book about serious injury, immense pain, and her war against the American medical system. Oh, and did I mention that it's VERY FUNNY?"
—Salman Rushdie

"Hogan Gorman's story will make you furious, it will make you incredulous, and it will also make you laugh your ass off."
—Rachel Dratch, author of Girl Walks into a Bar . . .: Comedy Calamities, Dating Disasters, and a Midlife Miracle     



"Equal parts hilarity and humiliation, funny and frustrating, bone breaks and head shakes, Hot Cripple will force you to look more closely at our health care, legal and social welfare systems, as well as your own life and the lives of those we ignore every day."
—Wade Rouse, author of It's All Relative and I'm Not the Biggest Bitch in This Relationship

"The funny, moving story of the blue-eyed, blond model/actress who became the unlikely poster girl for the plight of the poor and uninsured in America after she was struck by a car in New York City street in 2004. Though Gorman admits that she's not the kind of woman who typically elicits sympathy from most folks, the author's tale of woe following her near-death experience is so tragic and compelling, it doesn't matter one bit that she never once lets her coarse, sarcastic armor slip. She may be the furthest thing from Snow White (more like the "witch-bitch"), but her harrowing experience grappling with a twisted spine, disinterested welfare hacks and outrageous court officers rendered her so broken and vulnerable, readers will root for this unrepentantly bitchy, foul-mouthed fighter. In fact, Gorman's obvious toughness in dealing with her suddenly penniless situation following her accident only underscores the bleakness of the whole affair. Even amid the desperation, love pulsates just as powerfully as the pain in this candid account of one out-of-work woman's season in uninsured hell. It's a saccharine-free yarn, yet Gorman's relationships with her mother (an ex-nun) and her former modeling partner are both touching and profound. As is often the case, the author only discovered who her true friends were after she suffered her accident and resulting health-care nightmare. Ultimately, Gorman succeeds in not only telling her own triumphant story, but also illuminating the countless problems with the broken American health-care and justice systems. The outcome of her slam-dunk court case is nothing less than astounding, and so is her resurrection. A remarkable, emotional journey through unrelenting pain-and laughter."
—Kirkus Reviews (starred review)


"(3 1/2 stars)…Hot Cripple is a sometimes funny, often harrowing look at a fear many of us share: getting seriously injured without the means to pay for it."
—People
"[Gorman is]…a sexy smart-ass who thankfully doesn't let red tape – or anything else – get in her way. There's nothing sappy about this book, and Gorman's don't-mess-with-me attitude will surely fire up even the most broken down spirit, injured or not."
—
Penthouse
"In her sassy, spirited memoir,
Hot Cripple
, Gorman straps on a back brace over her Prada and leads us through one soulless waiting room after another in search of financial, surgical, and legal help…But as she sells off her label-filled wardrobe to pay the rent and tries to eat vegan on about $4 a day, we glimpse the scary truth about how close many of us are to falling off the tightrope."
—
Elle
"Gorman's brutally honest descriptions of her experiences are sharp and detailed, written in a down-to-earth style…An essential read for those seeking a personal perspective on healthcare."
—
Library Journal
Back to Top