Forgotten Country Reader's Guide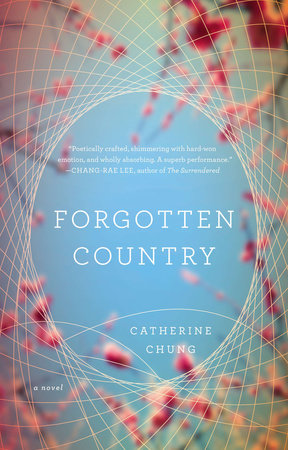 Forgotten Country Reader's Guide
READERS GUIDE
Questions and Topics for Discussion
INTRODUCTION

On the night Janie waits for her sister, Hannah, to be born, her grandmother tells her a story: Since the Japanese occupation of Korea, their family has lost a daughter in every generation, so Janie is charged with keeping Hannah safe. As time passes, Janie hears more stories, while facts remain unspoken. Her father tells tales about numbers, and in his stories everything works out. In her mother's stories, deer explode in fields, frogs bury their loved ones in the ocean, and girls jump from cliffs and fall like flowers into the sea. Within all these stories are warnings.
Years later, when Hannah inexplicably cuts all ties and disappears, Janie embarks on a mission to find her sister and finally uncover the truth beneath her family's silence. To do so, she must confront their history, the reason for her parents' sudden move to America twenty years earlier, and ultimately her conflicted feelings toward her sister and her own role in the betrayal behind their estrangement.
Weaving Korean folklore within a modern narrative of immigration and identity, Forgotten Country is a fierce exploration of the inevitability of loss, the conflict between obligation and freedom, and a family struggling to find its way out of silence and back to one another.
ABOUT CATHERINE CHUNG
Catherine Chung was born in Evanston, Illinois, and grew up in New York, New Jersey, and Michigan. She studied mathematics at the University of Chicago and received her MFA from Cornell University. Chung is one of Granta's New Voices. She lives in Brooklyn. To learn more about Catherine Chung, please visit CatherineChung.com
DISCUSSION QUESTIONS
How do you interpret the book's title, Forgotten Country? What has been forgotten and how does that affect the characters and their decisions?
How do the folktales and past family histories woven together with the present-day narrative work together to tell a complete story?
Secrets and truth are hidden or revealed in varying degrees throughout the novel. What are some of these truths and secrets? What motivates the characters to hide the truth or seek it out?
Forgiveness, and the inability to forgive, is a theme that runs through the book. What is forgiven and what isn't-and why? Do you agree with characters or not in what they choose to forgive?
Hannah and Janie argue about Simchung, the protagonist of Janie's favorite folktale. Hannah says the tale teaches girls to sacrifice themselves. Do you think that's a fair criticism? What else does the tale, as well as the others in the book, teach and how do you think growing up with folktales affected each of the girls? What stories did you grow up with and how did they help you form your identity?
Is there a hero in this story? Who would you say he or she is and why?
Have the sisters come to an understanding at the end of the story? How has their relationship changed? How has your own understanding of the family changed?
What is each character's relationship to Korea or America and how do these relationships differ? To what extent does each character belong or not belong to his or her country, culture, or family?
Loss and sacrifice are major themes in the novel. How do you think loss and sacrifice bring the family closer together? How do you think they push the family apart?
Back to Top