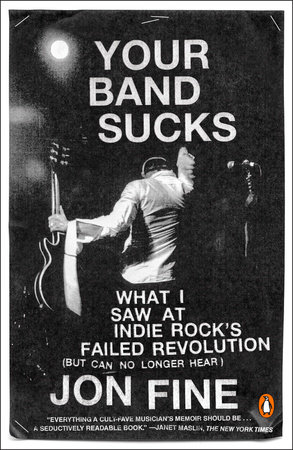 Your Band Sucks
Best Seller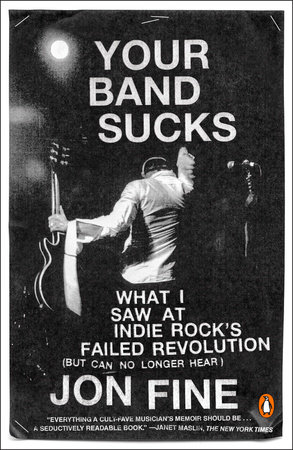 May 03, 2016
|
ISBN 9780143108283
YOU MAY ALSO LIKE
QUICK VIEW
Satisfaction
Ebook
$11.99
QUICK VIEW
The Wit and Wisdom of Ozzy Osbourne
Ebook
$10.99
QUICK VIEW
The New Face of Jazz
Ebook
$6.99
QUICK VIEW
When the World Stopped to Listen
Paperback
$18.00
QUICK VIEW
Searching for Robert Johnson
Paperback
$12.00
QUICK VIEW
The King and I
Paperback
$19.00
QUICK VIEW
Babes in Toyland
Ebook
$14.99
QUICK VIEW
Stardust Melodies
Ebook
$4.99
QUICK VIEW
Is Tiny Dancer Really Elton's Little John?
Paperback
$15.00
QUICK VIEW
Raised on Radio
Ebook
$9.99
Praise
Praise for Your Band Sucks
 
"[E]verything a cult-fave musician's memoir should be: It's a seductively readable book that requires no previous knowledge of the author, Bitch Magnet or any other band with which he's played."
—Janet Maslin, The New York Times
 
"Jon Fine has produced as evocative a portrait of the underground music scene as any wistful, graying post-punk could wish for. . . . Fine can write, and because he doesn't mind making himself look like a jerk, he summons up all the idealism and the cluelessness, the talent and the posturing, that went with the territory . . . Indie was, as Fine puts it, a 'culture that unorphaned you,' and he's especially good on the haven that post-punk music offered Gen X misfits."
—The Atlantic
 
"The story of the indie rock era has rarely been told as well as it has in Your Band Sucks . . . Written with both anthropological detachment and deep romanticism about the making of music, Fine's book belongs on the shelf alongside Michael Azerrad's Our Band Could Be Your Life."
—Salon
 
"Jon Fine has done something miraculous: he managed to drag me through a time in my life that I hated and made me actually miss it. Both a hilarious personal memoir and an obsessive guide to that weird moment in underground music before the great tsunami of the Internet changed everything forever, Your Band Sucks reminds you that one self-confessed rock-nerd's journey through rejection, triumph, and cheap motels is as universal as any well-told story."
—James Murphy, LCD Soundsystem
 
"The short shelf of great books on indie rock adds another—an unlikely memoir about an obscure band that somehow found demand for its reunion in the Internet age . . . 'I don't regret a thing,' writes Fine, and neither will readers who live vicariously through the author's eyes and memory."
—Kirkus Reviews (starred)
 
"For those of us who loved and lived indie rock in the 1990s, we were never sure if our alienation meant we were part of a revolution or just making the best of a chronic condition. Jon Fine captures what it meant to find a home in the margins—the dark humor, instant camaraderie, and strange hope of loud music, grimy road trips, bad food and worse booze. And then what it's like, decades later, to find yourself a tourist in the same places, grown up but still maturing."
—Ana Marie Cox, Chief Political Correspondent, MTV News, author of Dog Days
 
"Like Anthony Bourdain's Kitchen Confidential, but for would-be rock stars who live like train hobos and perform for dozens of fans a night."
—Men's Health
 
"More striking than Fine's clever words is his incisive commentary, which examines everything we've come to know about music in the digital age, from cyber communities to music streaming services to major record labels."
—Esquire.com
 
"Your Band Sucks is a beautiful, balls-out, hilarious, rich memoir about one guitarist's epic immersion in the world of indie music—but it's also the story of an entire generation and time. Has anyone ever written a better book about indie music? I don't think so."
—Kate Christensen, author of PEN/Faulkner award-winning novel The Great Man and Blue Plate Special: An Autobiography of My Appetites
 
"By telling his own story, warts, bruises, drug-induced facial tics, and all, [Fine] has recaptured a time when music felt, for many well-educated, middle-class kids now having achieved a certain age, like something much more important than mere entertainment."
—The Boston Globe
 
"‪I never attended a Bitch Magnet concert, so I can't speak to whether the band sucked. But this book is a funny, thoughtful, frank, whip-smart and moving chronicle of being a particular kind of young at a particular time in America. It definitely doesn't suck." 
—Kurt Andersen, host of Studio 360, author of True Believers
 
"Your Band Sucks is a fantastic document of a culture-defining era of rock music. It paints a detailed portrait of the scene before corporations bought music's soul. A tremendous read."
—Stuart Braithwaite, Mogwai
 
"Funny, snarky, and often poetic . . . [Fine] gives us brilliant descriptions of the music (his own and others') and lots of vivid glimpses behind the scenes of a low-level touring rock band—the sublime, the scary and the just plain scatological."
—Dallas Morning News
 
"If you want to know how indie rock rolled in the forlorn and scorned mid '80s and early '90s, you won't find a more vividly rendered, incisive, and self-deprecatingly humorous portrayal of it than Jon Fine's Your Band Sucks."
—The Stranger
 
"Exhilarating. Like a song that appears out of nowhere to exactly fill a hole in your life that was never apparent, Your Band Sucks makes vividly real the ingredients that went into '80's indie rock. With a cultural critic's reach and an insider's self-critical insights, Jon Fine has produced the definitively anthropological "why" thousands of bands like his existed and what they accomplished."
—Ira Robbins, editor and publisher, Trouser Press
 
"A deft stylist, Fine captures the uncompromising drive of 20-something men on a mission to change the world through music played at high volume . . . . Fine has provided an immersion into a lost indie world so vivid that you can smell the tour van."
—Publishers Weekly
 
"Captures the thrills of making music that connects with people, the feeling that being in a band 'entered you into a conspiracy against the rest of the world.' . . . Fine can really write."
—Philly.com
 
"Fine knows his stuff, from back then and now, and he covers the cover bands, the start-ups, and those who came and went, noting the musicianship, the T-shirts, 'the joy of libido and an open road,' and the surprise of fame (or lack thereof), and his enthusiasm is infectious and thrilling. This is a richly detailed walk through the wild side of the underground music business. True fans will recognize the bands, but anyone interested in the indie-rock phenomenon will recognize many of the players, and the angst and the joy will strike all readers."
—Booklist
 
"Fine looks back, in Your Band Sucks at the forces that propelled him—a shy Jewish kid on the nerd-freak-loser fringe—to learn guitar, start a band, and embrace a marginal musical culture. . . . In vivid prose, Fine details the process of touring and self-promotion—wheat pasting, mass mailings, crappy food, sleep deprivation—as well as the exultation of rocking out before the occasional packed house."
—The Los Angeles Times
 
"When we played festivals, we used to have this thing where we'd walk up to the other bands and ask, 'What shitty band are you in?' I would dare never have asked Bitch Magnet that same question. In fact, I would probably have run and hid from them the same way I would have from Wire or Iggy Pop, or a tear-streaked, mascara-running Courtney Love, in her 'Whatever Happened to Baby Jane?' dress, being escorted through the backstage area on the arms of a couple of police officers. Their music was that intimidatingly good. And in Your Band Sucks, Jon Fine lovingly chronicles, with strong accuracy, the zeitgeist in which his band excelled."
—Robert Pollard, Guided by Voices
 
"Your Band Sucks is a vital read, a snapshot of the 1980s and '90's music they don't talk about much on I Love the '80s"
—Austin American-Statesman
 
"A fine-grained account of indie rock's conflicted mind-mess—the mix of boundless idealism and cynicism, lofty aspirations and defeatism, absolute conviction and constant doubt, flashes of transcendence and abject embarrassment. Best of all, Your Band Sucks captures the delirious fun of joining up with a small group, finding your way into a small scene, connecting to a larger family of internationally networked and like-minded misfits, and taking on the world knowing you've already lost. This book makes me feel lucky to have played a small part in this grand, doomed endeavor."
—Clint Conley, Mission of Burma
 
"I imagine, in a small van, Jon Fine is very hard to take."
—Amazon reviewer
Get the latest updates about Jon Fine
And go from well-read to best read with book recs, deals and more in your inbox every week.
And go from well-read to best read with book recs, deals and more in your inbox every week.
Dismiss
Thanks!
Something awesome is on its way.
Back to Top
Become a Member
Start earning points for buying books! Just for joining you'll get personalized recommendations on your dashboard daily and features only for members.
Find Out More
Join Now
Sign In
Success!
Your account has been created. Upload book purchases, access your personalized book recommendations, and more from here.