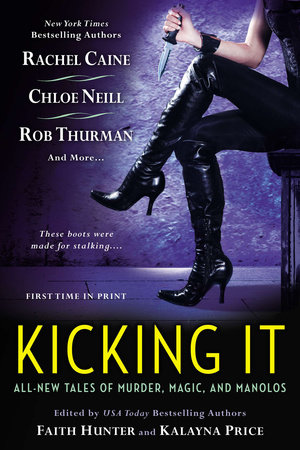 Kicking It
By Faith Hunter and Kalayna Price

By
Faith Hunter

and

Kalayna Price




Best Seller
People Who Read
Kicking It

Also Read
Inspired by Your Browsing History
Table Of Contents
Shoes can be killer—literally. Kicking It, a new anthology edited by bestselling authors Faith Hunter and Kalayna Price, has nine tales of everything from red pumps to snakeskin boots to sparkly platforms, but all of them have one thing in common: anything's possible…with the right heels. Read on for a sneak peak of what's to come!

Coming out as witches hasn't been easy for Holly and Andrew from Rachel Caine's "Forked Tongues," not even in Austin, home of the weird. But not even they thought they'd have to factor in a politician in possessed boots when they were choosing their new home.
In Shannon K Butcher's "Stolen Goods," Simone Solange is the best thief in town—with help from her boots of invisibility. But when she's hired by the boots' too-attractive ex-owner, there's no way everything goes according to plan.
When a young woman wakes up in a hotel room with no clue of where—or who—she is, and the only clue is a pair of boots she can't take off, it can only go downhill from there, in Chris Marie Green's "The Girl with No Name."
Witch twins Boadacia and Elizabeth Everhart of the Jane Yellowrock series return for their own adventure in Faith Hunter's "The Devil's Left Boot!"
Cadogan vampire Lindsey's never needed the baggage of a relationship; she'd rather kick butt on her own. But in Chloe Neill's "High Stakes," an old adversary from her past returns, and she'll need all the help she can get—including her on-again off-again colleague, Luc.
In Lucienne Diver's "Snake Eyes," Tori Karacis, heroine of the Latter-Day Olympians, thinks she's just tracking down a cheating husband. But in the gambling den she finds him in, the stakes aren't for anything so low as money…
When you're Lucifer's descendent, you don't really get to say no to him, not even when you're also an agent of death. So Madeleine Black sets off to find the fabled—and deadly—Red Shoes in Christina Henry's "Red Isn't My Color!"
In Rob Thurman's "Snakeskin," a woman finds out that no matter how good a liar you are, you can't lie to the best liar of them all, Trixa Iktomi from the Trickster series.
In Kalayna Price's "Ruby Red," Briar Darque of the Magical Crimes Investigation Bureau is hunting down the source of a malign magic that steals its victim's willingness to live. Briar only knows one thing—she's not ready to die.
Back to Top