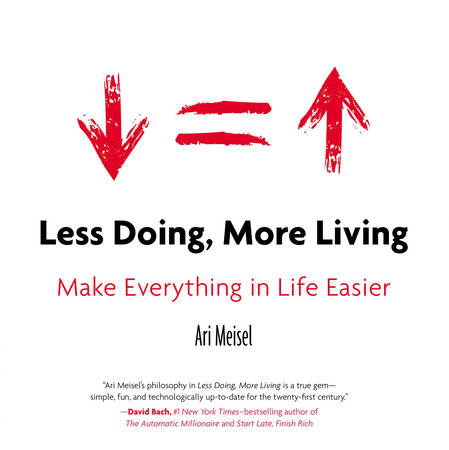 Less Doing, More Living
Make Everything in Life Easier
Make Everything in Life Easier
By Ari Meisel

By
Ari Meisel
By Ari Meisel

By
Ari Meisel
Best Seller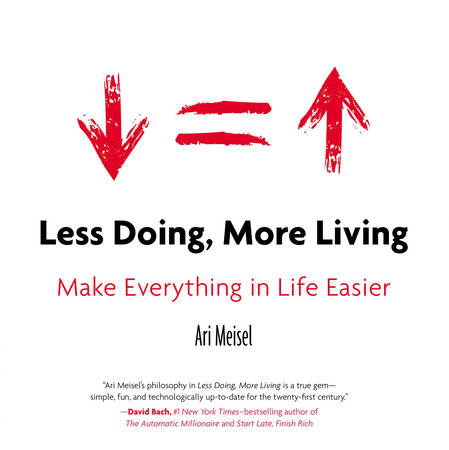 Apr 03, 2014
|
ISBN 9780399168529
Inspired by Your Browsing History
Buy other books like Less Doing, More Living
Praise
"Readers will immediately recognize the wisdom of his approach and see that these tactics offer a big payoff. Meisel provides a concise and ingenious roadmap to doing less, getting more and enjoying life."
—PUBLISHERS WEEKLY

"I've seen many programs for improving lives (and created a few myself). Ari Meisel's philosophy in Less Doing, More Living is a true gem—simple, fun, and technologically up-to-date for the 21st century. This book will help you easily remove the stresses of day-to-day living and find that, in this removal, you'll have more time to enjoy the activities and people that you love."
—David Bach, #1 New York Times-bestselling author of The Automatic Millionaire and Start Late, Finish Rich
 
"Less Doing is an awesome book because it is a hands-on guide that teaches you how to quickly implement the art of 'strategic laziness'—doing only the most important stuff, and doing it well enough to get what you want. The stuff in this book will help you kick more ass, whether you're an entrepreneur, a student, or anywhere in between."
—Dave Asprey, founder of Bulletproof Executive

"Less Doing, More Living is not just another marketed diatribe on personal efficiency; it is a real source of inspiration for rethinking our ideas about productivity in a way that is far removed from the outdated norms inherited from industrialism."
—Business Digest
 
"Ari Meisel's book is a KISS read packed with tons of valuable insights and tools to simplify your life, streamline your tasks, and allow you to focus on the right things with the right tools."
—Mark Divine, author of The Way of the SEAL and Unbeatable Mind
 
"Ari Meisel's Less Doing, More Living is a fittingly efficient read designed to help you optimize your life per nine fundamental principles. I came away inspired to further streamline my workflow, declutter my (dreaded) paper inbox, and obliterate my to-do list thanks to a host of great tech tool and time strategy recommendations."
—Christine Koh, co-author of Minimalist Parenting: Enjoy Modern Family Life More By Doing Less
 
"I'm going to send an automated reminder to myself to re-read Ari Meisel's super-helpful book every month. It's got an absurd number of tips that make my life easier."
—AJ Jacobs, four-time NY Times-bestselling author
 
"This smart and practical work illustrates Meisel's approach to efficiency and effectiveness in all aspects of life. It's a road map of tools and tricks to help you be better at what you do in less time, regardless of your discipline, so that you can have more 'free' time to spend it however you like."
—Seamus Mullen, award-winning chef, restaurateur, and cookbook author
 
"Efficiency is a lost art nowadays and Ari Meisel has armed you with an effective tool for increasing productivity in the midst of the chaos. Every aspect of your life can become better with just a few simple and implementable changes that you'll be shocked by how easy they are to do. Free yourself to do what you were meant to do so you can live the way you want to live. Start doing less and living more today!"
—Jimmy Moore, author of Cholesterol Clarity: What The HDL Is Wrong With My Numbers?
Back to Top