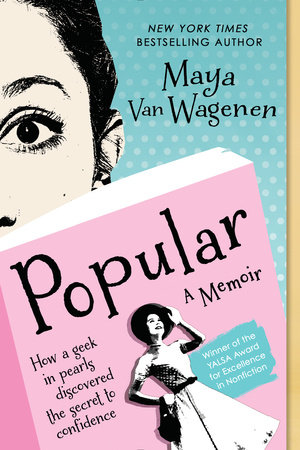 Popular
How a Geek in Pearls Discovered the Secret to Confidence
Vintage Wisdom for a Modern Geek
Vintage Wisdom for a Modern Geek
Vintage Wisdom for a Modern Geek
By Maya Van Wagenen

By
Maya Van Wagenen
By Maya Van Wagenen

By
Maya Van Wagenen
By Maya Van Wagenen

By
Maya Van Wagenen
By Maya Van Wagenen
Read by
Amber Faith

and

Lee Adams



By
Maya Van Wagenen


Read by

Amber Faith

and

Lee Adams




Best Seller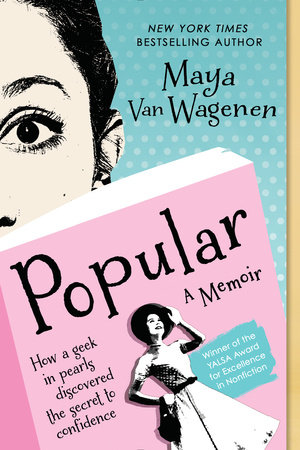 Apr 21, 2015
|
ISBN 9780147512543
Buy the Audiobook Download:
Inspired by Your Browsing History
Buy other books like Popular
Praise
A New York Times bestseller!

Maya Van Wagenen is a Time magazine Top 16 Most Influential Teen of 2013
and a Huffington Post Most Fearless Teen of 2013
 
"I was inspired by her journey and made a point of saving a copy of 'Popular' for my sister,
who starts middle school this fall. Maybe if I had read it when I was her age, it could have
saved me from a world of hurt, or at least put that world in perspective."
—Maude Apatow for the New York Times Book Review
 
"Popular taps into a feeling shared by Bradbury and Bieber enthusiasts alike—the need to
fit in during middle school." —USA Today
 
"Everyone's happiness project looks different, and I was utterly charmed by Maya Van
Wagenen's honest, funny, and thought-provoking account of her efforts to become 'popular.'"
—Gretchen Rubin, #1 bestselling author of The Happiness Project

"Geeky and dorky, but never wimpy, Maya Van Wagenen is as powerful and honest as she
is quirky and funny—and startlingly gifted. She's the real deal, folks, a teenage John Green
for the next generation. Stunning." —Margaret Stohl, bestselling co-author of the Beautiful Creatures series
 
"Maya Van Wagenen's memoir, Popular, would have been wonderful to read as a kid, and
so reassuring to Nerdy Teenage Me. Her year-long experiment in popularity is timeless; the
intelligent and humane way she gets to the heart of the matter is uniquely her.
Funny, determined, and wry, Van Wagenen has written a wise, heartfelt guide for
other kids eager to keep up." —Rachel Hartman, bestselling author of Seraphina
 
"An interesting and earnest memoir." —Kirkus Reviews
"While completely appropriate for middle school readers, Popular is even more entertaining
for adults. Van Wagenen is a uniquely gifted talent with a gem of a first novel" —VOYA
 
Back to Top