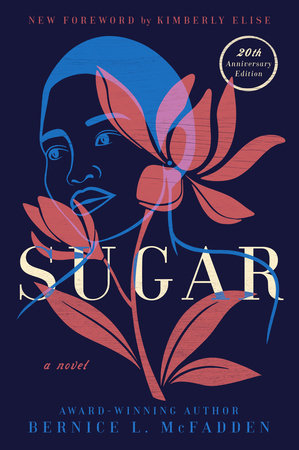 READERS GUIDE
Questions and Topics for Discussion
INTRODUCTION

When Sugar Lacey arrives in Bigelow, Arkansas, to the women of the town it seems as if "a storm blew in…A storm walked into their town on two legs in spiked, red patent leather heels." Afraid for their men and their morals, they want Sugar out of Bigelow. But Sugar, who has traveled too far and survived too much in her short life, has finally found a place in which she could put down roots.
To the surprise of the town, and most of all to Sugar herself, she develops a friendship with Pearl Taylor. Pearl, a respected member of the community, carries with her every day an overwhelming burden grief over her daughter Jude's murder fifteen years before. From its tenuous beginnings, Pearl and Sugar's friendship allows each woman to confront the very thing that most haunts her.
In language that is by turns lyrical and stark, and with a cadence that invokes the rhythm of the storytelling to which she grew up listening, Bernice L. McFadden brings vividly to life a 1950s Southern black town. Sugar, her first novel, is a powerful exploration of the sometimes unrelenting depths of grief and despair, the seeds of hope that can grow in even the bleakest of circumstances, and the role that love and friendship can play in helping us find redemption within ourselves.
ABOUT BERNICE L. MCFADDEN
Bernice L. McFadden was born, raised and currently lives in Brooklyn, New York. She is the eldest of four children and the mother of one daughter, R'yane Azsa.
Ms. McFadden attended grade school at P.S. 161 in Brooklyn and Middle School at Holy Spirit, also in Brooklyn. She attended high school at St. Cyril Academy an all-girls boarding school in Danville, Pa.
In the Fall of 1983 she enrolled in the noted NYC fashion college: Laboratory Institute of Merchandising, with dreams of becoming an international clothing buyer.
She attended LIM for two semesters and then took a position at Bloomingdale's and later with Itokin, a Japanese owned retail company.
Disillusioned and frustrated with her job, she signed up for a Travel & Tourism course at Marymount College where she received a certificate of completion. After the birth of her daughter in 1988, Bernice McFadden obtained a job with Rockresorts a company then owned by the Rockefeller family.
The company was later sold and Ms. McFadden was laid off and unemployed for one year. She sights that year as the turning point in her life because during those twelve months Ms. McFadden began to dedicate herself to the art of writing. During the next nine years she held three jobs, always looking for something exciting and satisfying. Forever frustrated with corporate America and the requirements they put on their employees, Ms. McFadden enrolled at Fordham University. Her intention was to obtain a degree that would enable her to move up another rung on the corporate ladder.
She signed up for courses that concentrated on Afro-American history and literature, as well as creative writing, poetry and journalism. She credits the two years spent under the guidance of her professors as well as the years spent lost in the words of her favorite authors, to the caliber of writer she has become.
During those years, Ms. McFadden made a conscious effort to write as much as possible and began to send out hundreds of query letters to agents and publishers attempting to sell one of her short stories or the novel she was working on.
In 1997, Ms. McFadden quit her job and dedicated seven months to re-writing the novel that would become, Sugar In May of 1998, after depleting her savings, she took her last and final position within corporate America.
On Feb 9th, 1999, her daughter's eleventh birthday (and Alice Walker's birthday— one of Ms. McFadden's favorite authors) she sent a query letter to an agent who signed her two weeks later and the rest is literary history!
Bernice L. McFadden is the author of three novels—the national bestsellers, Sugar and The Warmest December (now available in trade paperback from Plume) and the just-released sequel to Sugar, entitled This Bitter Earth.
She is at work on her next novel.
Praise
Praise for Bernice L. McFadden's Sugar
"Unforgettable…a haunting story that keeps pages turning until the end."—Essence
"Vivid."—The New York Times Book Review
"Strong and folksy storytelling…think Zora Neale Hurston…Sugar speaks of what is real"— The Dallas Morning News
"One of the most compelling and thought-provoking novels I've read in years. Bernice McFadden is truly a welcomed voice in the literary world."— Terry McMillan, bestselling author of A Day Late and A Dollar Short
AN INTERVIEW WITH BERNICE L. MCFADDEN
Tell us about your upbringing in the South. Are elements reflected in the story? Are any of the characters based on people you know?
While I wasn't raised in the South, my mother was. The stories she's shared with me over the years have been so vivid I guess that I've adopted the settings into my own stories. Yes, I think characteristics of people that are close to me have seeped into my characters.
How did your family's tradition of storytelling influence your writing?
A very big influence. The stories shared around the table during a holiday meal were the highlight of the gathering and I so looked forward to hearing them over and over again. I want my stories to have the same effect— stories that people will always want to return to time and time again.
The novel is primarily about Sugar and Pearl, with the male characters taking a back seat to the female characters. And yet the story closes with a scene that has Joe as the focus. Why did you choose not to end the story with either Sugar or Pearl actually in the scene?
Sugar's life was one big circle—every step forward put her closer to where she'd already been so it seemed only right that the story should end with a focus on Joe because he was the father to both Jude and Sugar, completing the circle.
As the mother of a daughter, was it difficult for you to write about Jude's murder? Why did you choose to maximize the horror of Jude's death by having the killer desecrate her body?
Fortunately it was not difficult to put that scene down on paper, although now when I go back to read it, it is a bit unnerving. The desecration was not a conscious choice, but exactly what I saw unfolding before me
Why did you choose to set the novel in the 1940s and 1950s instead of the present day?
My stories come to me as visions in bits and pieces—and I saw the 40's & 50's.
Sugar and Pearl's friendship forms the basis of the novel. How important are friendships in women's lives?
I take my relationships with women very seriously. I come from a family of women, so my respect for them is quite extraordinary. Friendships between women are sacred because we understand and feel for each other on levels that men are just not equipped to do.
In the beginning of the book there is a quote by Sarah Miles: "There's a little bit of hooker in every woman. A little bit of hooker and a little bit of God." Why did you choose to use this quote? How do you think it relates to the story?
That quote caught the whole essence of Sugar and Pearl. It speaks to the story and the good and not so good we all have inside of us.
This Bitter Earth, the sequel to Sugar, has recently been published. What can you tell us about it?
TBE is Sugar's continuing story, but it's also about a lot of the other characters that had to take a back seat in Sugar. TBE will delve further into Sugar's past as well as explain the effects her presence and consequent departure in Bigelow had on the Taylors as well as the town residents.
Are you working on a new novel?
Yes, I'm working on a story that will examine why some people love the way they do and while still others are unable to love at all.
What writers do you admire? Have any of them influenced your work?
I have great respect and admiration for Toni Morrison, Alice Walker, J. California Cooper, and Marita Golden. They have written stories that I return to time and time again for encouragement and guidance whenever I feel I've lost my way in my own stories.
DISCUSSION QUESTIONS
Sugar opens with the murder of Jude Taylor. Why do you think the author chose to open with this graphic—and horrific—scene? How did this scene set the tone for the rest of the novel? Why is Jude's murder such an integral part of the storyline?
 
When Pearl first sees Sugar, she is "struck by the familiarity of her face"(pg. 37) because it reminds her of Jude. Pearl also called Sugar by Jude's name on several occasions. What draws Pearl to Sugar besides her physical resemblance to Jude?
 
By associating with Sugar, Pearl alienates Shirley and some of the other women in Bigelow. Why do these women feel so threatened by Sugar?
 
Sugar and Pearl's friendship is an unlikely pairing. What does each one gain from the relationship?
 
At one point in the story the author writes, "Knowing each other's past helped both Pearl and Sugar. Secret pains, now told, bonded the women together tighter than anything else in this world" (pg. 125). Why do Pearl and Sugar choose to confide in one other when neither has ever done so with anyone else?
 
In the beginning of the book, the author has included this quote by Sarah Miles: "There's a little bit of hooker in every woman. A little bit of hooker and a little bit of God." What do you think of this statement? How does it pertain to the story?
 
Sugar is set mainly in the small town of Bigelow, Arkansas. What "role" does the small town play in the story? Sugar was raised in a small town by the Lacey sisters and later lived in St. Louis, Detroit, and Chicago. Why does she choose to return to a small town?
 
Describe Pearl and Joe's relationship. What first drew them to one another? How would you describe their relationship when the story first begins? How does it change as the novel progresses? At the end of the story, the reader finds out that Joe is going to make a confession to Pearl. How do you think she would have reacted to the news?
 
"Pearl looked around her. She tried to imagine herself without Sugar. She didn't know who that might be, the person that existed before Sugar's arrival was buried deep into the hard, dry memory of Bigelow next to the rotting bones of her baby girl. How could she be anything more with the loss of two in her life now?" (pg. 218). Why does Pearl feel so bereft by Sugar's departure? Do you think she sensed that Sugar was more than just a neighbor and friend to her and Joe?
 
One reviewer stated that "Sugar speaks of what is real." What aspects of the novel do you think the reviewer is referring to?
Back to Top