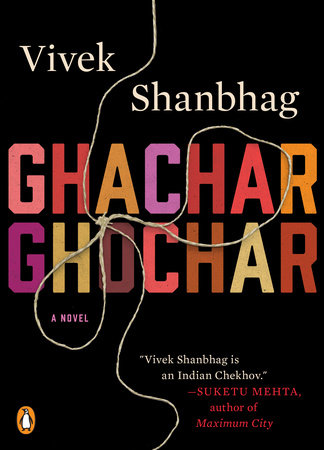 Ghachar Ghochar
A Novel
A Novel
By Vivek Shanbhag
Translated by
Srinath Perur
By
Vivek Shanbhag


Translated by

Srinath Perur



By Vivek Shanbhag
Translated by
Srinath Perur
By
Vivek Shanbhag


Translated by

Srinath Perur




Best Seller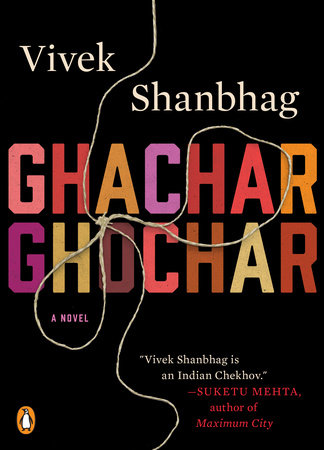 Paperback
Feb 07, 2017 | ISBN 9780143111689
Paperback

$15.00

Feb 07, 2017 | ISBN 9780143111689
People Who Read
Ghachar Ghochar

Also Read
Inspired by Your Browsing History
Praise
"A great Indian novel…Folded into the compressed, densely psychological portrait of this family is a whole universe." 
—Parul Sehgal, The New York Times Book Review (Editors' Choice)
"[Shanbhag] is a master of inference and omission…What's most impressive about 
Ghachar Ghochar
…is how much intricacy and turmoil gets distilled into its few pages…[A] wise and skillful book." 
—
Sam Sacks, Wall Street Journal
"A classic tale of wealth and moral ruin and a parable about capitalism and Indian society."  
—The New Yorker
"Within the tight confines of a hundred pages or so, Shanbhag presents as densely layered a social vision of Bangalore as Edith Wharton did of New York in 
The House of Mirth
…He's one of those special writers who can bring a fully realized world to life in a few pages…The tense fun of reading this vivid, fretful story lies in watching the main characters grab hold of what they think will be rescue ropes, but instead turn out to be slip knots."
—Maureen Corrigan, NPR
"Great Indian novels…tend towards large tomes, written in English. Now, however, the arrival of a new work has shaken up the status quo: Vivek Shanbhag's gripping 
Ghachar Ghochar
. This slim volume…packs a powerful punch, both in terms of the precision of its portrait of one Bangalore-based family, and, by extension, what this tells us about modern India….Shanbhag is the real deal, this gem of a novel resounding with chilling truths."
–The Independent (UK)


"A simple story, well told…Its gently comic tone belies a stunning satire, the full power of which is only apparent as the horror of the ending becomes clear."
—Louise Doughty, The Guardian, "Best Books of 2017"
"Masterful…This stunning Bangalore-set family drama underlines the necessity of reading beyond our borders….
Ghachar Ghochar
 is both fascinatingly different from much Indian writing in English, and provides a masterclass in crafting, particularly on the power of leaving things unsaid."
–Deborah Smith, The Guardian

"The level of effortless glancing detail with which [Shanbhag] draws minor characters…is extraordinary. That it is one of the few novels translated (beautifully) from Kannada, a language spoken by millions and with its own literary tradition, to be published in the United States says a lot about our literary world's myopia when it comes to the Indian novel."
—
Vulture, "A Premature Attempt at the 21st Century Literary Canon"
"
Ghachar Ghochar 
introduces us to a master." 
—Lorin Stein, The Paris Review
"One of the finest literary works you will ever encounter…a nuanced wonder."
–Irish Times


"A feat of taut, economical storytelling…[with] moments of wonderfully dark, often unexpected, cynicism." 

—Financial Times
"One of the best novels to have come out of India in recent decades." 
—Pankaj Mishra, author of Age of Anger


"Vivek Shanbhag is an Indian Chekhov." 
—Suketu Mehta, author of 
Maximum City
"In this exquisitely observed, wry and moving novel, the smallest detail can conjure entire worlds of feeling. Vivek Shanbhag is a writer of rare and wonderful gifts."
—Garth Greenwell, author of What Belongs to You
"One of my favorite contemporary writers in English translates one of the leading figures of Kannada literature. The result is mesmerizing, distressing—and altogether brilliant."
—Karan Mahajan, author of The Association of Small Bombs
"Vivek Shanbhag is one of those writers whose voice takes your breath away at the first encounter."
—Yiyun Li, author of Dear Friend, from My Life I Write to You in Your Life
"Ghachar Ghochar
is one of the most striking novels you'll read this decade. . . . In Shanbhag's hands, the Indian family is revealed in layers; as one layer peels away, what lies beneath is left raw and exposed." 
—Nilanjana Roy, Business Standard (India)
"[Shanbhag is] an extraordinary storyteller — one astutely alive to the competing forces of self-interest and empathy."
—Jonathan Lee, Electric Literature
"Suketu Mehta deems Vivek Shanbhag 'an Indian Chekhov'….Shanbhag has earned this lofty comparison." 
–The Globe and Mail (Canada)
"A firecracker of a novel…concise and mesmerizing." 
—Publishers Weekly, starred review

"A Tolstoyan portrait of family conflict and shifting priorities in modern-day India….Captivating."
—
Shelf Awareness,
starred review
"A compact novel that crackles with tension." 
—Kirkus Reviews
"A delight…You will read 
Ghachar Ghochar
…in part of an evening, about the length of time you'd need to watch one of Chekhov's masterpieces. You'll experience the same pleasure." 
–CounterPunch
"Very rarely a book comes along that you want to thrust in the hands of everyone—readers and non-readers.
Ghachar Ghochar
is one such book." 
—Prajwal Parajuly, The Hindustan Times (India)
"Altogether a delight to read . . . Shanbhag gives us an insider's feel for the concerns that have shaped the middle class in the last half a century." 
—Girish Karnad, The Indian Express (India)
"An ingenious tale of how material wealth robs a family of its moral fortitude . . . [Shanbhag] is obviously a master of the form." 
—Mint (India)
"
Ghachar Ghochar
reveals a consummate fiction writer at the height of his powers. . . . a literary sensation across India."
—Scroll.in (India)
"
Ghachar Ghochar
 is a book of distilled simplicity, its surface of seeming artlessness hiding that most complex and complicated of things—truthfully rendered human life. Beautiful, tense, surprising, utterly convincing and wise, and translated with real inspiration by Srinath Perur."  
—Neel Mukherjee, author of The Lives of Others
"A remarkable novel about the fragile civilities of bourgeois life. The reader becomes absorbed in the unforgiving self-knowledge and expansive humanity contained in every page." 
—Amit Chaudhuri, author of Freedom Song and Odysseus Abroad
Back to Top