Ghachar Ghochar Reader's Guide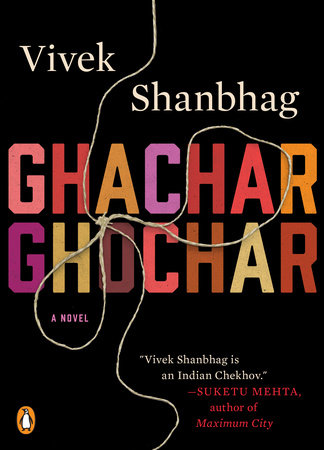 Ghachar Ghochar Reader's Guide
READERS GUIDE
"It is one of the strengths of families to pretend that they desire what is unavoidable" (p. 11).
An Introduction to
Ghachar Ghochar,
by Vivek Shanbhag
As
Ghachar Ghochar
opens, the novel's unnamed narrator is waiting for a lemon soda at his favorite haunt, a Bangalore café named simply "Coffee House." To outsiders, nothing about him would seem out of the ordinary. Perhaps only Vincent, the waiter whom the narrator suspects "knows the regulars at Coffee House better than they know themselves" (p. 2), can sense that he is a man in turmoil. As he contemplates whether to unburden himself to Vincent, the narrator begins to recount the events that led him to this desperate place.
About two weeks earlier, a woman arrived at the house where the narrator lives with his father, Appa, his mother, Amma, his wife, Anita, his sister, Malati, and his uncle, Chikkappa. The woman—whose "affection for Chikkappa was evident" (p. 16)—was polite and came bearing his favorite curry, but Amma and Malati attempted to send her away, at first coldly, and then with increasing anger.
Chikkappa remained hidden away inside the house as his sister-in-law and niece verbally abused the woman, who eventually left in tears. The narrator was stunned to see his mother and sister behaving "like dogs protecting their territory," but said nothing (p. 17). His wife, Anita, did not participate—an act of dissent that cannot have gone unnoticed by his mother and sister. Though they barely acknowledged what happened, the incident clearly upset the household's delicate balance.
Although he is the younger brother, Chikkappa is the true head of the household. For many years, the family scraped by on the meager salary Appa earned as a tea salesman. They purchased only the barest necessities, and those only after a period of intense calculation and discussion. This all changed, however, when Appa lost his job, and Chikkappa convinced his younger brother to let him use his retirement savings to open a wholesale spice company, Sona Masala. The company became an overnight success, enabling the family to move into a large home, which they were able to furnish as they pleased.
For the first time in their lives, the family is free from financial worry. With a generous dowry, Malati marries the son of a wealthy merchant in an opulent wedding. Chikkappa works tirelessly, and the business flourishes. Appa has no responsibilities within the company, but because of his initial investment, he "owns half of Sona Masala's considerable assets" (p. 37), as Chikkappa promised. Yet "Appa enjoys [their] current prosperity with considerable hesitation, as if it were undeserved" (p. 24), leading the rest of the family—including Malati, who has left her husband—to fear he might donate his share of their wealth to charity. The narrator draws a salary from the company, though he, too, has no official duties. Unlike his father, he is unperturbed by this situation—until it is his turn to marry.
When the family turns its attention to finding a suitable wife for the narrator, a family friend makes an introduction to a young woman named Anita, the educated daughter of a professor. On their honeymoon, she teaches him the nonsense phrase "ghachar ghochar"
(p. 77), which she and her brother first used to refer to a kite string that became so tangled it was impossible to put right. Soon the phrase became family slang, and the narrator incorporates it into his lexicon, delighted to be admitted into the small circle of intimates who understand its meaning. These early days with his new wife are the happiest of his life. But after they return home and Anita discovers the truth about the narrator's idleness, and the lengths to which the family will go to protect its newfound prosperity, it becomes clear that sudden wealth has turned their lives ghachar ghochar.
In simple, straightforward prose, Vivek Shanbhag unpacks a story of dazzling subtlety and depth. The first of his books to be translated into English,
Ghachar Ghochar
chronicles the complicated fortunes of an Indian family and introduces a master storyteller to the world stage.
Questions and Topics for Discussion
1. The narrator is a regular customer at Coffee House. What draws him there?
2. What is your opinion of the narrator? Is he as hapless as he portrays himself to be? Why does he alone remain nameless?
3. Why didn't the narrator's relationship with Chitra work out? Would he have married a woman like Anita if he had met her by chance rather than by arrangement?
4. Why is Chikkappa so generous to the rest of the family? Does his behavior set the tone for the household?
5. What was Chikkappa's relationship with Suhasini, do you think?
6. Why is Appa ambivalent about the family's new wealth? If he were to become "ruinously entangled in some philanthropic enterprise" (p. 23), what might the rest of the family do to prevent his giving away his share of the business?
7. Which members of the family would have been happier if Chikkappa hadn't opened Sona Masala? Is sudden wealth more a curse than a blessing?
8. What is the significance of the ant infestation?
9. At what point does the story begin to feel sinister?
10. What role does Vincent, the Coffee House waiter, play in the novel? Why does the narrator choose to open his story by talking about him?
11. Early on in the novel, the narrator thinks, "Words, after all, are nothing by themselves. They burst into meaning only in the minds they've entered" (p. 5). Discuss an instance in the novel that illustrates this.
12. Is there anything more you wish you knew about any of the characters?
13. Ghachar Ghochar is the first novel written in Kannada to be published in English in the United States. In what ways does the story Shanbhag tells feel foreign? In what ways does it feel universal?
14. Vivek Shanbhag has been compared to Anton Chekhov. Are there other writers whose work this book is reminiscent of?
15. Have you ever experienced a feeling of "ghachar ghochar" in your own life? Discuss.
About this Author
Vivek Shanbhag is the author of eight works of fiction and two plays, all of which have been published to wide acclaim in the South Indian language Kannada. He was a Fall 2016 resident at the International Writing Program at the University of Iowa.
Ghachar Ghochar
is the first of his books to appear in English.
Back to Top