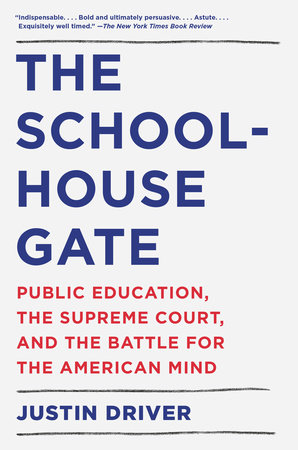 The Schoolhouse Gate
Best Seller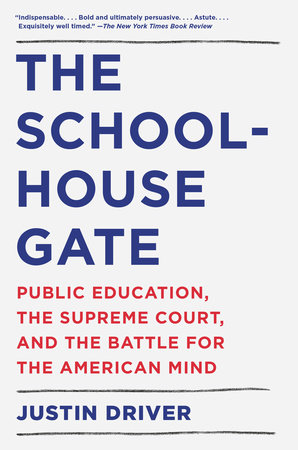 Aug 06, 2019
|
ISBN 9780525566960
Buy the Audiobook Download:
YOU MAY ALSO LIKE
QUICK VIEW
For Discrimination
Paperback
$16.95
QUICK VIEW
Speak Now
Paperback
$17.00
QUICK VIEW
Why Do They Vote That Way?
Ebook
$0.99
QUICK VIEW
Decisions and Dissents of Justice Ruth Bader Ginsburg
Paperback
$15.00
QUICK VIEW
The Pig Farmer's Daughter and Other Tales of American Justice
Paperback
$15.95
QUICK VIEW
Forcing the Spring
Paperback
$18.00
QUICK VIEW
Free Speech
Paperback
$15.00
QUICK VIEW
Court of Appeal
Paperback
$19.00
QUICK VIEW
Tell Me Who You Are
Paperback
$20.00
QUICK VIEW
#NeverAgain
Paperback
$10.00
Praise
A Washington Post Notable Book of the Year
A New York Times Book Review Editors' Choice

"The Schoolhouse Gate is the first book-length history of Supreme Court cases involving the constitutional rights of schoolchildren, a set of cases that, though often written about, have never before been written about all together, as if they constituted a distinct body of law."
—Jill Lepore, The New Yorker

"Indispensable . . . bold and ultimately persuasive . . . astute . . . exquisitely well timed, given President Trump's nomination of Brett Kavanaugh to replace Justice Kennedy. . . . Driver has performed a service in assembling the stories of so many important education cases in one encyclopedic, fair and elegantly written volume. It will remain on my desk for years to come."
—Dana Goldstein, The New York Times Book Review 

"This meticulous history examines rulings on free speech, integration and corporal punishment to argue that schools are our most significant arenas of constitutional conflict."
—New York Times Book Review, Editors' Choice

"A masterful analysis of the Supreme Court's role in public school students' constitutional rights. . . . Driver's book makes for especially timely and important reading."
—Eloise Pasachoff, The Washington Post

"The involvement of the courts [in schools] is recounted in vivid detail by Justin Driver, who sets out to rescue them from the purgatory to which critics across the political spectrum have consigned them. Conservatives charge that the courts have engaged in "judicial activism" for progressive change, while frustrated liberals indict them for failing to promote it. . . . To Driver, the record is much more mixed than that: sometimes courts have lagged behind the rest of the country, but at other moments they have taken the lead. And they have helped expand the rights of American children, albeit unevenly and imperfectly. . . . [I]f you look at the long record of judicial intervention on matters of education, you see that the courts still matter for young Americans."
—Jonathan Zimmerman, New York Review of Books  

"Engaging and absorbing. . . Driver . . . calls on schools to challenge the racial and economic inequality in the broader society. He has the audacity to contend that low-income, black, and brown children have an equal right to share space with more privileged students in a system of public education. Anything less would be undemocratic."
—Richard D. Kahlenberg, The New Republic 

"Authoritative, original, and insightful . . . Driver brilliantly analyzes the Court's precedent-setting cases involving public education and draws on his own personal experience to write with empathy and insight about the children and families involved in these legal dramas."
—National Book Review

"Brilliant. . . . Fascinating. . . . Beautifully written. Professor Driver is a great storyteller. . . . Magnificent."
—Erwin Chemerinsky, Michigan Law Review

"[R]efreshing, inspiring, and . . . audacious. . . . This book is an act of canon creation… Driver is not shy about this goal: he calls the public school 'the single most significant site of constitutional interpretation with the nation's history' and makes a powerful case for that claim… The Schoolhouse Gate advances a full-throated account of the federal judiciary's promise and a morally rich vision of constitutional law. . . . The Schoolhouse Gate presents a powerful argument not just for students' rights but for a theory of constitutional rights that is attuned to the particular values and histories of American social institutions."
—Emma Kaufman, University of Chicago Law Review 

"As Driver shows throughout, all Americans have a vested interest in what happens in our public schools. It is for that reason that this book is a must read not just for civil rights lawyers and law students, but for all who are involved in educating our children. It is poignant . . . sometimes funny . . . and always intellectually rigorous. In short, it is a powerful book that is needed now, as we grapple with the role and legitimacy of the Supreme Court."
—Harvard Civil Rights-Civil Liberties Law Review

"Driver is an unabashed liberal who thinks the American judiciary has failed . . . . But The Schoolhouse Gate is a valuable volume even for those who do not share Driver's politics. The book is a useful compiling of the school cases that have been the arena for much of our national discussion about religion, free speech, race, and privacy over the past hundred years. . . .  Always, somehow, our concerns about the clash of public order and individual rights become most pointed when the location is the American schoolhouse."
—Joseph Bottum, The Washington Free Beacon
 
"An important and delightfully crafted book."
—William Baude, The Volokh Conspiracy

"Deeply important."
—Neal Katyal, Michigan Law Review

"Brilliant."   
—LA Daily Journal

"Important."
—Gregg Easterbrook, The Weekly Standard

"Engaging. . . . Ambitious. . . . Accessible. . . . Excellent."
—Shelf Awareness

"It seems that no one has tried to put together a comprehensive look at what the Supreme Court has said about school integration and students' rights of free expression and the interface between religion and education and other Bill of Rights protections in the school setting. That is what Mr. Driver has now accomplished. . . . [H]e very properly faults the justices for not moving more aggressively to end corporal punishment in schools and to limit the use of drug tests and of physical searches of students and their possessions."
—The Washington Times

"In The Schoolhouse Gate, the University of Chicago law professor casts a critical eye on the Supreme Court's decisions—and its inaction—on issues governing public schools."
—Slate

"[E]pic. . . . Driver's book is informative, incisive, and educational. He writes that one of his goals in writing the book is to 'reinvigorate education law as a field of intellectual inquiry.' He has surpassed that goal and so much more with his landmark work."
—David L. Hudson, Jr., First Amendment News

"The topics are thoughtfully organized and presented in a style that is precise enough for lawyers while remaining lively for educators and concerned parents, always keeping in view the human stories behind the landmark cases. One of Driver's major concerns is that students will get early and vivid impressions of their rights as citizens from their treatment at school, and he often finds that treatment wanting. Thorough, accessible, and always relevant, this is a valuable service and reference for legal practitioners, educators, parents, and citizens concerned about constitutional rights in the context of public education." 
—Kirkus Reviews

"Driver… examines the intersection of the Supreme Court and the public school system in this scrupulous study of two vital American institutions. Driver smartly analyzes how the Constitution applies to disciplinary actions, free speech, prayer in schools, and searches and seizures…  [I]lluminating, often contrarian analysis… Readers… will find much to learn from Driver's independent thinking and unique insights."
—Publishers Weekly 

"Justin Driver's extraordinary book, The Schoolhouse Gate, deeply probes the many ways in which our constitutional law, as interpreted by America's judges, shapes the crucial world of public education—but fails the students for whom that education exists. No one who cares about our nation's children and thus our country's future can afford not to read this riveting work."
—Laurence Tribe, Harvard Law School, author of Uncertain Justice: The Roberts Court and the Constitution
 
"Justin Driver has written the definitive account of the intersection of two of the nation's most important institutions—public schools and the Constitution.  Race, sex, drugs, religion, free speech, and indoctrination—it's all here.  Driver brings the cases to life with compelling portraits of the characters behind the disputes, while simultaneously providing incisive analysis of the role of the Constitution in the classroom." 
—David Cole, Georgetown Law, ACLU National Legal Director, author of Engines of Liberty: How Citizen Movements Succeed 
 
"It's pretty unusual to be moved to tears by a closely argued book on constitutional law.  But Driver's The Schoolhouse Gate is a most unusual book.  Written with elegance and passion, Driver's account of the role of the U. S. Supreme Court in defining the rights of students in our public schools is also an uncompromising work of meticulous scholarship, which will define our understanding of its topic for years to come. But there's something more: there's an indefinable quality of hope and love in this book, for our flawed yet aspiring processes of constitutional adjudication, as well as for the millions of children whose futures they shape."
—Martha C. Nussbaum, University of Chicago, author of The Fragility of Goodness
 
"The Schoolhouse Gate is a gripping, comprehensive, and accessible analysis of the role of the Supreme Court in the regulation of student life in public primary and secondary schooling.  It bristles with insight and eloquence and substantiates Driver's burgeoning reputation as a leading figure in legal academia."
—Randall Kennedy, Harvard Law School, author of Race, Crime, and the Law
 
"What a wonderful, engaging, provocative book!  Justin Driver contends that federal courts have an essential role to play in expanding the constitutional rights of public school students.  Even readers who disagree with some of the book's conclusions—like myself—and believe that school decisions should instead be left largely to school boards, superintendents, principals, teachers, and parents will be forced to grapple with the powerful historical and legal arguments advanced in this impressive volume."
—Judge J. Harvie Wilkinson III, U.S. Court of Appeals for the Fourth Circuit, author of From Brown to Bakke

"In this sweeping, meticulous, and authoritative account, Justin Driver shows how the Supreme Court has long shaped the lives of students in American public schools, for better but also patently for worse—affirming their freedom of speech yet thwarting it, for example, and ending their separation by race in theory yet making that almost impossible to fulfill in many places throughout the USA. He shows how momentous rulings about education helped make the Court one of the nation's most powerful institutions, yet politically driven and frustratingly fickle. The Schoolhouse Gate is an important, engrossing, and excellent book, by an important, gifted, and brave thinker and writer."
—Lincoln Caplan, Yale Law School, author of The Tenth Justice

Awards
American Bar Association Silver Gavel Award FINALIST 2019
Phi Beta Kappa Ralph Waldo Emerson Award SHORTLIST 2019
Get the latest updates about Justin Driver
And go from well-read to best read with book recs, deals and more in your inbox every week.
And go from well-read to best read with book recs, deals and more in your inbox every week.
Dismiss
Thanks!
Something awesome is on its way.
Back to Top
Become a Member
Start earning points for buying books! Just for joining you'll get personalized recommendations on your dashboard daily and features only for members.
Find Out More
Join Now
Sign In
Success!
Your account has been created. Upload book purchases, access your personalized book recommendations, and more from here.