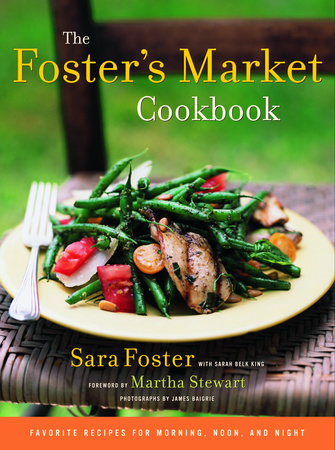 The Foster's Market Cookbook
Favorite Recipes for Morning, Noon, and Night
By Sara Foster and Sarah Belk King
Foreword by
Martha Stewart


Photographed by

James Baigrie



By
Sara Foster

and

Sarah Belk King


Foreword by

Martha Stewart


Photographed by

James Baigrie




Best Seller
Inspired by Your Browsing History
Buy other books like The Foster's Market Cookbook
Praise
From the Foreword by Martha Stewart

Sara has remained true to her beliefs and conviction that good, honest food can be deliciously simple. Her recipes, though often complex in flavor, are by and large easy to prepare. I've cooked many of the recipes collected for this book and eaten many more of Sara's creations, and I've never been disappointed, only elated by the taste and appearance and freshness.

There are two busy, thriving, successful, and charming Foster's Markets, and they are popular not just as places to buy beautifully prepared, delicious foodstuffs, but also as relaxed, carefree gathering places where a cup of latte and a huge piece of crumb cake or a giant sticky bun or a bowl of steaming soup can be savored quietly with a book or a newspaper or with a group of friends.

Sara has prepared this cookbook with the same care and attention that she has lavished on the rest of her work. Well written and well tested, each recipe is sure to please. And the best news is that these represent just a small number of Sara's repertoire, so we can look forward to more of her collected recipes.
Back to Top