Days of Awe Reader's Guide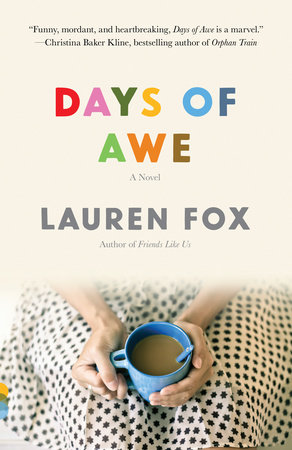 Days of Awe Reader's Guide
READERS GUIDE
The questions, discussion topics, and reading list that follow are intended to enhance your reading group's discussion of
Days of Awe,
the raw, achingly funny new novel by acclaimed author Lauren Fox.
Introduction
Celebrated for her irresistibly witty, strikingly intelligent examinations of friendship and marriage, Lauren Fox ("An immensely gifted writer—a writer adept at capturing the sad-funny mess that happens to be one woman's life" —Michiko Kakutani,
The New York Times
) has written her most powerful novel to date.
Days of Awe
is the story of a woman who, in the wake of her best friend's sudden death, must face the crisis in her marriage, the fury of her almost-teenage daughter, and the possibility of opening her cantankerous heart to someone new.
Only a year ago Isabel Moore was married, was the object of adoration for her ten-year-old daughter, and thought she knew everything about her wild, extravagant, beloved best friend, Josie. But in that one short year her husband moved out and rented his own apartment; her daughter grew into a moody insomniac; and Josie—impulsive, funny, secretive Josie—was killed behind the wheel in a single-car accident. As the roles that long defined Isabel—wife, mother, daughter, best friend—change before her eyes, Isabel must try to understand who she really is.
Teeming with longing, grief, and occasional moments of wild, surprising joy,
Days of Awe
is a daring, dazzling book—a luminous exploration of marriage, motherhood, and the often surprising shape of new love.
Questions and Topics for Discussion
1. This novel touches on multiple themes—friendship, marriage, loyalty and betrayal, parenting, responsibility, and blame. Which emerges as the most important? What larger points is the author making?

2. What does the title mean?

3. Before Josie's funeral, Mark tells Isabel that his wife's death is his fault. She thinks, "Of course it was his fault. And it was my fault, and possibly Chris's, and most definitely Josie's, and some other people's faults, too: we were all guilty, to varying degrees . . ." (page 4) Why does Isabel believe this? How were they responsible?

4. Josie's death ripples through the relationships of her friends and family, whose lives change dramatically in the following year. How does one event set so much in motion?

5. Discuss the episode at the Lake Kass Wetlands Preserve. Why does Isabel think, "Some darkness descended on Josie that weekend, and it never quite lifted"? (page 63)

6. Josie's theory of art: ". . . when you see a work of art flipped on its side, you ask questions of it that wouldn't have occurred to you otherwise." (page 77) How does this figure into what happens after her death?

7. When Mark tells Isabel he's dating one of the Andes, why does she take it as such a betrayal?

8. Discuss Isabel's relationship with Hannah. Why doesn't she notice that Hannah isn't sleeping?

9. The concept of loss weaves through the novel—Josie's death, Isabel's miscarriages, Helene's family in the Holocaust. Helene would say, "The worst has already happened to us." (page 103) How do these losses influence Isabel?

10. What do we learn about Cal when he takes Isabel on a visit to his mother? What do we learn about Isabel?

11. When Josie confesses her relationship with Alex, Isabel immediately takes Mark's side. Why? How does this affect her friendship with Josie?

12. During a session of couple's therapy, Chris says to Isabel, "You're not who I thought you were." (page 157) What does he mean? What has Josie's death revealed?

13. After Isabel suggests that Cal take her back to his place, why does she change her mind? What is she afraid of?

14. Mark and Andi's holiday party marks a turning point in several relationships. How might things have gone differently if Isabel had subdued her discomfort?

15. Why does Isabel meet with Alex? What does she learn from his story about Josie threatening to tell his wife?

16. In retrospect, Isabel recognizes several signs that Josie was unraveling: calling a student a bitch, stealing a coat, bringing a rum-laced soda to school. If she had put the pieces together sooner, what might she have done?

17. When Hannah asks to move in with Chris for a while, why does Isabel say no? Why does Hannah accept that decision so readily?

18. Does the idea that Josie committed suicide make sense to you? Why does it suddenly occur to Isabel?

19. Is Cal "the kind of person who would hide us in an attic"? (page 45)

20. The novel closes: "It's a shock of nerves, embarrassed thrill, and it is also the saddest story I've ever heard. It sounds like this: goodbye, goodbye, goodbye." (page 256) What does this mean?
About this Author
Lauren Fox is also the author of the novels
Still Life with Husband
and
Friends Like Us
. She earned her MFA from the University of Minnesota, and her work has appeared in numerous publications including
The New York Times, Marie Claire, Parenting, Psychology Today, The Rumpus,
and
Salon
. She lives in Milwaukee with her husband and two daughters.
www.laurenfoxwriter.com
Suggested Reading
Elisabeth Egan,
A Window Opens
; Elena Ferrante,
My Brilliant Friend
; Lorrie Moore,
Bark
,
A Gate at the Stairs
; Rufi Thorpe,
The Girls from Corona Del Mar
Back to Top