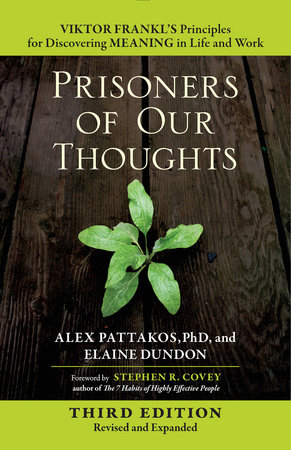 Prisoners of Our Thoughts
Viktor Frankl's Principles for Discovering Meaning in Life and Work
Best Seller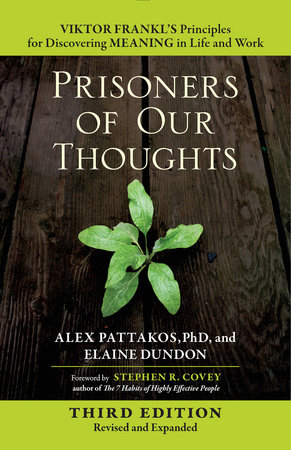 Jan 09, 2017
|
ISBN 9781626568808
Buy the Paperback:
YOU MAY ALSO LIKE
QUICK VIEW
What Doesn't Kill Us Makes Us
Hardcover
$28.99
QUICK VIEW
Talking Across the Divide
Paperback
$16.00
QUICK VIEW
QUICK VIEW
Unprotected
Paperback
$16.00
QUICK VIEW
QUICK VIEW
Everything Is Workable
Audio
$15.00
QUICK VIEW
Destructive Emotions
Paperback
$18.00
QUICK VIEW
Voluntary Madness
Paperback
$16.00
QUICK VIEW
The Unsayable
Paperback
$17.00
QUICK VIEW
The Narcissist Next Door
Paperback
$18.00
Praise
"In this newly revised edition, Alex Pattakos and Elaine Dundon not only honor the legacy of Viktor Frankl but further it by bringing his work to a new generation of readers in search of a more meaningful life. In very practical ways, they show that when we put meaning at the heart of our lives, we're better able to thrive and reach our full potential."
—Arianna Huffington, founder of Huffington Post and founder and CEO, Thrive Global

"If you intend to read just one self-help book in your life, pick this one. You won't regret it."
—Alexander Batthyány, PhD, Director, Viktor Frankl Institute Vienna

"Here is a landmark book that, among other things, underscores how the search for meaning is intimately related to and positively influences health improvement at all levels. Reading Prisoners of Our Thoughts is an insightful prescription for promoting health and wellness!"
— Kenneth R. Pelletier, PhD, MD (hc), Clinical Professor of Medicine and Professor of Public Health, University of Arizona and University of California, San Francisco Schools of Medicine

"Prisoners of Our Thoughts is an important book about creating a meaningful life— a life that matters and makes a difference. Those of us involved in the individual quest for meaning will find valuable information and inspiration in it. Meaning— choosing it, living it, sustaining it— is a significant personal, as well as societal, issue of the twenty-first century."
— Marita J. Wesely, trends expert and Trends Group Manager, Hallmark Cards, Inc.

"This book is a gem. It is an iconoclastic book, which is set to become iconic.
With it, Alex and Elaine have altered the Logotherapeutic landscape. They bring therapy from the clinic into the corporate world. They show how work can be a source of meaning by applying the revolutionary ideas and insights of our mentor Dr. Viktor Frankl. The authors succeed in demonstrating the link between Logotherapy and labour but more— they do it with bravado and brilliance. I recommend this book with relish."
— Stephen J. Costello, PhD, Founder and Director, Viktor Frankl Institute of Ireland

"In the permanent white water of our lives everywhere and especially at work, the meaning of what we do and of who we are is continually in danger of negation. The creation of meaning cannot be a once-and-for-all, set-it-and-forget-it affair, but rather needs to become our most basic ongoing achievement. This book is virtually unique in providing us with both a philosophy and a set of methods for keeping the meaning of our lives and our work vibrantly alive, relevant, and nourishing."
— Peter B. Vaill, PhD, Professor of Management, Antioch University, and Author of Managing as a Performing Art

"Magical. . . . If you read this book patiently and honestly, it may begin to change your attitude and thought process. Deeply and impressively subversive in more ways than one, this book invites us directly in the search for meaning of our work and life."
— Ping Fu, Author, Bend, Not Break: A Life in Two Worlds, Founder and Former CEO, Geomagic, Inc.

"Not averse to giving 'recipes,' Pattakos makes them transparent and convincing enough, and he amply supports them by personal observations and experiences, by testimonies and quotations, by anecdotes and proven wisdom, adding more than a sprinkle of wit and common sense. And he does it all in an immensely readable style."
— Franz J. Vesely, PhD, Viktor Frankl Institute, Vienna, Austria

"Logotherapy was tested in Nazi concentration camps, so it speaks uniquely of meaning in extremes of unavoidable suffering. But Frankl also encouraged the discovery of meaning in our everyday workplaces, and Pattakos offers both a why and a how."
— Haddon Klingberg Jr., PhD, Author of When Life Calls Out to Us: The Love and Lifework of Viktor and Elly Frankl

"If you want to bring life to your personal and/or organizational values read Prisoners of Our Thoughts. It is particularly helpful if you are committed to living an authentic (values-driven) life. This is a book you will want all your associates and family members to read again and again."
— Ann Rhoades, President, People Ink, and Former Executive Vice President, People, JetBlue Airways

"The transcendent spirit of Viktor Frankl vindicated human resilience. Alex
Pattakos nimbly brings essential new life to that spirit. Reading this book is a choice— a choice to add deeper meaning to your life."
— Jeffrey K. Zeig, PhD, Founder and Director, The Milton H. Erickson Foundation

"Living and working in such changing times takes courage. This book helps us connect with ourselves and meaning in order to be happier, develop resilience in life and work, and co-create a better future. In a time when there is so much unpredictability, Prisoners of Our Thoughts is a must-read to serve as a prescription for personal and business leadership."
— Lisa Schilling, RN, MPH, Vice President, Healthcare Performance Improvement, Kaiser Permanente

"It is very rare to encounter a book that is simultaneously profound and approachable, one that addresses the essential crux of the human dilemma in a manner that is inviting and even heartfelt. Prisoners of Our Thoughts is just such a book. I highly recommend it."
— Jeffrey Mishlove, PhD, Dean of Transformational Psychology, University of Philosophical Research, and Author of The Roots of Consciousness

"A must-read for all those who want to lead successful lives. . . . The book has universal appeal and would help people working in any part of the world, and at any type of job. Dr. Pattakos's concepts resonate well with me— a Sikh by religion. I believe that world peace would be greatly helped by having more and more people happy with their lives, as Prisoners of Our Thoughts could help them be."
— Karuna Singh, Program Manager, Office of Public Affairs, U.S. Consulate General, Kolkata, India

"Prisoners of Our Thoughts is an enormously inspiring eye and heart opener, enlarging the scope of our life and work in a wonderful way. It's a book full of wisdom, a road sign to the meaning and riches of life."
— Dr. Heinrich Anker, Cofounder, Management Centre Zug (Switzerland), and President, Swiss Society of Logotherapy and Existential Analysis

"CEOs, as well as the average worker, can be both informed and inspired by
Pattakos's book."
— Paul T. P. Wong, PhD, President, International Network on Personal Meaning, and Coeditor, The Human Quest for Meaning: A Handbook of Psychological Research and Clinical Applications

"It has been a long wait— a very long wait! But Frankl's principles and methods have at last been set free to be used and enjoyed and practiced in the work situation."
— Dr. Patti Havenga Coetzer, Founder, Viktor Frankl Foundation of South Africa

"Masterpiece. Challenging. Insightful. Motivational. Inspirational. Magnificent. Prisoners of Our Thoughts branches all of these into one central theme: staying true to you, the real you. This book is a must-read for all educators, parents, and students. It provides such a clear view of the importance of character and how love ties it all together. A must-read."
— Dr. Mark Isley, Principal, Shelby County Alternative School, Alabama

"Those who seek meaning in their work and life will find much of value in this practical application of the wisdom of Dr. Frankl, so deeply experienced and artfully presented."
— Dee Hock, Founder and CEO Emeritus, VISA

"Don't let life just happen to you! Let Dr. Pattakos show you how to apply Viktor Frankl's core principles to make your work and life more meaningful. Anyone from mail deliverer to CEO can embark on a path of self-discovery that will lead to better results and relationships with others."
— Jean E. Spence, Executive Vice President, Global Technology and Quality, Kraft Foods

"I fully recommend reading this great work and applying its wisdom. Please don't wait to open your 'lockbox' of talents and tasks that life has set aside for you. Seek what is yours on behalf of all mankind."
— Robert R. Thompson, Lieutenant Colonel, U.S. Army

"Use Prisoners of Our Thoughts as a textbook, order it for all your employees, and buy a copy for yourself."
— Erik Bergrud, Associate Vice President for Alumni, Constituent and Employer Relations, Park University, and Past President, American Society for Public Administration

"Dr. Pattakos provides a commonsense model to resolve the existential anxiety created by the gap between our thoughts and reality and to tremendously enrich our lives. Read Prisoners of Our Thoughts and be prepared to look in the mirror and see the person responsible for your dissatisfaction and unhappiness!"
— Vann E. Schaffner, MD, Spokane, Washington

"Every thinking person can benefit from the work of Alex Pattakos. As we wind our way through life's challenges, understanding life's choices and outcomes is foremost. This work adds a great deal of value to this most important of life's searches."
— Robert Agranoff, PhD, Professor Emeritus, School of Public and Environmental Affairs, Indiana University, Bloomington

"Prisoners of Our Thoughts is a must-read. Not only is it written in very direct, clear language to assert the case for each of us to follow the meaning in our lives, but it hits an intuitive nerve as Dr. Pattakos explains Viktor Frankl's sources for authentic meaning in one's life. This has been a major influence in creating a more rewarding life for me and countless others."
— Michael E. Skaggs, Executive Director, Nevada Commission on Economic Development

"Alex Pattakos does a wonderful job of translating Frankl's work into actions for living. He delivers an especially powerful message for individuals striving to grow both professionally and personally. I can think of no other book that better prepares leaders for facing tough challenges. This is a must-read for leaders!"
— Dr. Mitch Owen, College of Agriculture and Life Sciences, North Carolina State University

Table Of Contents
Contents

Foreword by Stephen R. Covey v
Preface to the Second Edition xiii
Life Doesn't Just Happen to Us 1 

Viktor Frankl's Lifework and Legacy 15 

Labyrinths of Meaning 27 

Exercise the Freedom to Choose Your Attitude 41 

Realize Your Will to Meaning 65 

Detect the Meaning of Life's Moments 91 

Don't Work Against Yourself 113 

Look at Yourself from a Distance 131 

Shift Your Focus of Attention 143 

Extend Beyond Yourself 157 

Living and Working with Meaning 173 

The Meaning Difference® 187
Notes 215

References
Acknowledgments 225
Index 229
About the Author 235


Be the first to know!
And go from well-read to best read with book recs, deals and more in your inbox every week.
And go from well-read to best read with book recs, deals and more in your inbox every week.
Dismiss
Thanks!
Something awesome is on its way.
Back to Top
Become a Member
Start earning points for buying books! Just for joining you'll get personalized recommendations on your dashboard daily and features only for members.
Find Out More
Join Now
Sign In
Success!
Your account has been created. Upload book purchases, access your personalized book recommendations, and more from here.