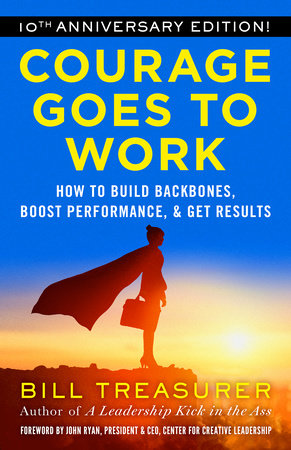 Courage Goes to Work
How to Build Backbones, Boost Performance, and Get Results
How to Build Backbones, Boost Performance, and Get Results
By Bill Treasurer
Foreword by
John Ryan
By
Bill Treasurer


Foreword by

John Ryan



By Bill Treasurer

By
Bill Treasurer
Best Seller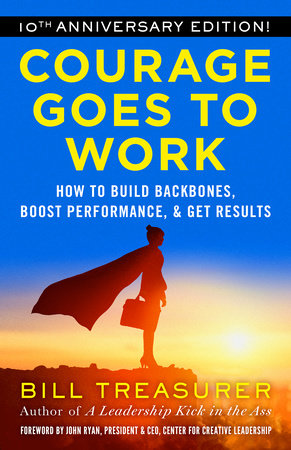 Paperback
May 07, 2019 | ISBN 9781523098569
Paperback

$19.95

May 07, 2019 | ISBN 9781523098569
Hardcover

$26.95

Oct 13, 2008 | ISBN 9781576755013
*This title is not eligible for purchase to earn points nor for redemption with your code in the
Reader Rewards
program
Buy the Hardcover:
Inspired by Your Browsing History
Praise
"This book is truly awesome! Bill Treasurer has stolen courage from the gods and brought it to the workplace, where it is desperately needed. Everyone in a leadership role should put this book on the must-read list. After reading it, you may find the courage to buy a copy for your boss!"
—Chip Bell, coauthor of Customer Loyalty Guaranteed
 
"Courage is the first and most important component of success in business. Without it, there is nothing more than mediocrity and boredom. Bill Treasurer captures this awareness in his book and instructs us in making sure we're not overlooking that important aspect of fulfillment and success in our working life. Have the courage to leap, he says, even from dizzying heights. The water will embrace you and reward you. He knows—he's been there."
—David Ryback, coauthor of Psychology of Champions
 
"Even for people who are full of courage, instilling courage in others can be a daunting task. As someone who knows a thing or two about courage, I found this book is an invaluable tool every manager can and should use. The only thing worse than the quagmire of an office locked in comfort or fear is a manager too afraid to do something about it!"
—Dustin Webster, seven-time world cliff diving champion and Red Bull announcer
 
"Whenever I'm feeling a bit chicken, I need only pick up Bill's new book, Courage Goes to Work, and my own courage starts to rally. By the time I'm finished reading, I'm feeling like an eagle—ready to fly high and take on any challenge!"
—BJ Gallagher, coauthor of A Peacock in the Land of Penguins
 
"You will not find a more clear voice on courage than Bill Treasurer's. Like Bill, I have worked for over a decade exploring courage in the high-risk realm of leader-follower relations with senior political figures and management teams. I do a good job of this at a foundational level. Bill's work is the graduate program. Let him guide you to the heights where your life and work become extraordinary—because you understand your fear and that of others and bring out the courage in each."
—Ira Chaleff, author of The Courageous Follower
 
"Bill Treasurer brings a true blend of wisdom, compassion, and personal experience to the understanding of courage and brings a practical approach to giving people the courage to stretch themselves and achieve great results. Courage Goes to Work raises people's standards so they can stop coasting along in the safety of 'good enough.'"
—Conor Neill, President, Vistage Spain & Senior Lecturer at IESE Business School
 
"Courage Goes to Work is a must-read for anyone who needs to show up with strength at work every single day. This is an inspiring book about how we can all be a little more brave, authentic, and effective in our professional and personal lives. I was personally inspired by the message and will be recommending this book to everyone I know."
—Brendon Burchard, #1 New York Times best-selling author and the world's leading high performance coach
 
"Fear and doubt are the two greatest enemies of high performance in the workplace. This powerful book shows you how to instill more and more courage and confidence in every person, releasing personal potential you didn't know you had available."
—Brian Tracy, author of Eat That Frog! and Goals!
 
"Most of us take our minds to work but leave courage at the door. In this compelling book, Bill Treasurer provides three nourishing lunch buckets to take to work every day: try courage, trust courage, and tell courage. In doing so, you'll have all you need to be a better person and a better leader."
—Dick Axelrod, author of Terms of Engagement
 
"Though not to be compared with the courage tested on battlefields, courage is the oft-missing element in today's work environments. In Courage Goes to Work, Bill shows how the same visceral emotion that leads some to great acts of heroism can also be channeled to transforming the job of a 21st-century middle manager. Bill has found a simple language that any leader can use to reinforce the behaviors we need in our teams: be willing to try new things, trust your teammates, and tell me when you have a good idea (or I have a bad one). We have found this book so practical that we have shared it with over two hundred of our managers and frontline leaders."
—Michael Wallace, Learning and Development Manager, Total American Services
 
"Fear is the greatest threat to innovation, leadership, and growth in any organization. Courage Goes to Work provides a practical framework for overcoming it by emboldening people to engage in the braver conversations, be more decisive amid the uncertainty, and take the psychological risks required to forge new ground and inspire the best in others. If you want to be a change maker in your team, your organization, and the world, this book is for you!"
—Margie Warrell, bestselling author of Stop Playing Safe, speaker, and board advisor, Forbes Business School

"This book is powerful stuff and reminds us that courage is a business skill. We have put this book's framework and tools to work with our leaders for over a decade, and they've had a transformational impact on our workplace. Courage is great for business!"
—Craig Atkinson, Vice President of Communications and Strategic Services, Walsh Construction
 
"If you're looking for a quality resource on the topic of courageous leadership written by the pioneer on the topic, this book is it! Bill Treasurer puts the perfect spotlight on the vital role of courage in the workplace, with vivid stories and examples. At Armstrong Flooring, we used the concepts from the book to help us increase the level of courage across our workforce. As a result, every few days I learn about a courageous act that someone took to add value to our business. In other words, the concepts work!"
—Lori Guiseppe, Organizational Development Manager, Armstrong Flooring
 
"Courage isn't just for high-divers! When 'courage goes to work,' a culture of innovation, ambition, and vision will flourish. In his highly regarded business book, Bill Treasurer provides insight and practical advice on overcoming complacency, adapting to change, learning from experience, and being honest with yourself and others. Whether you are looking to build a business, make a difference, or take a leap, this is a must-read!"
—Krista Roberts, Vice President of Talent Management, Aldridge Electric Inc.
 
"This book is a must-read from a personal and leadership perspective. Bill clearly illustrates the familiar feeling in all of us that prevents us from moving ourselves past the obstacles that stand between us and the achievement of our lifelong goals and plans. Courage Goes to Work names and illustrates three different types of courage 'buckets' necessary to help us move our teams, ourselves, and our businesses to the next level. Drawing on personal and professional experience, Bill leaves the reader with a full tank of common-sense advice that will remain in my business vernacular for years to come!"
—Darren Bridges, President, Safe Systems
Table Of Contents
Foreword by Sara Blakely
Introduction – Too Much Comfort, Too Much Fear

Part I: Setting a Foundation for Courage
Chapter 1 – Look Before You Leap
Chapter 2 – Jumping First
Chapter 3 – Create Safety Nets
Chapter 4 – Harness Fear
Chapter 5 – Modulate Comfort

Part II: Three Buckets of Courage
Chapter 6 – Fillers and Spillers
Chapter 7 – TRY Courage
Chapter 8 – TRUST Courage
Chapter 9 – TELL Courage

Part III: Committing to Giant Leaps
Chapter 10 – The Courageous Choice
Chapter 11 – Courageous Living

Acknowledgments
Index
About the Author
About Giant Leap Consulting, Inc.
Back to Top