Doctors and Friends Reader's Guide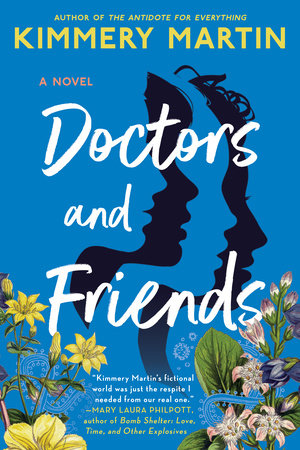 Doctors and Friends Reader's Guide
READERS GUIDE
Reader's Guide
Doctors and Friends by Kimmery Martin
Discussion Questions:
1. If you could take a vacation anywhere with your closest friends, where would you want to travel together?
2. The novel explores the concept of friendship as a fundamental human relationship, portraying a group of women who've been close for most of their adult lives. Have you experienced this kind of long-term friendship in your own life? In what ways did the characters lean on one another as they were fighting to survive this pandemic?
3. Doctors and Friends immerses the reader in some of the day-to-day responsibilities of physician specialists in emergency medicine, obstetrics-gynecology, and infectious disease. Which of the medical specialties was most fascinating to read about?
4. Kimmery Martin has stated that the scenes from Compton's perspective felt the most natural to write because of her own background as an ER doctor. Have you ever read a novel in which one of the main characters shared your career or field of study?
5. The main characters in the book are all female. Did you enjoy the portrayal of the supporting male characters? If you were able to select between Wally, Jonah, Declan, and Dr. Mike Zhou as a real-life friend, which one would you pick and why?
6. Each of Kimmery Martin's novels has been a spin-off of the previous one, focusing on different protagonists but set in the same fictional universe. Dr. Georgia Brown was in a minor character in The Queen of Hearts and the protagonist of The Antidote for Everything, but she is also a pivotal character in Doctors and Friends. If you read Antidote, did prior knowledge of her character change your reaction to her fate in this book? If you haven't read the previous novels, are you curious about her backstory?
7. Hannah—an ob-gyn who is described as the most nurturing of the group of friends—struggles with infertility. Toward the end of the pandemic, she is finally pregnant but leaves the safety of her home to go into the hospital to take care of Georgia—a decision that costs her dearly. Meanwhile, Compton and her colleagues risk death on a daily basis in the emergency department. If you were a doctor in this scenario, would you put your own life at risk to care for others?
8. The characters face many difficult losses over the course of the book. Which hit you the hardest?
9. Did you have a favorite character? What about their story resonated most with you?
10. Kira's choice—the most difficult one a mother could face—defines the pandemic for her. What would you have done in her situation?
11. According to the author, in the original "more medically plausible" draft of Doctors and Friends, Kira's choice resulted in a fatal outcome. What's your opinion of the outcome for Kira's children and career in the novel? Would different consequences have negatively or positively affected your experience of the book?
Back to Top