The Department of Sensitive Crimes Reader's Guide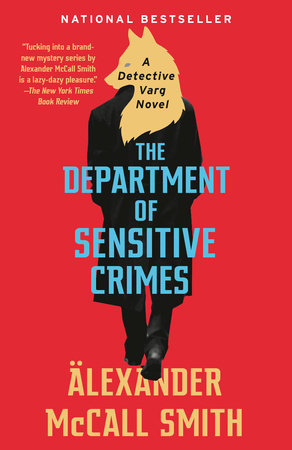 The Department of Sensitive Crimes Reader's Guide
READERS GUIDE
The introduction, author biography, discussion questions, and suggested reading that follow are designed to enhance your group's discussion of
The Department of Sensitive Crimes,
the first "Detective Varg Novel," Alexander McCall Smith's newest series.
Introduction
In the Swedish criminal justice system, certain cases are considered especially strange and difficult. In Malmö, the dedicated detectives who investigate these crimes are members of an elite squad known as the Sensitive Crimes Division.

These are their stories.
The first case: the small matter of a man stabbed in the back of the knee. Who would perpetrate such a crime and why? Next: a young woman's imaginary boyfriend goes missing. But how on earth do you search for someone who doesn't exist? And in the final investigation: eerie secrets that are revealed under a full moon may not seem so supernatural in the light of day. No case is too unusual, too complicated, or too, well
insignificant
for this squad to solve.
The team: Ulf "the Wolf" Varg, the top dog, thoughtful and diligent; Anna Bengsdotter, who's in love with Varg's car (and possibly Varg too); Carl Holgersson, who likes nothing more than filling out paperwork; and Erik Nykvist, who is deeply committed to fly fishing.
With the help of a rather verbose local police officer, this crack team gets to the bottom of cases other detectives can't or won't bother to handle. Equal parts hilarious and heartening,
The Department of Sensitive Crimes
is a tour de farce from a true master.
Questions and Topics for Discussion
1. How is the Detective Varg series different from Alexander McCall Smith's other series?
2. What do you think of the character of Ulf Varg? Compare him to Precious Ramotswe or Isabel Dalhousie. What are their similarities and differences amongst them?
3. Consider the setting of Malmö, Sweden. How is this important to the plot and the timbre of the novel?
4. The Department of Sensitive Crimes has been called "Scandi-Lite." Is this a fitting description?
5. Do you think Alexander McCall Smith is better at writing male or female characters? Explain.
6. The police force considers the cases assigned to Varg's team "sensitive crimes." How would you characterize them?
7. How does Detective Varg define "being Swedish?"
8. Which is your favorite character on Varg's team? Why?
9. Discuss the relationship between Varg and Anna. What do you foresee happening in their future?
10. What did you think of the case of Malte Gustafsson? Was the perpetrator hard to find? How was Hampus as pitiable as the man he stabbed? Why was he prosecuted anyway? What was Varg's interest in Hampus and his future problems?
11. Describe the way Varg deals with the colonel's plans for Hampus? Is this very "Swedish?"
12. What was Bim's initial "crime?" What did her friend Signe lead the police to think happened? What did her mother think?
13. What happened further to Signe to reignite suspicion of Bim? What was Bim actually guilty of? What was Signe guilty of? Are you satisfied with the outcome of that investigation?
14. How does the enquiry into Commissioner Ahlbörg's cousin's spa conclude? Are the assumptions made by Varg (and Blomquist) fair?
15. Which of the three cases did you like the best? Why?
16. Varg's investigative method is "to allow his own sense of what was happening to develop" (p. 194). Does experienced detective work solve these cases? Or is it a series of coincidences noted by an observant person? Are they the same?
17. What do you think of Blomquist? What purpose does the character serve for the author? Were you surprised by the commissioner's decision on his behalf?
18. Why do you think Detective Varg sees a psychotherapist?
19. When Ulf expresses a desire for a simpler life, Dr. Svensson tells him, "You need the occasions of good, as we all do—even if we don't have a name for them" (p. 225). How does the detective's job help him see (and accomplish) "occasions of good" in the world?
20. Alexander McCall Smith is a prolific writer. What situations/relationships would you like to see develop in the future for the Department of Sensitive Crimes and its characters?
About this Author
ALEXANDER McCALL SMITH
is the author of the No. 1 Ladies' Detective Agency novels and of a number of other series and stand-alone books. His works have been translated into more than forty languages and have been best sellers throughout the world. He lives in Scotland.
Back to Top