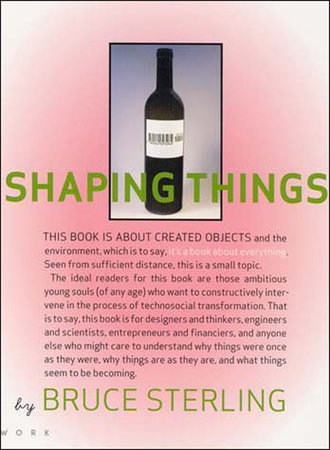 Shaping Things
By Bruce Sterling
Designed by
Lorraine Wild
By
Bruce Sterling


Designed by

Lorraine Wild




Best Seller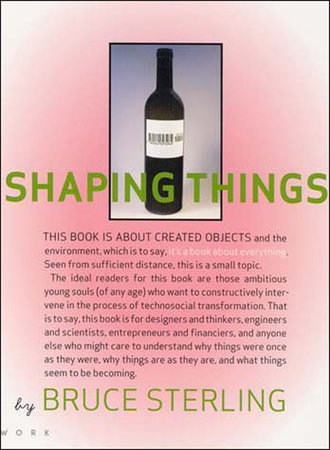 Oct 07, 2005
|
ISBN 9780262693264
*This title is not eligible for purchase to earn points nor for redemption with your code in the
Reader Rewards
program
Buy the Paperback:
Inspired by Your Browsing History
Buy other books like Shaping Things
Praise
Now, with Shaping Things, design gets full-court consideration in a powerfully argued thesis tracking the profession's trajectory toward a new product order…On top of being one of the most strikingly insightful little volumes on the design shelves, Shaping Things, designed by Lorraine Wild, is one of the most originally and empathically crafted pieces of evidence that artifacts do evolve, and that designers may hold the keys to a more sophisticated relationship to the things around us we take for granted.—Architect's Newspaper—

Shaping Things is full of entirely readable large ideas, made palatable by Lorraine Wild's clean but evocative book design. The whole project exudes a confidence-building, you-too-can-be-an-architect-of-the-future tone, much like the work of Buckminster Fuller, who like Sterling was a practical visionary and often had to create a new language to describe his ideas…In the end, Shaping Things asks us to consider how we can create a sustainable future, using all the information available to us as consumers, without the preachiness that accompanies the environmental and sustainable lifestyle movements.
—
Los Angeles Times Book Review
—
Shaping Things is really about shaping experiences. Sterling brilliantly makes you more aware of experiences that your customers have—or don't have—with objects…Shaping Things presents a robust typology of technologies to inspire marketers and provoke innovators into rethinking their market offerings' essential qualities.
—
Michael Schrage
—
It's the most thought provoking thing I've read all year…I can tell that this is a book I'll return to again and again and get more out of it each time I do. It's a wonderful and timely work that is a must-read in an age of ubiquitous computation, universal information resources, and hacker-activist renaissance, there's no better primer for putting it all together.
—
Cory Doctorow
,
BoingBoing
—
Back to Top