The Marriage Portrait Reader's Guide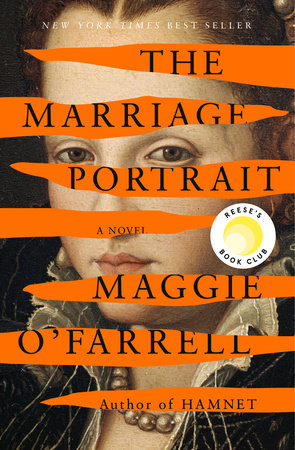 The Marriage Portrait Reader's Guide
READERS GUIDE
The acclaimed author of
Hamnet
—a
New York Times
bestseller and winner of the National Book Critics Circle Award—now turns her perceptive eye to the ruling families of Renaissance Italy, for whom marriage meant political power, while a woman's worth was measured by her ability to perpetuate a dynasty.
Inspired by a daughter of the House of Medici—Lucrezia di Cosimo de' Medici d'Este, who wed Alfonso II at the age of thirteen and died just three years later—
The Marriage Portrait
captures an opulent yet dangerous world. In the novel, Lucrezia is a gifted artist who is not afraid to speak her mind. But when her older sister dies on the eve of marrying the ruler of Ferrara, Modena, and Reggio, her father ensures that Lucrezia will become the bride instead. Forced to join an unfamiliar, often unwelcoming court after the pageantry of a high-stakes wedding, Lucrezia soon begins to fear her seemingly charming new husband. Why do his formidable sisters seem to tremble before him? And what will become of her if she does not produce an heir?
Full of the tender beauty with which O'Farrell illuminated the Shakespearean canvas in
Hamnet
, this is an extraordinary portrait of resilience in the face of confinement and devastating consequences. The questions that follow are designed to enrich your book club's discussion of
The Marriage Portrait.
We hope this guide will enhance your experience of an endlessly fascinating chapter in Renaissance history.
Questions and Topics for Discussion
1. From the start, Lucrezia's temperament is difficult for her mother to tolerate. Are Lucrezia's intellect and willfulness a liability or a benefit in shaping the course of her life?
2. What distinctions did you notice between the way girls and boys were raised in Cosimo's household? To what extent are Lucrezia and her siblings permitted to experience childhood innocence?
3. As you read the story of the tigress, what parallels did you see between the entrapment of trophy animals and the Duke's quest to preserve and expand his dynasty?
4. Discuss the novel's portrayals of motherhood. How do Eleanora, Sofia, and Emilia's mother (a cook and wet nurse) provide varied forms of sustenance to Lucrezia at key points in her life? Ultimately, who makes up her true family?
5. Did you trust Alfonso's initial kindness toward Lucrezia? Is there any room for genuine love in Alfonso's business of building empires?
6. In the novel, what is the role of artists? What is significant about Lucrezia's ability to capture the imagery around her, and the imagery of her mind? How does her artistry compare to that of Il Bastianino and Jacopo, who are at the mercy of their clients? Who are the modern-day equivalents of these celebrity portraitists?
7. How does Lucrezia cope with her duty to serve as a replacement for Maria? As Lucrezia's body matures and transforms, how is she affected by her sister's legacy of womanhood, and by the connection between a woman's value and her ability to sustain a pregnancy?
8. Are there many similarities between Lucrezia's parents' marriage and her marriage to Alfonso? As Eleanora writes to her daughter with advice for establishing power within her new family, what does she fail to understand about the fundamental differences between her daughter's situation and her own?
9. Discuss the political fallout caused by Alfonso's mother and her history of Protestantism. What was it like to read about a society in which religion was interwoven with military might and the wealth of the ruling families?
10. How did your impressions of Elisabetta and Nunciata shift as you learned more about them? How would you have fared as their sister-in-law?
11. As the Duke's closest companion, Leonello is loyal at all costs. Does Lucrezia have a similar ally in Emilia?
12. Read Robert Browning's poem "My Last Duchess," quoted in the novel's epigraph, and revisit Maggie O'Farrell's note at the end of her novel. What makes the Duke and Duchess of Ferrara such intriguing subjects for creative interpretation? What are your theories about what caused the death of the real Lucrezia? How did you react to O'Farrell's reimagining of her fate?
13. O'Farrell has been widely praised for crafting poignant, perceptive depictions of life's unexpected turns. How does The Marriage Portrait amplify aspects of the human experience portrayed in her other novels that you have read?
Suggested Reading
Giovanni Boccaccio,
The Decameron
Chris Bohjalian,
The Light in the Ruins
Tracy Chevalier,
Girl with a Pearl Earring
Daphne du Maurier,
My Cousin Rachel
Allison Epstein,
A Tip for the Hangman
C. W. Gortner,
The Confessions of Catherine de Medici
Philippa Gregory,
The Other Boleyn Girl
Frances Mayes,
Women in Sunlight
Dominic Smith
, The Last Painting of Sara de Vos
Heather Terrell,
Brigid of Kildare
Back to Top