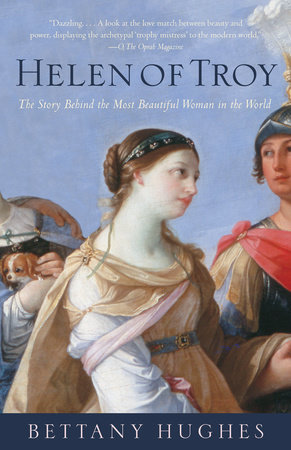 Helen of Troy
The Story Behind the Most Beautiful Woman in the World
The Story Behind the Most Beautiful Woman in the World
By Bettany Hughes

By
Bettany Hughes
By Bettany Hughes

By
Bettany Hughes
Best Seller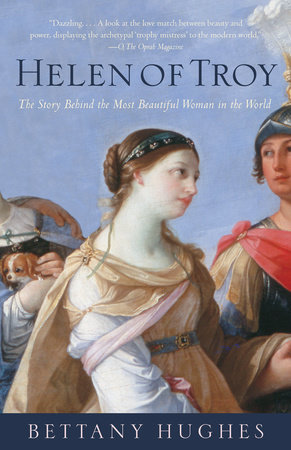 Paperback
Jan 09, 2007 | ISBN 9781400076000
Paperback

$19.95

Jan 09, 2007 | ISBN 9781400076000
People Who Read
Helen of Troy

Also Read
Inspired by Your Browsing History
Praise
"Dazzling. . . A look at the love match between beauty and power, displaying the archetypal 'trophy mistress" to the modern world." –O, The Oprah Magazine

"A divine biography. . . . Sizzling. . . . [Hughes] , a young British historian, explores not only the Bronze Age babe but also what she has meant throughout history and the cultural significance of being both desired and despised." –USA Today

"[Hughes'] multi-faceted, multi-hued, and multi-period portrait of la Belle Helene will capture the imagination of professional scholars and general readers alike. I cannot recommend it too strongly." –Professor Paul Cartledge, Cambridge University

"Hughes brings a passion for ancient history and archaeology crossed with a strain of feminism to the figure of Helen." –The Washington Post Book World

"The book triumphantly reclaims Helen from some of her traducers. Hughes's portrait is as close to a real, living Helen as we are likely to get."
–Financial Times

"When Helen launched her "thousand ships," was she a "shameless hussy?" Or, like her mother, was she a rape victim? . . . The answers have always depended on who you speak to and when. Hughes has them all."
–The Times

"Hughes skillfully brings this period back to life. A fascinating window onto the power politics of an age . . . a genuinely exciting historical narrative."
–Sunday Telegraph.
Table Of Contents
Illustrations
Text Acknowledgements
Maps
Timeline
Dramatis Personæ
Family Trees
Foreword and Acknowledgements


INTRODUCTION
Cherchez la Femme
An Evil Destiny
Helen-Hunting
Goddess, Princess, Whore


PART ONE
HELEN'S BIRTH IN PRE-HISTORY
1 A Dangerous Landscape
2 A Rape, a Birth
3 The Lost Citadel
4 The Mycenaeans
5 The Pre-historic Princess

PART TWO
THE LAND OF BEAUTIFUL WOMEN
6 The Rape of 'Fair Hellen'
7 Sparte Kalligynaika
8 Tender-eyed Girls

PART THREE
THE WORLD'S DESIRE
9 A Trophy for Heroes
10 The Kingmaker
11 A Royal Wedding

PART FOUR
KOUROTROPHOS
12 Hermione
13 A Welcome Burden
14 Helen, High Priestess
15 La Belle Hélène

PART FIVE
A LOVER'S GAME
16 The Golden Apple
17 Bearing Gifts
18 Alexander Helenam Rapuit
19 The Female of the Species Is More Deadly Than the Male

PART SIX
EROS AND ERIS
20 Helen the Whore
21 The Pain of Aphrodite
22 The Sea's Foaming Lanes

PART SEVEN
TROY BECKONS
23 East Is East and West Is West
24 The Fair Troad
25 The Topless Towers of Ilium
26 The Golden Houses of the East
27 A Fleet Sets Sail

PART EIGHT
TROY BESIEGED
28 Helen – Destroyer of Cities
29 Death's Dark Cloud
30 A Beautiful Death – Kalos Thanatos
31 The Fall of Troy

PART NINE
IMMORTAL HELEN
32 Home to Sparta
33 The Death of a Queen
34 The Age of Heroes Ends
35 'Fragrant Treasuries'
36 The Daughter of the Ocean

PART TEN
THE FACE THAT LAUNCHED A THOUSAND SHIPS
37 Helen in Athens
38 Helen Lost and Helen Found
39 Helen, Homer and the Chances of Survival
40 Veyn Fables
41 Helen of Troy and the Bad Samaritan
42 'Perpulchra' – More Than Beautiful
43 Dancing with the Devil
44 Helen's Nemesis

APPENDICES
1 The Minotaur's Island
2 La Parisienne
3 Women of Stone and Clay and Bronze
4 Elemental Helen – She-Gods and She-Devils
5 Royal Purple – The Colour of Congealed Blood
Epilogue – Myth, History and Historia

Abbreviations
Notes
Bibliography
Index
Back to Top