World and Town Reader's Guide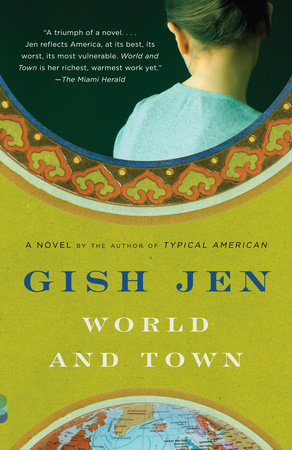 World and Town Reader's Guide
READERS GUIDE
The questions, discussion topics, and reading list that follow are intended to enhance your reading group's discussion of
World and Town
, acclaimed author Gish Jen's brilliantly rendered new novel about a newly widowed Chinese American woman, a retired neuroscientist, and a Cambodian refugee family all starting over, they hope, in a small New England town.
Introduction
Hattie Kong—the spirited offspring of a descendant of Confucius and an American missionary in China—has, in her fiftieth year of living in the United States, lost both her husband and her best friend to cancer in the same year. It is a devastating loss and also heartbreakingly absurd: "It was like having twins . . . She got to book the same church with the same pianist for both funerals, and did think she should have gotten some sort of twofer from the crematorium."
But now, two years later, it's time for Hattie to start over. She moves to the town of Riverlake, where she is soon joined by an immigrant Cambodian family on the run from their inner-city troubles, as well as by—quite unexpectedly—just-retired neuroscientist and ex-lover Carter Hatch. Each of them is hoping for a new life in a town that once might have represented the rock-solid base of American life as it was—or as we imagined it was—before the invasion of cell-phone towers and chain stores, struggling family farms, and Christian fundamentalists.
Hattie's involvement with the town's longtime inhabitants and its most recent newcomers is at the center of an elegantly crafted novel in which the power of religion, the clash of cultures, the meaning of love and home and acceptance are intricately woven into an unforgettable tale.
Questions and Topics for Discussion
1. The prologue is set in a beautiful and ancient Chinese graveyard in which Hattie Kong's relatives—descendants of Confucius—are buried, a provocative opening for a book about small-town America. What does this suggest about America today? The section ends with Hattie Kong—Chinese and American, Christian and Confucian—lamenting the passing of an older, simpler order and wondering what she has to replace it. To what degree are her questions uniquely her own?
2. Hattie is the center of this novel, the person through whom all the others connect, but she has her own story as well. Why does she move to Riverlake? What do Lee and Joe represent to her? Why does Sophy mean so much to her? When Neddy Needham, in the first Town Hall scene, asks, "Whose town is this?" she wonders, on the side, if it is hers. It is by the end, but how has this change come about?
3. There is a lot of doubling in this book. Chhung feels himself to have been reborn into his brother's life; Carter Hatch seems scripted to become his father; Hattie is able to leave China thanks to her serendipitous resemblance to a girl who died. Do you see other doublings of characters or situations? What does this suggest about the nature of the self and reality?
4. Vision is a major theme in the book. Hattie's mother has always told her, "We must see that we don't see," and Carter spent most of his career working on the process by which information from the outside world is filtered and made coherent. Vision, as Carter's father says, goes with blindness, even depends on it. Do you find other forms of seeing that involve blindness in the book? And if what we see might be thought of as a "world," does this shed light on the title of the book?
5. Hattie, by the end of the book, has embraced a new life, but she has also rejected several modes of being. Though displaced, like her fellow teacher Ginny, and betrayed, she has chosen a different road for herself. Do other characters offer reflections of what Hattie might have become, had she chosen differently? In her youth, Hattie rejects superstition and embraces science; by the end, she has modified her view somewhat. Why?
6. One of the ways in which people in this book try on new selves is by changing their hair. What are some of the things people do to their hair?
7. This book has a main narrative in three parts, with two related narratives inserted into it. What does this suggest about the nature of the main narrative and storytelling generally? Is it definitive? How might it be related to the themes of "world"-making and blindness?
About this Author
Gish Jen is the acclaimed author of three novels:
Typical American
,
Mona in the Promised
Land
, and
The Love Wife
, as well as a collection of stories,
Who's Irish?
Suggested Reading
Sarah Streed,
Leaving the House of Ghosts
; Elizabeth Becker,
When the War Was Over
; Russell Freedman,
Confucius:
The Golden Rule
; Chang-rae Lee,
Native Speaker
; Willa Cather,
A Lost Lady
; Donald S. Lopez, Jr.,
The Story of Buddhism
; David Guterson,
Snow Falling
on Cedars
; Lisa See,
Shanghai Girls.
Back to Top