Confessions of a Shopaholic Reader's Guide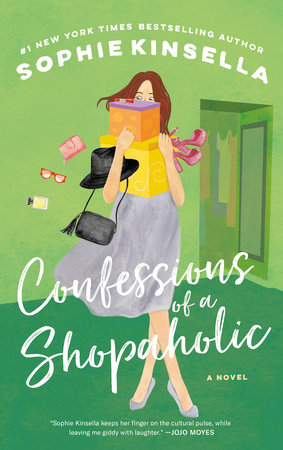 Confessions of a Shopaholic Reader's Guide
READERS GUIDE
Questions and Topics for Discussion
1. Becky has a serious shopping addiction! Clothes, makeup, shoes—you name it, she loves it! Do you have a shopping addiction? Where is your favorite place to go shopping? What store can't you walk by without "just taking a peek" at the fabulous merchandise!
2. At the beginning of Confessions of a Shopaholic, Becky just had to have the Denny & George scarf. Have you ever made a crazy impulsive purchase like that? What's the most fun purchase you've ever made? Have you ever had to borrow money for a shopping spree?
3. Becky is obviously addicted to shopping, but she's got other things going for her as well. What are some of your favorite characteristics about Becky? Do you have friends that remind you of any of the characters in Confessions of a Shopaholic?
4. Becky decided to follow David E. Barton's Controlling Your Cash in order to reduce her spending. Do you think the tactics listed in the story were reasonable? How could Becky have better managed her financial situation? What ways do you budget yourself and save up for special things you want to splurge on?
5. When Becky was a store assistant at Ally Smith, she hid a pair of zebra print jeans from a customer—then got fired! Do you have a funny or embarrassing dressing room story? Have you ever done something extreme like Becky to "stake your claim" on a piece of clothing?
6. Becky's relationship with Luke constantly changes throughout Confessions of a Shopaholic. Hot and cold, on and off, you never know what you're going to get with the two of them. How do you think the development of their relationship enhances the story?
7. Zebra print jeans, pink boots, and a shimmering gray-blue scarf—it seems that Becky has a style all of her own! How does Becky's shopping obsession add to the story? What's your style like? Do you have a favorite outfit?
8. Tarquin and Becky's date was quite interesting to say the least. Pizza and champagne, a $5,000 check to a made-up organization, and some sneaking around on Becky's part! Do you think Becky handled herself appropriately? What's the most memorable date you've ever been on?
9. Becky seems to tell a lot of "little white lies," from lying about a broken leg, to making up a dead aunt, and even telling her parents she has a stalker! How does her lying affect her relationships to her friends, family and colleagues in the story? What's the most exaggerated "little white lie" you've ever made up to get yourself out of trouble?
10. Do you think that Becky can serve as a role-model for young women? What lessons did you learn about relationships, responsibility, friendship and honesty?
11. Becky lands a front page news article, a spot on a morning television show, and a date with her dream guy all in the course of a couple days. Is this too good to be true? Can you believe Becky's luck? Do you think Becky has changed by the end of the story? Have you ever had a perfect day like Becky's?
Back to Top