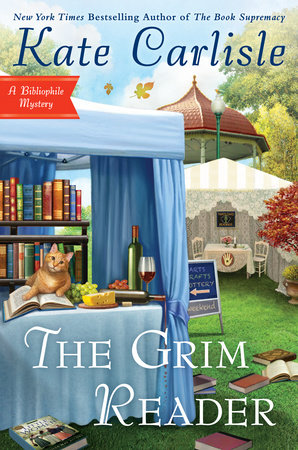 Latest in the Series
The Grim Reader
Book 14
Ebook
$13.99
Bibliophile Mystery Series :
Titles in Order
Book 14
San Francisco book-restoration expert Brooklyn Wainwright was hoping for a fun, relaxing weekend at a local book fair, but a murderer made other plans in the latest in this New York Times bestselling series.

Brooklyn and her new hunky husband, Derek, are excited to be guests at Dharma's first annual Book Festival. The entire town is involved and Brooklyn's mom Rebecca is taking charge. In addition to all of her other event related duties, she's got Brooklyn doing rare book appraisals and is also staging Little Women, the musical to delight the festival goers. If that wasn't enough, she and Meg—Derek's mom—will have a booth where they read palms and tarot cards.

Brooklyn couldn't be prouder of her mom's do-it-all attitude so when a greedy local businessman who seems intent on destroying Dharma starts harassing Rebecca, Brooklyn is ready to take him down. Rebecca is able to hold her own with the nasty jerk until one of her fellow festival committee members is brutally murdered and the money for the festival seems to have vanished into thin air. 
Things get even more personal when one of Brooklyn's nearest and dearest is nearly run down in cold blood. Brooklyn and Derek go into attack mode and the pressure is on to catch a spineless killer before they find themselves skipping the festival for a funeral.
Book 13
In the latest in this New York Times bestselling series, San Francisco book-restoration expert Brooklyn Wainwright investigates a mysterious spy novel linked to a string of murders…
 
Newlyweds Brooklyn and Derek are enjoying the final days of their honeymoon in Paris. As they're browsing the book stalls along the Seine, Brooklyn finds the perfect gift for Derek, a first edition James Bond novel, The Spy Who Loved Me. When they bump into Ned, an old friend from Derek's spy days, Brooklyn shows him her latest treasure.
 
Once they're back home in San Francisco, they visit a spy shop Ned mentioned. The owner begs them to let him display the book Brooklyn found in Paris as part of the shop's first anniversary celebration. Before they agree, Derek makes sure the security is up to snuff—turns out, the unassuming book is worth a great deal more than sentimental value.
 
Soon after, Derek is dismayed when he receives a mysterious letter from Paris announcing Ned's death. Then late one night, someone is killed inside the spy shop. Are the murders connected to Brooklyn's rare, pricey book? Is there something even more sinister afoot? Brooklyn and the spy who loves her will have to delve into the darkest parts of Derek's past to unmask an enemy who's been waiting for the chance to destroy everything they hold dear.
Book 12
In the latest in this New York Times bestselling series, matrimony and murder collide as San Francisco book-restoration expert Brooklyn Wainwright walks down the aisle…

Brooklyn has it all covered. She's triple-checked her wedding to-do list, and everything is on track for the upcoming ceremony with the love of her life, security expert Derek Stone.

Not everyone has been as lucky in love as Brooklyn. Her old library college roommates Heather and Sara lost touch twelve years ago when Sara stole Heather's boyfriend. Brooklyn was caught in the middle and hasn't seen her former besties since their falling-out. When they both arrive in town for the annual librarians' convention and then show up at her surprise bridal shower, Brooklyn is sure drama will ensue. But she's touched when the women seem willing to sort out their differences and gift her rare copies of The Three Musketeers and The Blue Fairy Book.

Brooklyn's prewedding calm is shattered when one of her formerly feuding friends is found murdered and Brooklyn determines that one of the rare books is a forgery. She can't help but wonder if the victim played a part in this fraud, or if she was targeted because she discovered the scam. With a killer and con artist on the loose, Brooklyn and Derek—with the unsolicited help of their meddling mothers—must catch the culprit before their big day turns into a big mess.
Book 11
In this Bibliophile Mystery from the New York Times bestselling author of Books of a Feather, San Francisco bookbinder Brooklyn Wainwright stumbles through the looking glass in a tale of murder, rare books, and a quest for the perfect pie…

Brooklyn's oh-so-proper future in-laws are traveling from England to meet her, and if that's not enough to set her on edge, rumors abound that the charming Courtyard shops across the street may be replaced by high-rise apartments. Their trendy neighborhood will be ruined unless Brooklyn and her fiancé, Derek Stone, can persuade the shopkeepers not to sell. 

But with a rare edition of Alice's Adventures in Wonderland causing bad blood at the Brothers Bookshop and a string of petty vandalism making everyone nervous, Brooklyn and Derek feel like they're attempting six impossible things before breakfast. Then the owner of the Rabbit Hole juice bar is felled by his own heavy shelves, and the local cobbler lies dead beside him. An accident . . . or something more sinister? Things get curiouser and curiouser when a second priceless copy of Alice is discovered. Will it stir up more trouble within the close-knit community?  

As the Brits descend, Brooklyn learns they're not so stuffy after all. Derek's dad is won over with chocolate cream pie, and his psychic mum would kill to help Brooklyn solve this murder—before another victim takes a tumble.
Book 10
In this novel in the New York Times bestselling Bibliophile Mystery series, San Francisco book-restoration expert Brooklyn Wainwright's latest project is for the birds, but it may have her running for her life. . . .

Brooklyn's friend runs the Covington Library, which is hosting an exhibit featuring John James Audubon's massive masterpiece, Birds of America. During the gala celebrating the book, she is approached by Jared Mulrooney, the president of the Bay Area Birdwatchers Society, to repair a lesser known book of Audubon drawings.

At the same party, Brooklyn is flying high after she's asked to refurbish a rare copy of Poor Richard's Almanack when Mulrooney's body is discovered in the library. Soon more troubles ruffle Brooklyn's feathers. Her parents pop in for a visit with an unsavory friend in tow, and there's a strange man on her tail. With danger beginning to circle Brooklyn's every move, it's clear she must find answers before things really go south. . . . 
Book 9
In this novel in the New York Times bestselling Bibliophile Mystery series, book-restoration expert Brooklyn Wainwright visits California Wine Country where she uncovers murder and intrigue…
 
While Brooklyn has temporarily relocated to her parents' place in Sonoma, she attends an excavation of the caves hidden deep under their commune. A room is unearthed, revealing artwork, rare books, cases of wine, a chest of jewelry…and a perfectly mummified body. A closer examination of the murdered man's possessions reveals a valuable first edition of Jules Verne's A Journey to the Center of the Earth containing a secret treasure map.
 
Word of the explosive find draws in reporters, art appraisers, and questions.  After a new presence threatens the town's peace, it's clear that not all crime is buried in the past. So Brooklyn decides to do a little excavating of her own and solve the mystery of the treasure before anyone else is written off…
Book 8
Bookbinder Brooklyn Wainwright discovers that some treasures are worth killing for in this novel in the New York Times bestselling Bibliophile Mystery series.
 
Brooklyn is thrilled to be appearing on the hit TV show This Old Attic as a rare-book expert and appraiser. Her first subject is a valuable first-edition copy of the children's classic The Secret Garden.
 
After the episode airs, a man storms onto the set claiming that the owner of the book, a flower seller named Vera, found the book at his garage sale, and he wants it back—or else. Afterward, Randolph Rayburn, the show's host, confides in Brooklyn that he's terrified by the man's threats and fears that he is being stalked.
 
When several violent incidents occur on the set, Brooklyn and her security expert boyfriend, Derek, are shaken. But Brooklyn's discovery of Vera's corpse in her flower shop convinces her she has to find the killer—before her chance at prime time and her life are canceled…permanently.
Book 7
It's a recipe for disaster when bookbinder Brooklyn Wainwright is asked to restore an antique cookbook in this novel in the New York Times bestselling Bibliophile Mystery series.
 
Brooklyn's sister Savannah and her former culinary school classmates all became successful chefs, especially Savannah's ex-boyfriend Baxter Cromwell, who went on to culinary superstardom. When he invites the old gang to the gala opening of his new restaurant in San Francisco, Savannah asks Brooklyn to restore a rare antique cookbook as a present for him.
 
The night they all gather, Baxter is found dead, the cookbook has disappeared, and Savannah becomes the suspect du jour. But Brooklyn knows her sister is innocent, and there are plenty of old grudges simmering among this backstabbing bunch. Now she'll have to turn up the heat on the investigation before Chef Savannah finds herself slinging hash in a prison cafeteria.
Book 6
In this novel in the New York Times bestselling Bibliophile Mystery series, bookbinder Brooklyn Wainwright takes a trip to Lake Tahoe and ends up at a killer party…

Rare books and antiquities expert Brooklyn Wainwright is thrilled to be invited to the fiftieth birthday party of her neighbor Suzie's aunt Grace. A retired founder of a major video game corporation, Grace is a larger-than-life character who's turned her Lake Tahoe mansion into a fun house, full of everything from pinball machines and giant props to secret passageways and trap doors. Brooklyn is most excited to catalog Grace's extensive collection of rare paperback pulp fiction.

Part of the fun involves a séance, but after the lights flicker, one guest is dead, poisoned by a cocktail intended for Grace. It seems someone is determined to turn Grace's playful palatial estate into a house of horrors. Brooklyn suspects the key to the killer's identity may lie in the roman á clef Grace has written about her life. With Grace in great peril, "must-read" takes on a whole new meaning, as Brooklyn tries to stop a murderer who's through playing around…
Book 5
There may be grave consequences for bookbinder Brooklyn Wainwright as she attempts to solve two murders tied to one book in this novel in the New York Times bestselling Bibliophile Mystery series.

Brooklyn's chance to restore a rare first edition of Beauty and the Beast seems a fairy tale come true—until she realizes the book belonged to an old friend of hers. Ten years ago, Max Adams, a brawny renowned papermaker, fell in love with a stunning beauty, Emily, and gave her the copy of Beauty and the Beast as a symbol of their love. Soon afterward, he died in a car crash, and Brooklyn has always suspected his possessive ex-girlfriend and her jealous beau.

Now she decides to find out who sold the book and return it to its rightful owner—Emily. She believes a rare book dealer can assist her, but when she arrives at his shop, she finds him murdered. Is it possible that the same couple who may have killed Max are now after his edition of Beauty and the Beast? With the help of her handsome boyfriend, Derek Stone, Brooklyn must unravel the murder plot—before she ends up in a plot herself….
Book 4
A rare book inspires a crime of passion in the fourth novel in the New York Times bestselling Bibliophile Mystery series.

When she receives an exquisite copy of the Kama Sutra from her best friend, Robin, to appraise and restore, bookbinder Brooklyn Wainwright anticipates recreating a beautiful book and spicing up her love life. But before Brooklyn can get started, Robin winds up in big trouble: her apartment's been ransacked, and the great guy she recently met lies murdered in her bed. Now Robin is the #1 suspect.

Luckily Brooklyn's boyfriend, British security expert Derek Stone, has moved to San Francisco and is ready to help. And not a moment too soon as Brooklyn's own apartment is found thoroughly searched. Obviously, exploring the Kama Sutra's bliss will have to wait until after Brooklyn finds the killer…
Book 3
In the third novel in the New York Times bestselling Bibliophile Mystery series, bookbinder Brookly Wainwright gets a lesson in deadly deception…

When it comes to rare books and antiquities, Brooklyn Wainwright is a master. Which is why she's returned home to San Francisco to teach a bookbinding class at Bay Area Book Arts. Unfortunately, BABA director Layla Fontaine is a horrendous host who pitches fits and lords over her subordinates. With the help of her beau, British security officer Derek Stone, Brooklyn manages to put up a brave face and endure.

Unfortunately, someone else is not so forgiving. Layla is found dead of a gunshot wound, and Brooklyn is bound and determined to investigate. But when Layla's past ends up intertwined with Derek's, Brooklyn realizes that the case is much more personal than she thought—and that the killer might want to close the book on her for good.
Book 2
On a trip to Scotland, bookbinder Brooklyn Wainwright gets caught up in case involving a forbidden masterpiece in the second novel in the New York Times bestselling Bibliophile Mystery series.

Book restoration expert Brooklyn Wainwright is happy to be attending the world-renowned Edinburgh Book Fair. But then her ex, Kyle McVee, shows up with a bombshell. He has an original copy of a scandalous text that could change history—and humiliate the beloved British monarchy.
 
Trying to get Kyle's story out of her mind, Brooklyn takes a nighttime tour of the city. Unfortunately, the first landmark contains a real dead body—Kyle's. The police are convinced Brooklyn's the culprit, but with an entire convention of suspects, Brooklyn's conducting her own investigation. Before she can crack the case, she'll have to find out if the motive for murder was a 200-year-old secret—or something much more personal…
Book 1
Book expert Brooklyn Wainwright discovers that murder is always a bestseller in the first novel in the New York Times bestselling Bibliophile Mystery series.

Brooklyn Wainwright is a skilled surgeon. Sure, her patients might smell like mold and have spines made of leather, but no ailing book is going to die on her watch. The same can't be said of Abraham Karastovsky, Brooklyn's friend and former employer. 
 
On the eve of a celebration for his latest book restoration, Brooklyn finds her mentor lying in a pool of his own blood. With his final breath Abraham leaves Brooklyn with a cryptic message, "Remember the Devil," and gives her a priceless—and supposedly cursed—copy of Goethe's Faust for safe-keeping. 
 
Brooklyn suddenly finds herself accused of murder and theft, thanks to Derek Stone, the humorless—and annoyingly attractive—British security officer who found her kneeling over the body. Now she has to read the clues left behind by her mentor if she is going to restore justice…
Bibliophile Mystery Series:

Bundles & Boxed Sets
Bibliophile Mystery Series:

Related Titles
Other Series You Might Like
Back to Top
Visit other sites in the Penguin Random House Network
Become a Member
Start earning points for buying books!
Just for joining you'll get personalized recommendations on your dashboard daily and features only for members.
Find Out More
Join Now