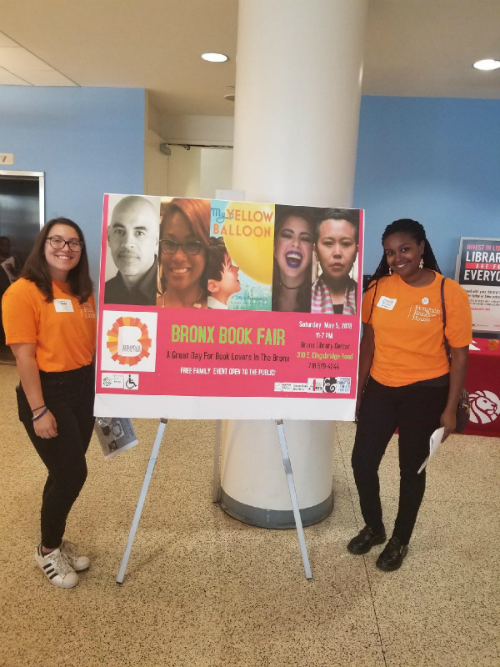 Volunteers from across Penguin Random House participated in the Bronx Book Fair on May 5
th
. It was a jam-packed day of events at the Bronx Library Center, with speakers such as Noëlle Santos from
The Lit. Bar
, as well as coaching sessions with local writers and book sales from community bookstore
Word Up
.  This was the first year Penguin Random House participated in the Bronx Book Fair, and we had a tremendous response to the call for volunteers!  We were so impressed by the enthusiasm and support of our employee volunteers. Here is what some of the volunteers had to say:
 "It was great to see so many PRH employees show up excited to help their fellow book lovers!" "Everywhere I turned at the Bronx Book Fair, there was passion–passion in the speakers, whose wealth of knowledge included everything from copyright law to fostering women's leadership; passion in the authors, booksellers, and publishers reading from their work and selling books at their booths; and passion in the event staff, whose beaming faces were #BronxProud. It was such an honor to see the rich literary culture of the Bronx in action beyond the classroom where I used to teach ELA in the Bronx, and I especially loved the slam poetry and spoken word presentation by Project X–it's heartwarming to see the youth shine a light on their fellow artists in their community!" "The Bronx Book Fair was wonderful–the event organizers were lovely, and the day's events and panels were organized with great care. I welcomed the opportunity to get to know colleagues across other departments who I normally wouldn't connect with in my day-to-day. A personal highlight was the chance to chat with young readers/writers who came to check out the book fair–their enthusiasm was infectious!"
The 
Bronx Book Fair
 is dedicated to engaging and growing the community of poets and writers in the Bronx
,
 and to connecting to readers and book lovers of all ages. Launched in 2013, The Bronx Book Fair, along with Bronx Book Festival and The Lit. Bar bookstore, are contributing to 
revitalizing book culture in the Bronx
, needed especially after the 2016 closure of the Baychester Barnes & Noble.