We know readers tend to be writers too, so we feature writing tips from our authors. Who better to offer advice, insight, and inspiration than the authors you admire? They'll answer several questions about their work, share their go-to techniques and more. Now, get writing!  
Sparrow Beckett is the pen-name for two writers in two countries who combine forces and collaborate. Justice and Sorcha have both answered the questions below. 
What writing techniques have you found most important or memorable?
Justice: Someone once told me a good novel is made up of mostly strong, colorful nouns and verbs. As writers, we often hear the terms active writing versus passive writing. Filling a book with adverbs makes a story sound passive. So when I'm writing, I go for strong descriptive nouns and verbs.
Is there something you do to get into a writing mood? Somewhere you go or something you do to get thinking?
Sorcha: With an evil day job and a big family, I'm so busy that I'm exhilarated by every free moment to write. If I get stuck in one of my stories, I switch to one of my many others. Justice: I get inspired from all sorts of things. Sometimes a movie, another book, or even a song I hear on the radio. When I'm feeling low on inspiration, I'll surround myself with different media and types of art. Usually something will jump out and the wheels will start turning.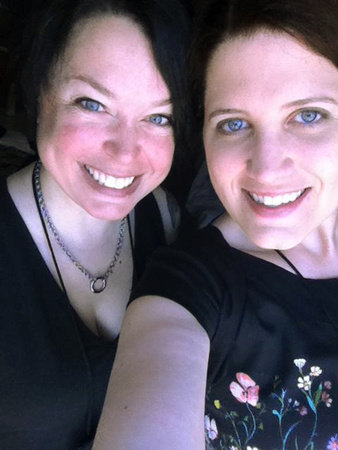 Did you always want to write? How did you start your career as an author?
Sorcha: I started writing a Black Beauty fanfic when I was seven. For Grade Ten English class, I wrote a novella, and then a novel for Grade Thirteen Creative Writing. My novel was so bad, that the publisher I submitted it to sent me a rejection with a blank space where my name was supposed to go. I quit writing after that. About two decades later, I started writing for fun. That was when I met Justice in an online group, and she introduced me to the modern world of publishing. Justice: I was a writer before I was a writer, if that makes any sense. Writing is just in me. It's been a part of everything I've ever done, before I even realized it. So finally getting the guts to officially try writing a fiction book didn't surprise anyone. I started by self-publishing back when it was a budding development. I learned a lot and I think it better prepared me for the traditional publishing world.
What's the best piece of advice you have received?
Sorcha: Quit making excuses and write. Justice: Find an amazing crit partner or group – the harsher the better.
What clichés or bad habits would you tell aspiring writers to avoid? Do you still experience them yourself?
Sorcha: I think stalling out of self-doubt is the biggest bad habit to avoid. Feeling like you'll never be as talented as your favorite author isn't a good enough excuse to give up. You owe it to yourself to work at it. Justice: I have to agree with Sorcha. Self-doubt can be crippling and, unfortunately, something many authors, including myself, suffer from regularly. It's hard to stay positive among rejections and brutal reviews. I have to remind myself constantly that everyone has their own journey, comparing yourself to other authors is pointless, and that giving up just isn't an option.
What are three or four books that influenced your writing, or had a profound affect on you?
Sorcha: 
The Deed of Paksenarrion
by Elizabeth Moon – The main character has an arc that fills me with hope and a sense of personal responsibility. The Tiffany Aching series by Terry Pratchett – Like most of Pratchett's work, it shows human nature in a humorous yet poignant light. These books explore themes of power, respect, and responsibility. The Jalav series by Sharon Green – Explores an interesting example of how a woman can still be strong while submitting to organic power exchange relationships. The Steamwork Chronicles by Cari Silverwood – This series taught me to be unapologetically sexual in my work. Justice: 
A Hunger Like No Other
by Kresley Cole – This was the first romance I ever read. Oh the things it opened my mind to… Her mix of sexiness, humor, and adventure made reading fun for me again, and started my love of paranormal romance.
Revolution
by Jennifer Donnelly – Wow, this book made me cry, made me think, and made me take an active interest in history. The writing and depth of emotion is beautiful and something I aspire to.
Forgive Me Leonard Peacock
by Matthew Quick – This book gave me permission to write honestly. It is probably the most earnest, authentic book I've ever read. Learn more about
To Have and to Master
here
.