We're going deep inside the making of a book, with interviews from Penguin Random House employees in editorial, marketing, sales, and more.  If you've ever wondered about all the behind-the-scenes work that goes into making your favorite books, this is the series for you.  Take a look at the first post in this series here. 
Today, we're featuring an interview with the editor of
Gemina
, Melanie Cecka-Nolan. Read below for her inside scoop. 
This book is part of a very non-traditional trilogy. How would you describe Gemina to someone who has never heard of it before?
I would say
Gemina
is science fiction for people who don't think they like science fiction, and I say that because I don't think of myself as someone who likes science fiction. This is the series that really turned around my thinking about the genre. When The Illuminae Files was first pitched to me, the agents positioned it as
Battle Star Galatica
meets
10 Things I Hate About You.
That did a really good job of setting up the story for me– action-based and stuck on a spaceship but with the intensity, the humor, the love and romance of a relationship story. When I read the manuscript for the first book, I felt like I'd ingested a drug. I was just bouncing off the walls. And I remember thinking,
if I can have this kind of reaction to it as a non-sci-fi person, everybody would
.
For those who don't know, an editor will have a relationship with an agent and the agent pitches manuscripts to the editor that they think they'll like. So why do you think that this agent sent you this book?
Knopf is known for being very literary, but also for taking chances with its books and authors. I think agents are always looking for someone who is going to respond with the right combination of vision and instantaneous love—especially with unusual projects.  So although The Illuminae Files may not have been my typical kind of book, I think the agents saw Knopf as the right publisher.
What's a book or a series that you've worked on that you think is more of your type or style?
I tend to be drawn to books that are girl-centric. I have a little boy at home who has opened my eyes to a much broader range of reading, but I'm always a thirteen, fourteen-year-old girl at heart.
Mouse Scouts
is one of my favorites; it's about a troop of little girl scouts who happen to be mice, that's kind of me in a nutshell. There are some editors who excel at really gritty things, edgy teen fiction, male-centric narratives—and that's not really my core strength. But the Illuminae Files was so immediately accessible and the female characters were so well-drawn and felt like friends – it broke though and worked, even for a "girl" editor.
What was your favorite part about Gemina or something that surprised or interested you about this second book?
Well it's a trilogy, and I knew the second book was going to introduce a new set of characters and situations as well as advance the larger story. I think what has surprised me is the way the authors continue to one-up themselves. There's are a couple of big plot twists in
Illuminae
and there are three or four twists in
Gemina
. As a reader I didn't see them coming, and even as an editor who went into the story with a sense of how events were going to play out, I still didn't see those things coming. That's  a huge treat– to go into a book with a certain set of expectations and having them completely blown apart because what comes in is so much more entertaining.  In
Illuminae 
the protagonists are sort of like the hometown sweethearts: They are great kids, very engaging, very personable. In
Gemina
the "heroes" aren't set up the same way. The female lead isn't particularly likable. She's spoiled, she's very pampered, she very me-centric. The male lead is kind of the lovable anti-hero. He's a gang member, he's covered in tattoos that allude to a violent history, he deals drugs, so on the surface he's not necessarily someone you see emerging as the hero. But you're so swept up in who they are and how they change and grow over the course of the story that it completely changes your perception.
People tend to think "editor" when they think of publishing, but many may not know the details of your job. So: when you get a manuscript what happens next? How do you start making a book?
It starts with a lot of dry administrative things; we sign the book up, we go to a contract, and then I start by working backward from when we anticipate that we want the book to come out. We work with our internal production and design groups to mastermind a schedule. Because this is such a complex book visually, the design aspects require a lot more time than a typical book might, with its tidy lines of text on a page. For
Illuminae
and
Gemina
, literally every page is a different design. The authors were also heavily involved in the design inspiration for the book, so we had to factor them into the blueprint when we were setting up the schedules.
Once we had a schedule down, it was easier to address the more straightforward editorial things with the authors. We communicate primarily through email because they're in Australia, which is a fourteen-hour time difference. I went through the book with big-picture things in mind, like what could be improved and what did we have questions about. Once we feel like we've really gotten a story in the best possible shape, it goes over to the copy editor who knows how to do everything I don't know how to do in terms of grammar and consistency. It's really cleaning the text for things we might not have caught in the editorial process. Copyediting a book of this size takes about four to six weeks. The manuscript then goes back to the authors so they can address any queries that the copy editor has found. They generally have about a month with it and then we send it to our design group. And from there, the book needs a minimum of ten months to come together before finally going to the printer, with numerous passes and reviews by everybody in between. These are two original concepts we tried for the jacket: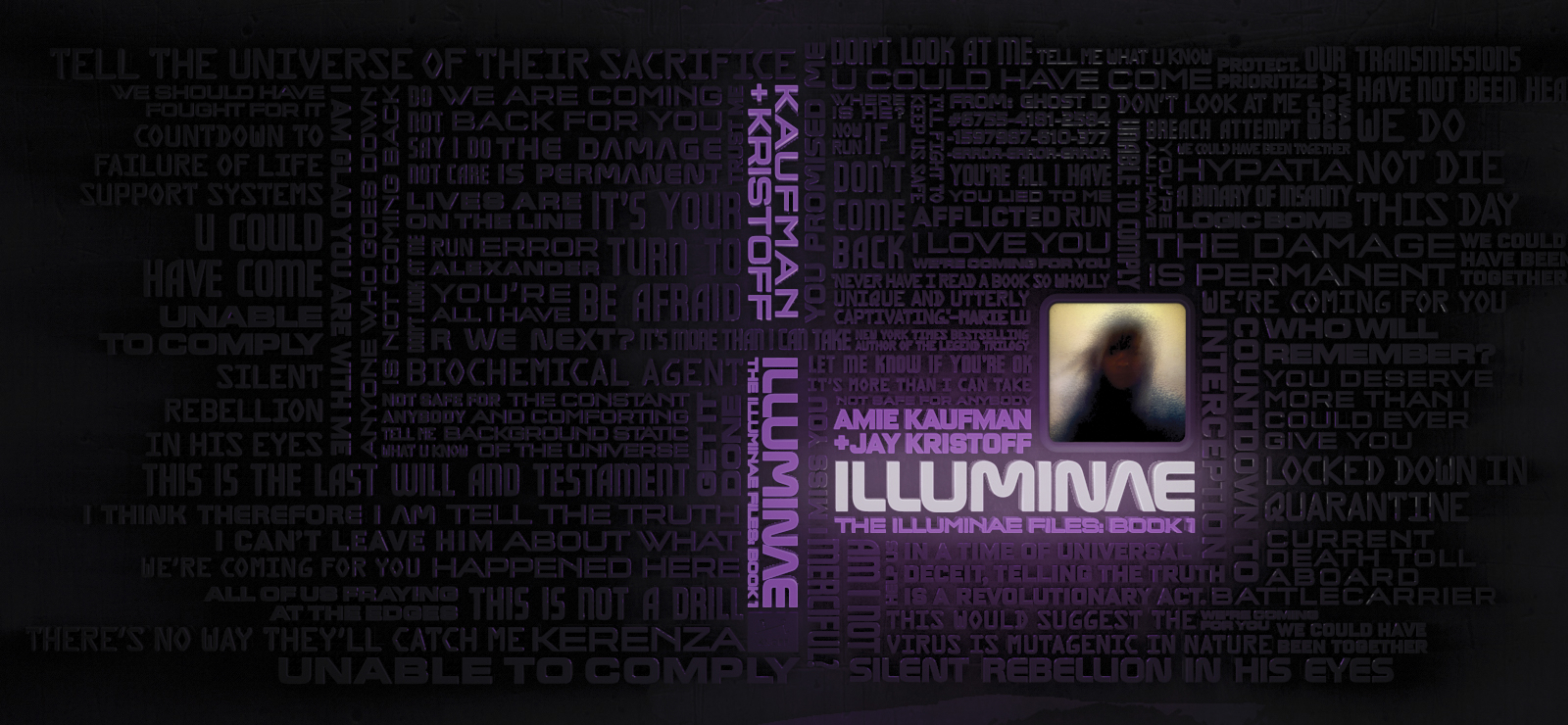 Given the non-traditional reading experience and the fact that the whole conceit of the book is based on  documentation, we wanted to find a way to present all of those documents visually. These ideas got dismissed very early on, but they ended up inspiring the case cover design, where designer Ray Shapell was able to let loose with the whole idea of redaction, leaking classified lines, and showing hand-written communications from the characters. Although abandoning the original jacket designs felt like a setback initially, the process brought us directly to final packaging.
These cover concepts look a lot more like traditional sci-fi to me.
They do. At the time the first book,
Illuminae
, was coming together, we hadn't really seen sci-fi break though on a young adult level, so we were trying to arrive at a cover look that wouldn't scare off readers who aren't traditional fans of the genre.  But I think these books have really broken the mold.
I think a lot of people wouldn't realize an editor not only deals with the content of the book, but that you have a say in the cover design and you're a big part of those discussions. Is there anything else that would surprise someone outside of publishing about your job?
I don't sit at my desk and edit. 99% of my editorial work takes place at my kitchen table or my couch on the weekends. Most of my editorial life in the office is spent at meetings or answering emails, and I need to disengage from the office in order to really get into a creative mind space.
Photo Credit: Christopher Tovo
Why do you think fans are responding so strongly to this series, outside of its non-traditional layout?
I think anybody who has met the authors in person feels like they've met characters from the book. Their personalities inform every single character in the story; they're funny, they're intense, their rapport together just makes you want to sit back and watch them talk to each other. Their writing process involved sending each other blind chapters, and they wrote some passages by text messaging each other rather than sitting side by side, nursing every line in a common voice. So their individual writing personas feel intact and their living, breathing process gets contained in the book.  I think that's something readers can sense when they read it – It's just a very personal reading experience, and they make it super accessible. I remember saying to someone, "it may be 600 pages long, but you could easily give it to a reluctant reader," because there are all these different visuals to break up the reading experience, and the humor and voices and the pace just sweep you along.
Is there anything else people might like to know about the book?
A slightly non-standard occurrence happened this summer when we sent the authors some pre-press pages to sign—4,000 pages, to be exact. UPS got the address wrong, and Jay was running around trying to locate the boxes. One thing you have to know about Jay is that he's a
big
guy and he does a really amazing job of pulling off a badass author persona, but the truth is he's a total sweetheart. So when he emailed to say that he had found the boxes and
stole them off of someone's porch
, I just had to laugh. That's the kind of stuff that happens working with these two: petty theft might be involved. There's always something slightly unusual that comes together.
Read more about Gemina and Illuminae below, and be sure to check back soon for more behind-the-scenes interviews!
Follow along: #Gemina, #Illuminae, #IluminaeFiles
Follow the authors on Twitter (@AmieKaufman, @misterkristoff) and Instagram (@amiekaufmanauthor, @misterkristoff)
Visit the website here: illuminaefiles.com