This interview was done at New York Comic Con 2018.
We sat down with Peter Tieryas to talk about
Mecha Samurai Empire
, alternate history, and what to eat when fighting Nazis.
Keith Rice:  So Mecha Samurai Empire just came out, what can you tell us about it?
Peter Tieryas
:  So, it is a book about giant Mechas fighting big Nazi monsters.  And it's a very personal story in that it's about being Asian-American, and sort of growing up in a place where, literally, on the other side of the continent there is a group of people who want to see their destruction solely based on their ethnicity.  Anyone who doesn't fit the Aryan Nazi mold should be eliminated.  How do you grow up in that world, right?  Like, what is your view of the world when you're acutely aware of your race.  And that became the central metaphor.  The best alternate history gives us a different context and a different view of our own world. There's a lot of entertainment, there's a lot of action, but also, hopefully there are deeper questions about identity, about ethnicity, and about diversity.  It's also loosely inspired by
Man in the High Castle
.
KR:  Okay, so this is set in the world of The United States of Japan?
PT
:  Yep.
KR:  What led you to expand on that world?
PT
:  When I wrote
The United States of Japan
, I had a deep desire to sort of explore World War II from the Asian side. Growing up I heard all these stories about World War II from the Asian side.  Just really fascinating things.  And when I came to America there was nothing about this perspective, just no information available. It was always focused on more of the European side, you know?  Like what happened with the Nazis, and General Eisenhower and Hitler. I kind of challenge people, how many generals do you know on the Asian side?  Who were fighting the Chinese, who were fighting for the Philippines, right?  Even on the American side, for the average person, there's very little actually known about World War II.  What battles do you know about? I had this desire to tell a story about that.  So when I wrote it, it was very structured.  It takes place over a couple of days it's a roller coaster.  You just start and it keeps on going.  But when I was finished, I kind of wanted to know more about the world.  What happens after those days are, right?  What do people eat, how do people hang out, what's day-to-day life in that alternate history like?  That reminded me – that's what I really wanted to know about in 
Man in the High Castle
as well.  What is this world about?
Mecha Samurai Empire
initially began as an attempt to just explore the world and see what it's about.  The very first thing I wrote was the alternate history Pledge of Allegiance, which is like, "I pledge Allegiance to the United States of Japan, and to the Empire for…"  When I first wrote that, it kind of became a guiding philosophy for me.  So, you'll see, it's like America, and it'll feel very familiar, but at the last minute there'll be a little twist and where you're like, "Whoa, this is a completely different world."  They completely distorted or misinterpreted, or reinterpreted what we view as certain ideas and philosophies. That, to me, was really fascinating. So, for example, one idea that came up is that they look at
The Great Gatsby
, which was written in the twenties, and it was an indictment of that era, right. But in normal history, after World War II there was the boom, and everything recovered and America became a behemoth.  In the alternate history of
The United States of Japan
, America lost, so there was never that boom.  So, they look at Fitzgerald as almost a prophet of the end of the America.  It's stuff like that, those weird little details.
KR:  Okay, so there are a lot of moving parts under the hood here.  You've got alternate history, there's gaming, there's mecha. What were your biggest influences coming into this story?
PT
:  There's a bunch, but I think the biggest from a story-telling perspective was Hideo Kujima.  He did
Metal Gear Solid, Zone of the Enders
, but what fascinated me about
Metal Gear
, was that despite the title, it's not really about metal gear.  It's about the people involved, and how they're going to use metal gear.  That, to me, was really  important when I was writing about the mechas.  When you watch a really good mecha movie, if it's just about the action, the first minute is really exciting.  Then after a while you start going, "Oh, I'm used to this."  And it almost becomes boring.  It's like mecha porn.  Or you just become so inured to it. What really differentiates it is if you care about the characters.  And I think with
Metal Gear
, you go find a boss and the boss has this very strong personality and you remember their personality as you're fighting them. In the same way I wanted these characters to be memorable.  So that's where I spent a lot of time – just really focusing on the character interactions.  What does each battle mean? The way they fight, how does that represent who they are? I also took a little bit of inspiration from "Mike Tyson's Punch-Out!!" – the original game- because each of those characters had so much personality.  So, there's a character named Honda.  He has big bushy eyebrows that he moves.  And for people who know "Mike Tyson's Punch Out!!" they know when he does the his hurricane charge, he actually takes four steps.  So, they actually analyze this mecha data, and they realize, "Oh, every time he does that charge he takes four steps," They use that to beat him.  And in a little ironic twist, the "Punch Out" referee is Mario, right, he's Italian.  in the Axis world, Germany and Japan are at odds with each other, but Italy always plays the peacemaker.  In the mecha tournaments, there's an Italian guy who's the peacemaker. That's a nod to Mario and "Punch Out".  From a literary perspective, obviously Phillip K. Dick, that just goes without saying.  Cordwainer Smith is another one, I just love his storytelling.  Rieko Kodama is another.  She did "Phantasy Star II." It was one of my very first exposure to science fiction, through that video game.  Where it's actually about a Utopia that's really cool and amazing, and then the whole Utopia starts falling apart, and then you find out at the end that humans are the bad guys.
KR:  Right.
PT
:  That's one of the very few instances – in a movie, book, or whatever – that I can remember, where the villains are ultimately humans.
KR:  Are you planning to explore more of Mac's story, or moving on to something else within the world of United states of Japan? 
PT
:  Yeah, so I actually turned in the first draft of the next book to my editor.  It's a completely different story, completely new characters.  It is following the aftermath of the Berkeley massacre, and the whole battle.  It's basically a revolution takes place within the United States of Japan.
KR:  What three books would you recommend for fans of Mecha Samurai Empire? 
PT
:  I would say
Sleeping Giants
is a big one.  I really like the works by Project Itoh.  He did the adaptation of "Metal Gear Solid IV", but also
Project Harmony
and
Genocidal Organ
. Those are just really great.  But between those three, maybe I'd say
Genocidal Organ
. It really stands out.  And then, while I don't know if it is necessarily connected to the
United States of Japan
and
Mecha Samurai Empire
but, Cameron Hurley's work. I really love her work,
Apocalypse Nyx
is great. And then obviously
Man in the High Castle
, but, you know, that goes without saying.
KR: I'm going out on a limb and assuming you're a gamer.
PT
:  Yep.
KR:  What are you playing right now?
PT
:  We recently had a baby, so I've had to stop.  But the last game that I played was "Spec Ops: The Line.".  That was an intense experience.  That was, just, like, wow, you know?  Just the world-building and everything.
KR:  And that twist is just killer.
PT
:  Yeah, yeah.  I think I finished it the week before our baby came. 
"Persona V"
was the big one I played before that.  That just took forever but I really wanted to enjoy it. I actually played through with my wife.  I was very influenced by "Persona".  What I love about the world-building in "Persona" is that you have to save the world and everything's going to chaos, but you can also go find a really good ramen, or you can go on a date at a carnival. I love that.  So, in
Mecha Samurai Empire
, there are food excursions.  Sure, there are Nazis, but you still have to eat, right?
Check out Peter Tieryas' Mecha Samurai Empire!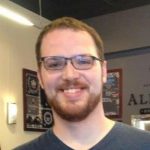 Keith Rice
is a West Virginia native and a freelance writer residing in Philadelphia with his lovely, if oft exasperated wife and three cats. Keith fosters an enthusiastic appreciation for beer and scotch, collects comics, and most importantly is an avid reader and movie lover. Oh, he's a pretty big fan of sci-fi and fantasy as well. Drop him a line @Keith_Rice1.