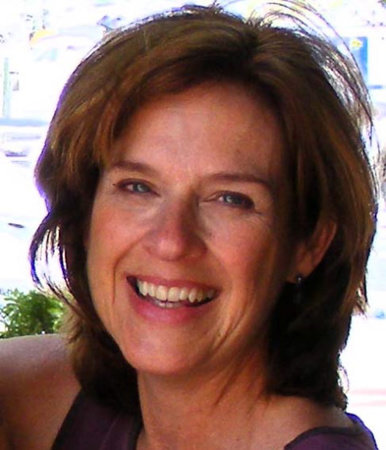 Photo: © From the author
About the Author
For as long as I can remember, I have felt a strong connection to animals. I enjoy learning about them, caring for them, and of course, when ever possible, drawing them. That's why illustrating The Carnival of the Animals was such a joy. It was great fun figuring out what each animal should look like based on how the poems described them, and listening to the classical music while I drew each one helped a great deal. I believe animals all have unique personalities and abilities, and if we are observant, we can learn a great deal from them.
 
The first animal I ever truly connected with was my dog Skippy. He was a mix of rat terrier and Jack Russell. He was white with black spots. I was eight years old when we found him at the animal shelter in Bloomington Minnesota, the town I grew up in. The day we got him, we surprised my mom when we went to the grocery store where she was working as a cashier. We went through her checkout line to buy Skippy's first bag of dog food. Needless to say my mom was not very happy with us that day, and I don't recommend ever surprising a parent that way with a new pet . . . but the good news is, she ended up loving Skippy as much as the rest of us did.
 
Skippy and I had a very special relationship. At times it felt like we were actually talking to each other, especially when he would jump up into my lap, tilt his head and point just one ear up. It was as if he was just waiting for me to suggest something we could play together. One of our favorite things to do was to play hide-and-seek. There was an old oak tree that was perfect for climbing in the back yard. Well, no matter how often Skippy and I played hide-and-seek, I would always use the tree as one of my hiding places. I remember climbing up as high as I could go, while Skippy was wandering around in the front yard. After positioning myself comfortably in the highest branches, I would call, "SKIPPY. . . COME AND FIND ME!" Then I would hear the jingle of his dog tags, and wait and watch for him to come around to the back yard. I had a good view, peeking through the green clumps of leaves. As he got closer, I would call again and he would come running to the tree, never looking up, just circling the base, looking confused. Then he would run and sniff and snoop under bushes, behind the shed, or on the swing set. Finally, after a few more calls and more searching, I would quietly sneak down to the lowest branch and then jump to the ground, yelling, "HEEEERRRRE I AMMMM!" He would come running, so excited to see me, seeming so surprised that I had been hiding in the big oak. The funny thing is, no matter how many times I hid in that old oak tree, he never looked up to see me there. He never remembered that I always hid in the tree . . . or did he?
 
Today I wonder if Skippy always knew. Perhaps he was just letting me stay there while he pretended to hunt for me in other places? Skippy knew how to be a good sport and how to play with vigor. He taught me how to find enjoyment in the little things.
 
I hope you enjoy meeting the characters in The Carnival of the Animals. Perhaps you too will make a special connection.