Chuck Murphy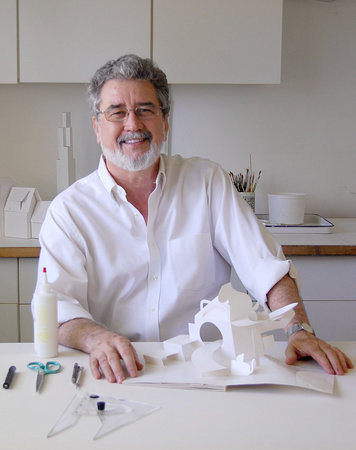 Photo: © Photo provided by the author
About the Author
Except for the Southern California setting, scenes from my boyhood would have looked a lot like Norman Rockwell paintings. I spent my time with comic books, Mad magazine, making model cars, and building soapbox racers. I found projects to make in magazines such as Boy's Life and "Popular Mechanics." My father was a do-it-yourself guy and in the garage were a toolbox, a workbench, and a few essential power tools. Dad encouraged me to use them all. That was the first time I experienced an entire afternoon seeming to pass by in an hour! I built a succession of forts and tree houses. My most ambitious project was a rocket ship large enough for a captain—me, of course—and my younger brother/copilot to squeeze into.
 
I also spent many happy afternoons at the local public library. I read all of the adventures of Dr. Doolittle, the Tom Swift Jr. series, and everything I could find by Jules Verne or H. G. Wells. I traveled to Mars with John Carter through all 11 volumes. I was always asking the very patient librarian if any new science fiction books had come in.
 
The library also had a selection of books on another of my boyhood obsessions: the world of magicians and magic tricks. I read biographies of the great illusionists of the golden era and spent endless hours practicing sleight-of-hand coin and card tricks. I built my own magical props and illusions and began performing for birthday parties and at local civic events.
 
When I was about 16, I learned that there was a world-famous magic shop in the next town that built magicians' illusions and props. I hung around the shop and pestered the owner (himself a retired stage magician) until he finally gave me a job. My first task was learning to turn perfectly round wooden balls on a lathe for the multiplying billiard balls trick. It had looked so easy when he did it! I made a lot of big piles of shavings before I got the hang of it. What I remember most, though, was being fascinated with the hidden mechanisms that made those theatrical props create real magic for the audiences.
 
Early on, I found that I had a knack for copying images from magazines and comics. My classmates would pay me for drawings of characters from comics, especially Mad magazine. I remember wondering why they didn't just draw them for themselves. I also loved drawing customized cars and hot rods.
 
In high school, I had my first real art classes. I was encouraged none-too-gently by Dr. Brainard to stop wasting my time drawing those cartoons and to respect my talent. At the time I had no idea what she was talking about, but I remembered her words. I learned about accurate drawing and rendering from Mr. Nielsen and being free and expressive from Miss Cinke. I was in love with the idea of becoming an artist!
 
At about the same time, my budding magic career came to an abrupt end. It may have had something to do with my discovery that girls didn't seem interested in card tricks. I took up the guitar.
 
After high school, I enrolled in the local community college as an art major. I got my degree and put together a portfolio of my work and submitted an application for Art Center College in Los Angeles. To my amazement, I was accepted!
 
Immediately I was introduced to deadlines and "all-nighters." I worked harder than I would have thought possible. From learning the subtle variations in type faces to anatomy and life drawing classes—it was a glorious experience. Throughout the curriculum, the emphasis was on communication through imagery. This was in stark contrast to most art schools at the time where the goal was self-expression, and ambiguity seemed to be encouraged. After three years, I decided to leave school and get out there in the world.
 
I landed a job at a small design studio in L.A. I designed posters, packaging, ads, annual reports, and catalogs. It was great fun at first, but I began to feel that this was not for me. After all, it was 1970 and there was a revolution going on outside and here I was designing catalog pages showcasing Barbie's latest mod fashions! So I left the studio, and for several years, I had a variety of freelance jobs including decorative paintings of local landmarks for Bank of America branches, designs for a stained glass studio, upscale restaurant menus, and trade show exhibit design. I even co-wrote and sold a movie screenplay that, of course, was never produced.
 
The one thing that made that first job at the design studio worthwhile was meeting Tor Lokvig, the man who would introduce me to the world of pop-up books. We became friends and a year or so later he persuaded me to come into the office where he was then working and meet the staff of Intervisual Communications, Inc. At that time, ICI consisted of four people, including Tor. I sat down to show my portfolio to the editor, and before I knew it, I had agreed to do some character designs and layouts for a novelty book. It was published the next year as Squiggly Wiggly's Surprise and I was suddenly a book designer and illustrator.
 
In the 40 years since then, I have designed, engineered, illustrated, and authored (in various combinations of those credits) over 80 novelty books, mostly for young children. Many have been translated into as many as 10 languages. The subject matter has ranged from basic concept board books for toddlers to an elaborately engineered pop-up album celebrating the 30th anniversary of the Star Trek TV and movie phenomenon. The latest extravaganza is a pop-up tour of Elvis Presley's Graceland.
 
My most recent book, Bosco's Busy Morning, was inspired by my studio companion of the last 14 years, a chocolate lab mix named, of course, Bosco. My heart was broken when Bosco passed away earlier this year.
 
My studio is in my home in Valley Glen, California. I have a daughter Kirsten; son-in-law Mike; and two of the sweetest little granddaughters ever, Hallie and Anna.
 
Building things, my fascination with magic mechanisms, and the skills I learned at Art Center all come into play every day that I am at my drawing board. It's just so much fun!