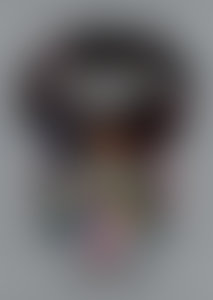 A L
About the Author
Amyra León is a musician, playwright, author, and educator. She has toured numerous times across the US & UK, performing in collaboration with the likes of the BBC, Roundhouse, Amnesty International, and more.

An alumna of the Nuyorican Slam Team, she is the author of two collections of poetry: the water under the bridge and Mouth Full of Concrete. Her musical debut, Something Melancholy, has led to her sharing stages with Talib Kweli, Common, Melanie Fiona, Alice Smith, and more. She currently divides her time between New York City and London.

Ashley Lukashevsky is an illustrator and visual artist born and raised in Honolulu, Hawaii, currently based in Los Angeles. Ashley uses illustration and art as tools to strengthen social movements against systemic racism, sexism, and anti-immigrant policy. She aims to tear down these systems of oppression through first envisioning and drawing a world without them.

Her clients include Refinery29, Broadly, The Washington Post, Planned Parenthood, Girls Who Code, GOOD Magazine, Brooklyn Magazine, ACLU, Red Bull, Snapchat, Air Jordan, and Logo TV.