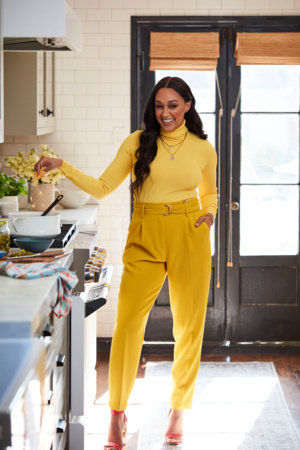 Photo: © Matt Armendariz
About the Author
Tia Mowry-Hardrict is an actress, producer, author, lifestyle influencer, and business owner. Tia has been in the public eye for twenty-five years; she first came on the scene with her hit comedy series Sister, Sister and currently stars in the Netflix series Family Reunion.
 
Tia, in partnership with KIN Community, created the YouTube channel "Tia Mowry's Quick Fix." The go-to online resource provides weekly uploads to help viewers solve life's little dilemmas quickly. It also stands as the company's fastest growing channel to date, garnering more than two million followers.
 
Tia invited fans into her kitchen with the release of her first cookbook, the bestseller Whole New You, by Ballantine Books. She also wrote the book Oh Baby! Pregnancy Tales and Advice from One Hot Mama to Another, which quickly became a national bestseller, delivering the lowdown in a frank, hilarious guide to modern pregnancy.
 
In 2020, Tia launched Anser supplements in partnership with BioSchwartz, debuting a line of simple, high-quality, and affordable products that inspire people of all backgrounds to take charge of their own health.