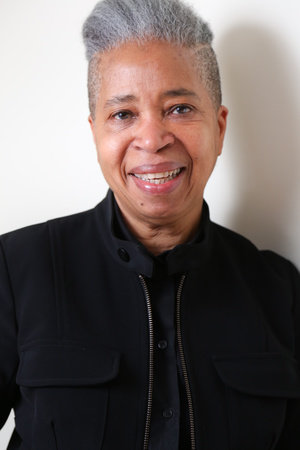 Photo: © Jason Chow
About the Author
DIONNE BRAND is the award-winning author of twenty-three books of poetry, fiction, and nonfiction. Her twelve books of poetry 'Fore Day Morning: poems (1978); Earth Magic (1980/1993/2006, for children); Primitive Offensive (1982); Winter Epigrams and Epigrams to Ernesto Cardenal in Defense of Claudia (1983); Chronicles of the Hostile Sun (1984); No Language is Neutral (1990); Land to Light On (1997); thirsty (2002); Inventory (2006); Ossuaries (2010); The Blue Clerk: Ars Poetica in 59 Versos (2018); and Nomenclature for the Time Being (2022), have won the Pat Lowther Memorial Award for Poetry, the Governor General's Award for English-Language Poetry, the Trillium Book Award, and the Griffin Poetry Prize.

In addition to poetry, Brand has published six works of fiction and five works of nonfiction. The fiction is: Sans Souci and Other Stories (1988); In Another Place, Not Here (1996); At the Full and Change of the Moon (1999); What We All Long For (2005); Love Enough (2014); and Theory (2018). Her nonfiction work: Bread Out of Stone: Recollections, Sex, Recognitions, Race, Dreaming, Politics (1984/1985/2019); No Burden to Carry: Narratives of Black Working Women in Ontario 1920s-1950s (1991); A Map to the Door of No Return: Notes to Belonging (2001); A Kind of Perfect Speech (2006); and An Autobiography of the Autobiography of Reading (2020). Brand is the co-editor of two books: Rivers Have Sources, Trees Have Roots: Speaking of Racism (1986, with Krisantha Sri Bhaggiyadatta); and Luminous Ink: Writers on Writing in Canada (2018, with Rabindranath Maharaj and Tessa McWatt), and co-author of We're Rooted Here and They Can't Pull Us Up: Essays in African Canadian Women's History (1994, with Peggy Bristow, et al.).

Brand is the recipient of the Toronto Book Award (2006 and 2019), the Blue Metropolis Violet Prize, the OCM Bocas Prize for Fiction, and the 2021 Windham-Campbell Prize for Fiction. In 2017, Brand was named to the Order of Canada. She was poetry editor at McClelland & Stewart from 2014 to 2021. She is Editorial Director of Alchemy, an imprint of Knopf.