C. K. Kelly Martin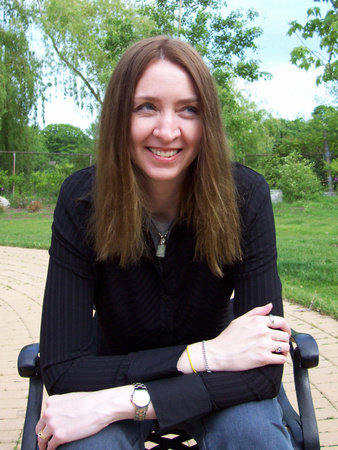 Photo: © Patrick Hickey
About the Author
Many of my earliest memories contain books –— my parents reading me nursery rhymes before I could read them myself, flipping through the pages of Babar and Madeline books and listening to my parents read aloud from tThe Hardy Boys series. Later I devoured Judy Blume's children's books, the entire Anne of Green Gables series, fantasy novels like A Wrinkle in Time and The Lion, the Witch and the Wardrobe, and still later contemporary teen novels about various social issues and romantic relationships (offerings by Richard Peck, Norma Fox Mazer, Norma Klein, and others).
 
I began writing my own stories at the age of seven. My third- grade teacher placed them on the shelf at the back of our classroom along with the published books so my classmates could read them, but it would be a long, long time before any book by me landed on the shelves again.
 
I never really stopped writing though. In high school, I used to pass on my short stories on to my favourite teacher, Mrs. Burns, to read and makes notes on. Between high school and university, I wrote a Choose Your Own Adventure book, which was promptly rejected by the publisher in New York who already had an entire team of people writing books for the series. In university, I penned several short stories (submitting a few, without any success, to literary journals) and did a bit of writing for the university newspaper. But somehow I sensed I wasn't ready to devote the necessary time to writing so after graduating from York University in Toronto with a Film Studies Degree in the early nineties I gave in to the pull I'd felt towards Ireland since first visiting a couple of years earlier. In Dublin, I worked in an odd assortment of places –— including a couple of bars, a lingerie shop, video store, and a division of the Irish post office –— but spent most of my time hanging out and enjoying the buzz.
 
It wasn't until I'd gotten married (to a lovely Irish guy) and was on the verge of moving back to Canada that I began writing my very first YA novel, inspired by the fantastic writing on TV show Party of Five. Several years (and books!) later Random House bought and released I Know It's Over. Since then I've written many more YA books, but I'm not really any wiser now, about where the stories come from, than when I was seven years old. When asked, sometimes I say that I feel like medium Allison Dubois, only channeling characters instead of spirits. One thing I'm certain of is that the initial inspiration to write sprang from my love of an elephant king in a three- piece suit, a spirited little French orphan girl, and a collection of nursery rhymes from The Little Mother Goose.