Encore Provence Reader's Guide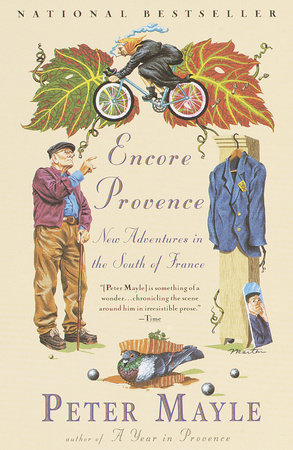 Encore Provence Reader's Guide
READERS GUIDE
The questions, discussion topics, and reading list that follow are designed to enhance your group's reading of Peter Mayle's delightful books about life in Provence, where he and his wife bought a two-hundred-year-old stone farmhouse nestled in the foothills of the Lubéron Mountains.
Introduction
Summer after summer, the Mayles had fled London in search of two or three weeks under the Mediterranean sun, promising themselves that one day they would make Provence their home. "We had talked about it," Mayle writes in
A Year in Provence
, "during the long gray winters and damp green summers, looked with an addict's longing at photographs of village markets and vineyards. . . . And now, somewhat to our surprise, we had done it." Each season in their adopted homeland, they soon discover, brings its share of surprises, and every undertaking becomes a small adventure as they adjust to the rhythms of rural life, to the charming idiosyncrasies of the local population, and to a language that at times bears only a passing resemblance to the lessons on their French language tapes. The sense of urgency that ruled their northern, urban lives gives way to an acceptance of the gentler pace of the south. The renovations on their house take months longer than promised, but the workmen's good humor, enthusiasm, and consummate skill more than compensate for the inconvenience of wintering without kitchen walls, central heating, and dependable electricity. Routine errands to the village become opportunities to wile away hours observing hotly contested games of
boules
, reading the ever-intriguing gestures that punctuate every street corner conversation, or listening to resident experts hold forth on the weather, history, the behavior of tourists, and local scandals while sipping a pastis at the café. Meals–whether eaten at home, at a neighbor's, or in one of the dozens of small, family-run restaurants throughout the region–are long, leisurely occasions, dedicated to celebrating Provence's agricultural bounty, the wines of its productive vineyards, glistening olive oils that range in color from jade green to transparent gold, and, during a short, much-anticipated season, Provence's gastronomic gem, the truffle.
Mayle's unbounded curiosity, his well-honed powers of observation, and his wry sense of humor resonate in his tales and in his detailed portraits of the people he encounters–from the plumber with a penchant for philosophizing to the not-always-welcome guests who arrive from colder climes every summer. The books include plenty of tips and recommendations for those who contemplate visiting Provence. But Mayle's real talent is that he makes it possible to enjoy the sights, sounds, smells, and tastes of this special corner of the world without leaving the comfort of one's own reading chair.
In
Encore Provence
, Mayle returns to Provence after an absence of four years and plunges into a new round of adventures (including a fascinating tour of Marseilles, a visit to a school devoted to the development of talented nostrils, and a search for the perfect corkscrew) and new reflections on the treasures that make even the most ordinary day in Provence memorable.
Questions and Topics for Discussion
1. Mayle writes "Memory is a notoriously biased and sentimental editor, selecting what it wants to keep and invariably making a few cosmetic changes to past events" [p 6]. Do you think this is true of your own memories of favorite times and places?
2. How do Mayle's experiences in America sharpen his appreciation of Provence? Why does he cite the bustling, colorful country markets as the best example of what he missed most during his time in America [p. 14]? How do the markets embody what he loves about Provence?
3. What insights does Marius's story about the murder of the handsome butcher give you into the ways of life in a small French village? How does his detailed scenario of his own death shed light on the traditions and values of Provence [p. 173-5]?
4. How does Mayle's "recipe for a village" compare to your own version of an ideal spot? Do you think it is possible to find such a place in America, or have we "advanced" too far to reclaim the kind of simple pleasures Mayle finds in abundance in Provence?
5. Discuss Mayle's sharp attack on Ruth Reichl's assessment of Provence [p. 38-43]. Is he overly defensive about his beloved home or do you think that Reichl, a well-known critic, in fact failed to prepare herself properly for her trip and lacked the curiosity and the skills to seek out all that Provence has to offer?
6. Mayle offers "Eight Ways to Spend a Summer Afternoon." Which of Mayle's recommendations appeal to you the most and why? What other outings described in the book–for example, the trip to the olive oil factory–would you add to your list of things to do while in Provence?
7. Do Mayle's descriptions of the people he meets conform to the impressions you may have formed on visits to France or through books and movies? Mayle suggests that the leisurely pace of life, the sunshine, and the abundance of the south encourage the general good humor and cheerfulness of the Provenceaux [p. 12]. Do you think a similar dichotomy between north and south exists in this country?
About this Author
Peter Mayle
spent fifteen years in the advertising business, first as a copywriter and then as a reluctant executive, before escaping Madison Avenue in 1975 to write educational books for children. In 1990, Mr. Mayle published A Year in Provence, which became an international bestseller. In addition to writing books which have been translated into more than twenty languages, Mayle has contributed to the
Sunday Times
,
Financial Times
,
Independent
,
GQ
and
Esquire
. He and his wife and two dogs live in the South of France.
Back to Top