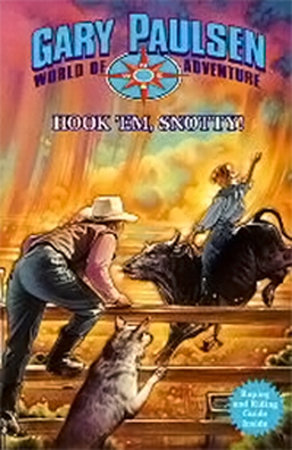 HOOK 'EM SNOTTY
By Gary Paulsen

By
Gary Paulsen
Best Seller
Inspired by Your Browsing History
Buy other books like HOOK 'EM SNOTTY
Praise
"I've had enough…" Alex let go of her horse and hit Bobbie like a tigress, driving her back and knocking her on her rear. "Now we'll see if you have problems with your rump."

Bobbie leapt to her feet. Her lips were tight. She stalked past Alex and as she did reached out and shoved her backward. Into the water tank.

There's plenty of family feuding when Bobbie Walker's cousin Alex comes from the city to visit their grandpa's ranch. But when the cousins cross paths with the wild bull Diablo and the nasty Bledsoe boys, they must find a way to get along — or it could be the end of them both.
Back to Top