Woodsburner Reader's Guide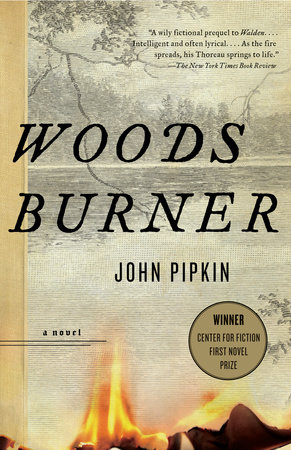 Woodsburner Reader's Guide
READERS GUIDE
The following questions and discussion topics created by author John Pipkin are designed to enhance your group's discussion of
Woodsburner
,
his brilliant and illuminating new novel.
Introduction
Woodsburner
springs from a little-known event in the life of one of America's most iconic figures, Henry David Thoreau. On April 30, 1844, a year before he built his cabin on Walden Pond, Thoreau accidentally started a forest fire that destroyed three hundred acres of the Concord Woods—an event that altered the landscape of American thought in a single day.
Against the background of Thoreau's fire, Pipkin's ambitious debut penetrates the mind of the young philosopher while also painting a panorama of the young nation at a formative moment. Pipkin's Thoreau is a lost soul, plagued by indecision, resigned to a career designing pencils for his father's factory while dreaming of better things. On the day of the fire, his path will intersect with three very different local citizens, each of whom also harbors a secret dream. Oddmund Hus, a lovable Norwegian farmhand, pines for the wife of his brutal employer. Eliot Calvert, a prosperous bookseller, is also a hilariously inept aspiring playwright. And Caleb Dowdy preaches fire and brimstone to his congregation through an opium haze. Each of their lives, like Thoreau's, is changed forever by the fire.
Like Geraldine Brooks's
March
and Colm Tóibín's
The Master
,
Woodsburner
illuminates America's literary and cultural past with insight, wit, and deep affection for its unforgettable characters, as it brings to vivid life the complex man whose writings have inspired generations.
Questions and Topics for Discussion
1. In Walden, published ten years after the events described in Woodsburner, Thoreau writes, "the mass of men lead lives of quiet desperation." How are the characters in Woodsburner leading lives of quiet desperation before they encounter the fire?
2. How does each character in Woodsburner pursue the American Dream? Does every character find it?
3. Why is it so difficult for Oddmund Hus to relate to other people and form friendships?  Why does he avoid confessing his love for Emma Woburn, even before she is married?
4. Is the romance between Oddmund and Emma a traditional love story?
5. Is Emma more independent and self-assured than the other characters? Why do you think she agrees to marry Silas?
6. What contradictions seem to shape Eliot Calvert's view of the world? Are his troubles the result of external conflicts, or are they the result of his own conflicting desires? 
7. At the novel's end, do you think that Caleb Dowdy finds the answers he is looking for? 
8. Do Anezka and Zalenka come to America for the same reasons that attract some of the other characters? How is their view of the New World's promise similar or different from the other characters?
9. What role does redemption play in the novel? Which characters find redemption and where do they find it?
10. What does Thoreau's experience with the fire suggest about the abundance of natural resources in the New World?
11. How does Thoreau's fire serve as a catalyst for change in each character's life?
12. What do the events in Woodsburner suggest about the influence of cause and effect in the development of individual lives and of American history?
13. This story takes place in 1844, but how are the challenges faced by these characters relevant today? Are the lessons they learn still applicable in the modern world?
14. What parts of Thoreau's life, as described in the novel, did you find surprising? Did the novel change your view of Thoreau in any way?
15. A little more than a year after the fire, Thoreau's builds his famous cabin at Walden Pond so that he can live alone in the woods. Do you think that the fire in 1844 influenced his decision in any way?  How?


(For a complete list of available reading group guides, and to sign up for the Reading Group Center enewsletter, visit www.readinggroupcenter.com)
About this Author
John Pipkin was born and raised in Baltimore, Maryland, and he holds degrees from Washington and Lee University, the University of North Carolina at Chapel Hill, and Rice University. He has taught writing and literature at Saint Louis University, Boston University, and Southwestern University. He currently lives in Austin, Texas, with his wife and son. He can be reached via his website at www.johnpipkin.com.
Back to Top