The Accidental Reader's Guide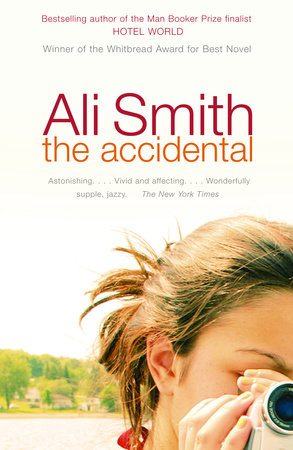 The Accidental Reader's Guide
READERS GUIDE
WHITBREAD AWARD WINNER and a Man Booker Prize, Orange Prize, and James Tait Black Memorial Prize Finalist
"Astonishing. . . . Vivid and affecting. . . . Wonderfully supple, jazzy."
—
The New York Times
The introduction, discussion questions, suggestions for further reading, and author biography that follow are designed to enhance your group's discussion of Ali Smith's extraordinary novel,
The Accidental
, winner of Britain's prestigious Whitbread award.
Introduction
Unhappily ensconced in a substandard summer cottage in Norfolk, England, the Smart family is in a fragile, volatile condition. Eve Smart, author of the bestselling
Genuine Articles
, a series of semifictional accounts of historical figures, is suffering from writer's block. Her husband, Michael, a professor of literature and seducer of students, is finding that his investment in womanizing is paying fewer dividends than before. Eve's son from her first marriage, Magnus, is paralyzed by guilt for his part in a prank that led, unintentionally, to the suicide of a fellow student. And the quirky, angsty, twelve-year-old Astrid is obsessed with filming everything and resenting everyone.
Into this emotional tinderbox comes the bright flame of Amber MacDonald, a barefoot woman in her thirties who is both an outrageous liar and an outrageous truth-teller. Knowing none of the Smarts, she simply walks into their cottage and their lives and stays long enough to explode the thin veneer of normalcy the family has constructed to keep it going. Eve thinks she is one of Michael's affairs. Michael thinks she is here to interview Eve. Astrid thinks she is her mother's friend and is fascinated by her devil-may-care self-assurance and defiance of social convention. Magnus thinks she is an angel come to save him from suicide and deliver him into a new life of sexual bliss. Amber acts as a kind of emotional magnet, pulling each of the Smarts out of their comfort zones and into a dangerous territory where truth and fiction, denial and self-knowledge, habit and change are brought into high tension.
The questions the novel raises are persistent and profound. Why has Amber appeared among the Smarts? Was it an accident that she showed up at their door, or did they unconsciously summon her? Is her affect on them catastrophic or ultimately healing? What is it that holds families together, and what tears them apart?
Written largely in stream-of-consciousness that captures the most subtle emotional fluctuations and self-deceptions,
The Accidental
is a bracingly original and deeply unsettling tour de force by one of Britain's rising literary stars.
Questions and Topics for Discussion
1. Why has Ali Smith chosen The Accidental as her title? What accidents occur in the novel? Are these events really accidents? What are their consequences?
2. What effects does Smith create by telling the story through each family member's point of view? How would the novel have been different if told through a single omniscient narrator?
3. In describing her Genuine Articles, Eve Smart claims that "fiction has the unique power of revealing something true" [p. 82]. How is it that fiction can often deliver deeper truths than nonfiction? What truths does The Accidental reveal?
4. Having dinner with his family, Magnus thinks that "Everybody at this table is in broken pieces which won't go together, pieces which are nothing to do with each other, like they all come from different jigsaws, all muddled together into the one box by some assistant who couldn't care less in a charity shop or wherever the place is that old jigsaws go to die" [p. 138]. In what ways are Astrid, Eve, Michael, and Magnus broken? What has broken each of them? Why don't they fit together?
5. How does Smith capture the angst of early adolescence so vividly in the character of Astrid? What kind of girl is she? What are her most engaging eccentricities? Why does she feel so casually hostile toward the rest of her family? Why is she so captivated by Amber?
6. How is Amber so easily able to ingratiate herself with the Smarts? What makes her such a compelling person for all of them?
7. Amber often tells the truth so directly that she is thought to be joking, as when she comes down to dinner with Magnus announcing that she found him in the bathroom trying to hang himself. Everyone laughs but in fact she is telling exactly what happened. What is the significance of this irony—that the truth, plainly stated, is impossible for the Smarts to believe?
8. Who is Amber? Is she a con artist, a pathological liar, a psychic, a soothsayer, a malevolent force of nature, a witch, an angel? What profound effects, good and bad, does she have on each member of the Smart family?
9. Remembering Bergman's films, Eve asks: "Did dark times naturally result in dark art?" [p. 178]. Do they? Is The Accidental itself a dark novel about a dark time? If so, how so?
10. Why has Smith chosen Smart as the name of the family in the novel? In what ways are they smart and not so smart?
11. Amber appears to bring catastrophe to the Smart family. In what ways could it be argued that she has been good for them? What do they discover about themselves because of her? Have the Smarts unconsciously drawn Amber to them?
12. Magnus tries hard to suppress his feelings about contributing to a fellow student's suicide. He "understands that if he ever let it be known that he feels anything at all, things will fly apart, the whole room will disintegrate, as if detonated" [p. 151]. In what ways is this refusal to feel, to know and acknowledge painful truths, a central theme in The Accidental? Do things fly apart when Magnus begins to feel the consequences of his actions?
13. What does The Accidental say about family life? In what ways are the Smarts both a typical and an atypical family?
14. Why does Smith choose to end the novel with Eve's journey to America? What is likely to happen in the future to the Smart family?
About this Author
Ali Smith is the author of six works of fiction, including the novel
Hotel World
, which was short-listed for both the Orange and the Booker prizes in 2001 and won the Encore Award and the Scottish Arts Council Book of the Year Award in 2002. Her story collections include
Free Love
, which won the Saltire Society Scottish First Award, a Scottish First Book Award, and a Scottish Arts Council Award, and
The Whole Story and Other Stories
. Born in Inverness, Scotland, in 1962, Smith now lives in Cambridge, England.
Suggested Reading
John Banville,
The Sea
; Julian Barnes,
Arthur & George
; Renate Dorrestein,
A Heart of Stone
; Jonathan Franzen,
The Corrections
; Olga Grushin,
The Dream Life of Sukhanov
; Philip Roth,
The Human Stain
; Zadie Smith,
On Beauty
; Leo Tolstoy,
The Kreutzer Sonata
; Virginia Woolf,
Mrs. Dalloway
.
Back to Top