Old School Teacher's Guide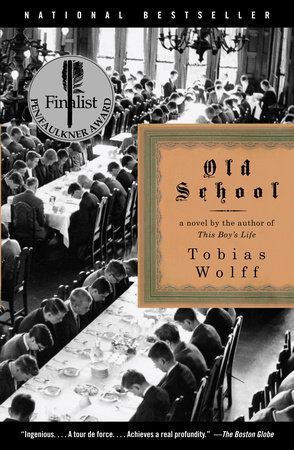 Old School Teacher's Guide
TEACHING GUIDE
NOTE TO TEACHERS
Old School
was a finalist for the 2004 National Book Critics Circle Prize for Fiction, the
Los Angeles Times
Book Prize, and the PEN/Faulkner Award.
Praised upon its publication for this "tale of a paradise gained and lost" and "its study of a young man's emerging character and mind" (
The Seattle Times
, Michael Upchurch)
Old School
is a magnificent, genre-defying coming-of-age novel. The narrator's voice immediately engages the reader, and the themes are as resonant as they are enduring, and certain to inspire lively discussions and thoughtful essays in both high school and college classrooms.
ABOUT THIS BOOK
Old School
is the fictional memoir of an unnamed writer, who wistfully recalls his senior year at an all boys' New England prep school in 1960–61. These are the quiet moments before everything explodes: the Kennedy assassinations; the Vietnam War; the civil rights, antiwar, and women's movements; and most imminently and close to the narrator's heart, Ernest Hemingway's suicide. While the environment of the narrator's school is very insular—Robert Frost's reading at John F. Kennedy's presidential inauguration that year excites the students more than the election itself—there does appear a hint of change even inside their precious walls. The students hear rumors of a headmaster's campaign with the board of trustees to lift the ban on black students; teachers and students contemplate the potential impact "modern consciousness" will have on formal literary conventions; and one student's agnostic beliefs lead to the threat of civil disobedience on campus. However minor these gestures, they signal a sea change even at this "old school."
The era serves as a terrific catalyst for much of the drama in the novel, but many of the subjects that arise in
Old School
are timeless: class consciousness and assimilation; identity and self-invention; competition and envy; admiration and adulation; honesty and deception; authorial intent and reader interpretation; and the ability to discern distinctions between imitation and plagiarism, homage and satire. The narrator is a scholarship student who hides the fact of his class and his partly Jewish roots from the other students. He hasn't even revealed himself to Bill White, his assimilated Jewish roommate of four years, but neither has Bill disclosed his family's faith to anyone. Manner of dress, affectations and gestures, and calculated omissions all provide opportunities for the narrator, his classmates, and even a faculty member to experiment with self-invention. This proves to be a source of agony for the narrator, but his fraudulence is so habitual that he loses sight of who he is, leading to devastating consequences.
Many of the best lessons in this novel emerge from the writing competitions between the boys. As the aspiring writers earnestly clamor for the private audiences of Robert Frost, Ayn Rand, and Ernest Hemingway, respectively, Wolff demonstrates the importance of intent behind their efforts. George Kellogg writes a poem that wins a private meeting with Frost. His work echoes that of the famous poet and is meant as a tribute. But Frost interprets the homage as a parody and is by turns impressed and amused, a fact that distresses Kellogg and causes him to consider sacrificing his meeting with the great man of letters.
In his new resolve to present himself honestly, the narrator ironically finds himself appropriating a story written by a female student at a nearby school, which wins him an audience with his idol, Hemingway. The woman's story—"Summer Dance," about a Jewish girl from a modest home who covets privilege and conceals the facts of her life to be near it—resonates so deeply with him that he types it up, makes a few changes, and comes to believe it's his own. There is merit to his claim: the predicament of the story's protagonist is not unlike that of our narrator, and both are motivated by shame. But the narrator has shown us that he can draw on his own experiences to write honest literature when he wrote (and quickly suppressed) a poem portraying certain unglamorous elements of his own life. The narrator can't bear to lay claim to it, let alone submit the poem for publication or a contest. Until he encounters "Summer Dance," the narrator, like many of his classmates, hides behind style and imitation, which allow him to suggest he is someone else. Years later, the narrator meets the author of "Summer Dance," who believes he committed plagiarism as a hoax, with the intent of humiliating Hemingway and the faculty of the narrator's school, to make a larger statement about gender and authorship.
There is an intriguing coda to this novel, a story about Dean Makepeace, who, according to school legend, is an old war buddy of Ernest Hemingway's. Makepeace never makes this claim, but neither does he deny it. This last section, entitled "Master," lays out a pattern of omissions and unspoken suggestions that culminate in the question: Are you guilty of deceit, even if you have never actually articulated a lie?
ABOUT THIS AUTHOR
Tobias Wolff lives in northern California and teaches at Stanford University. For over twenty years, Tobias Wolff has published award-winning memoirs, short stories, and a novella, and he has received the Rea Award for excellence in the short story, the
Los Angeles Times
Book Prize, and the PEN/Faulkner Award.
Old School
is his first novel.
TEACHING IDEAS
Use this novel as a companion with lessons on Robert Frost, Ernest Hemingway and/or Ayn Rand. It may help students appreciate these writers even more, and in turn, appreciate the narrator's admiration for them. Discuss Tobias Wolff's portraits of these authors—do they ring true to what you know of them, based on their works? Is the narrator's admiration, and in some case, idolization of these authors deserved? Are there authors writing today who are as captivating to young readers as those beloved by the narrator? If so, who are they, and how do they compare?
DISCUSSION AND WRITINGUnderstanding the Story
Class Picture
1. The unnamed narrator yearns for the attention of renowned writers. What does he want to get from them? (7)
2. As an editor of his school's literary magazine,
Troubadour
, and a serious contender in the school's writing contests, the narrator is especially critical of his fellow students' literary talents. Why does he reserve his harshest criticism for
Troubadour
editor George Kellogg? (9-11)
3. What does the narrator mean when he proclaims about the students that "class was a fact"? What are some of the indicators he cites to discern between boys who come from old money and boys who hail from a more modest background? (15-16)
4. Why does Gershon, the school handyman, become so upset with the narrator? (17) What is the "Horst Wessel Song"? (20)
5. What do we learn about the narrator after his confrontation with Dean Makepeace? (22) Why doesn't he reveal this fact about himself to anyone? (23)
On Fire
6. Why is smoking banned at the school? (29-30)
7. What, or who, causes the fire on campus? (33-34)
8. The narrator writes a poem for the Robert Frost contest that evokes a heroic
fireman's disappointment as he returns to the squalor and din of his apartment the morning after a major blaze. The narrator reconsiders his choice, instead submitting his "elk-hunter" poem. Why does he do this? What doesn't he like about his fireman poem? (36)
Frost
9. Robert Frost selects George Kellogg's poem, "First Frost," as the winner of the school's literary contest. Why, then, is George so distressed? Do you think he has reason to be? Explain. (39-41)
10. Purcell and the narrator engage in a discussion about the merits of Frost's poetry. What is Purcell's argument against Frost's work and the poems written in his tradition? (44)
11. The narrator refers to the "Ginsberg-Ferlinghetti crime family." Who are they, and why does the headmaster consider them to be so threatening to literature? (46-47)
12. Mr. Ramsey asks Robert Frost if form could ever give way to "more spontaneous modes of expression, even at the cost of a certain disorder" to articulate modern consciousness. Frost retorts that it all sounds like "a grand excuse for all manner of laziness." Do you think Mr. Ramsey has a point? Do you think a concept like "modern consciousness" gives writers permission to take a more creative approach to the tenets of good writing? Or is this an example of a generation gap? (51-53)
13. George briefly considers giving up his private meeting with Robert Frost. Based on what you know of George so far, do you think this is a gesture of honor? Or cowardice? (54-55)
14. Robert Frost tells George he is wasting his time in school and advises him to go to Kamchatka or Brazil. What do you think the poet meant to convey to the young writer? (59-60)
Übermensch
15. Why is the narrator initially dismissive of Ayn Rand's novel
The Fountainhead
? What changes? (64-65)
16. What does the narrator discover about himself as he reads
The Fountainhead
? What about people like his Grandjohn and Patty fills him with contempt? (68—69)
17. Why did Ayn Rand like Big Jeff's story, "The Days the Cows Came Home"? Do you believe her literary criteria differ from those of other writers who judged these contests, and if so, how? (78-79)
18. Who is Ayn Rand's favorite writer (aside from herself), and why? (84-85)
Slice of Life
19. Why does the narrator become disillusioned with Ayn Rand? (91-94)
20. What does Ayn Rand say about Ernest Hemingway and his characters that "[jolts the narrator] into taking sides"? (97-98) Why does he love Hemingway, both the man and his work? (96-98)
21. What does the narrator expect to accomplish by typing out Hemingway's stories? (98-99)
The Forked Tongue
22. Why does Purcell refuse to enter the doors of the chapel? (105-106) How does the narrator perceive his friend's elective absences from the chapel and the looming threat of his expulsion? Is he worried about Purcell's future? Why or why not? (107)
23. Why is the narrator eager to go to Columbia University in New York City and not Yale or Princeton like his classmates? (108-109)
24. How does the narrator justify his "expository lies" in his writing? (110-111)
25. The narrator describes his four-year friendship with his roommate Bill White with a sense of regret. What did he want from their relationship? (118)
26. Why do the editors of
Troubadour
ultimately decide to publish "The Forked Tongue" by Buckles? What realization does George Kellogg have about all of their literary talents? (120-121)
27. The narrator is deeply moved by a story he reads in a literary magazine published by sister school Miss Cobb's Academy entitled "Summer Dance." What is it about the story by Susan Friedman that resonates with him so profoundly? (123-126) And why does he appropriate her story as his own? (127)
When in Disgrace with Fortune
28. Why was the narrator disappointed with the way Hemingway responded to "his" story in the interview as it appeared in the school newspaper? (135-136)
29. The narrator genuinely seems bewildered when he is confronted with accusations of plagiarism. Why does he initially lack remorse? (143) Do you believe he has really forgotten he is not the story's author? Explain.
30. Does his crime threaten the reputation of his graduating class and of his school? Why or why not? (143-144)
One for the Books

31. Five years after the narrator is expelled from prep school, he seeks out Susan Friedman, the author of "Summer Dance." Why is she quick to forgive him for plagiarizing her story? (157-162)
32. What reason does Susan give for not pursuing a writing career? Does this discourage the narrator's own literary ambitions? (163)
Bulletin
33. Why is the narrator resistant to accept an invitation years later to return to his old school as a visiting writer? (168-169)
Master
34. What was Dean Makepeace's connection (or lack thereof) to Ernest Hemingway? How did students come to think the two men were friends and how did Makepeace perpetuate this myth? (179-183)
35. What bothered Dean Makepeace about the writing competitions? (186)
36. Why did Dean Makepeace choose to resign rather than expel the narrator? (187-188) Do you think Dean Makepeace was guilty of fraudulence?
Themes for Discussion
1. What do you think the title "Old School" means?
2. Why do Bill White and the narrator feel compelled to conceal their Jewishness from their classmates and each other? Does there appear to be anti-Semitism on campus? Or is it about fitting in?
3. The students compete with one another, using their wit and their pens to win the affections of their teachers, publication in
Troubadour
, and ultimately, an audience with their favorite writer. Do the literary ambitions of the contenders seem genuine to you, or is writing a kind of varsity sport at this particular school? Do they seem to understand the writing process, or are they romanticizing the idea of a life of books? Who among the contenders do you expect to pursue a literary career and why?
4. George Kellogg confesses to the narrator that he has considered backing out of his private meeting with Robert Frost because of the poet's misreading of his poem. The narrator suggests he would happily take George's place, rather than let a chance like that go to waste. If George did back out, would the narrator be wrong to take the meeting? Does either of them deserve an audience with Robert Frost?
5. When the narrator is accused of plagiarism, he loses all of his opportunities for a pedigreed literary career: his audience with Ernest Hemingway, his prep school diploma, entry into Columbia University. Instead, he moves to New York City, works a string of odd jobs, enlists in the army, and does a tour of duty in Vietnam. In a way, he has inadvertently taken the advice Robert Frost meant for George Kellogg. Is formal education essential to becoming a good writer? Is life experience? What does a young writer need to succeed?
REVIEWS
"It is interesting that so modest, so resolutely un-self-aggrandizing a writer as Wolff should be so adept at capturing the nuances of authorial vanity . . . [The novel's] point, which is that telling the truth in fiction—or, more generally, in writing—is both logically impossible and morally essential . . . mirrors Wolff's own passionate ambivalence about the craft he has practiced so long and so well." —A. O. Scott,
The New York Times Book Review
"Not a word is wasted in this spare, brilliant novel about the way that reading changes and forms our lives, and about how one learns to become a writer—and a conscious human being." —Francine Prose,
People
"A compact marvel of a book, with its tale of a paradise gained and lost, its study of a young man's emerging character and mind, and its look at the subtlest workings of class-consciousness and prejudice in an idyllic, ideal-driven setting. [
Old School
] takes as its subject the slippery nature of truth and fiction, honesty and dishonesty, sound judgment and seductive delusion. As such, it couldn't be bettered." —Michael Upchurch,
The Seattle Times
"The novel's candid, retrospective narration ruefully depicts its protagonist's retreat
further and further behind his public façade. . . . Beneath its staid trappings, this is a sharply ironic novel, in which love of literature is counterbalanced by bitter disappointment. . . . A delicate, pointed meditation on the treacherous charms of art." —
Publishers Weekly
, starred review
BEYOND THE BOOK
Suggestions for Writing and Discussion
1. Write a poem or a brief short story in the tradition of your favorite writer. Then switch works with a classmate and write an essay or assess together in the classroom whether the works read like homage or satire, and explain why.
2. Research a recent plagiarism case in the news, preferably one that entails a fiction writer or memoirist. Write an essay or discuss in the classroom the details of the case, compare it to the narrator's predicament, and explain the distinctions between derivation, imitation, and plagiarism.
3. Write an essay about a person in your life who has reinvented himself or herself through a lie, deliberate omission, exaggeration, or other means and explain how learning the truth (by their admission or your discovery) changed your feelings about them. Consider such questions as: Did circumstances warrant the dishonesty? Is it ever acceptable to conceal or invent details about your life? Did the betrayal or deception cause you to distrust that person forever? Were you able to forgive him or her?
OTHER TITLES OF INTEREST
The Chocolate War
by Robert Cormier
The Palace Thief
by Ethan Canin
Poetry of Robert Frost: The Collected Poems, Complete and Unabridged
by Robert Frost
A Farewell to Arms
by Ernest Hemingway
A Moveable Feast
by Ernest Hemingway
For Whom the Bell Tolls
by Ernest Hemingway
In Our Time
by Ernest Hemingway
A Separate Peace
by John Knowles
The Fountainhead
by Ayn Rand
Atlas Shrugged
by Ayn Rand
The Catcher in the Rye
by J.D. Salinger
This Boy's Life
by Tobias Wolff
In Pharaoh's Army
by Tobias Wolff
ABOUT THIS GUIDE
This Teacher's Guide was written by Kera Bolonik. Kera Bolonik is a book critic,
essayist, and freelance editor
COPYRIGHT
Copyright © 2004 by Vintage Books
Knopf Academic Marketing
1745 Broadway, New York, NY 10019
www.randomhouse.com/academic
Back to Top