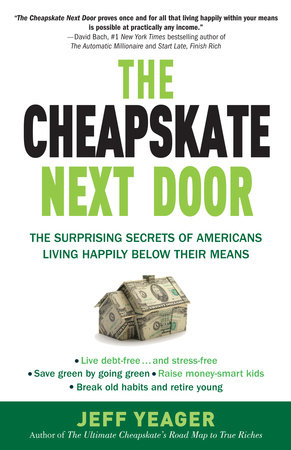 The Cheapskate Next Door
Best Seller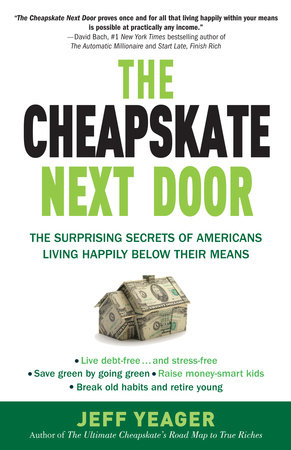 Jun 08, 2010
|
ISBN 9780767931328
YOU MAY ALSO LIKE
QUICK VIEW
The Wall Street Journal. Personal Finance Workbook
Ebook
$4.99
QUICK VIEW
The Ultimate Cheapskate's Road Map to True Riches
Paperback
$12.95
QUICK VIEW
Cash in a Flash
Ebook
$8.99
QUICK VIEW
America's Cheapest Family Gets You Right on the Money
Paperback
$18.00
QUICK VIEW
Debt Free For Life
Ebook
$13.99
QUICK VIEW
All the Money in the World
Paperback
$17.00
QUICK VIEW
Clark Howard's Living Large in Lean Times
Ebook
$6.99
QUICK VIEW
Girl, Make Your Money Grow!
Paperback
$15.00
QUICK VIEW
The Wise Inheritor
Paperback
$19.00
QUICK VIEW
Heads I Win, Tails I Win
Ebook
$6.99
Praise
Reading THE CHEAPSKATE NEXT DOOR is like looking in the mirror on a very good hair day – I see myself and I like what I see. the mirror, of course, is the passel of stories Jeff serves up with good humor about cheapskates like me from around the country. I see myself in almost every one of his 16 Idiosyncrasies of the Cheapskate Mind. I've dump picked, cherry picked yard sales, carefully picked every purchase, always for a fraction of retail. Like my Cheapskate clan, I'm a bit smug about it all – feeling smart rather than deprived – especially in this recession that has barely affected my financial peace of mind. Jeff is the consummate troubadour for our clan. If you don't save 10 times the amount you spend on this book, you probably didn't read it." – Vicki Robin, author of Your Money or Your Life
 
"I loved this book and couldn't put it down, it is an absolute must-read.  Jeff puts the fun back in frugality with entertaining insights from "cheapskates" all over the country, sharing their secrets on how to live happy, less-stressful lives on the cheap…I think everyone in the country should read this book." —Stephanie Nelson, founder www.CouponMom.com and author of "The Coupon Mom's Guide to Cutting Your Grocery Bills in Half"
 
"Jeff Yeager has a way of unleashing the inner cheapskate in us all!" – Jean Chatzky
 
"I've written that there are three basic ways to finish rich: spend less, make more, save more. Jeff Yeager has discovered a whole class of happy Americans who pride themselves on mastering the 'spend less' part of the equation. The Cheapskate Next Door proves once and for all that living happily within your means is possible at practically any income." — David Bach #1 New York Times Bestselling author of The Automatic Millionaire and Start Late, Finish Rich
 
"Jeff Yeager's research and cross-country cheapskate quest uncovered a truth few Americans know: Not only can you be happy buying less stuff, you would likely be happier. Who are these people who opt out of the consuming rat race? They are The Cheapskate Next Door. For them, spending less is not about deprivation; it's about liberation. And Yeager will tell you all about them — and their secrets — in his usual conversational and humorous style.
 
A must-read for those who want to jump off the consumer treadmill and discover what's really important." –Gregory Karp, syndicated newspaper columnist and author of Living Rich by Spending Smart and The 1-2-3 Money Plan

"Whether you are a born penny pincher or merely cheapskate-curious, you're bound to learn something from the Cheapskate Next Door." — USA Today

"The Cheapskate Next Door" by Jeff Yeager, suggests that the simplest solution is to live substantially below your means. Let's deal with Mr. Yeager's book first, because it is the better of the two. One reason is that Mr. Yeager, a former executive with a nonprofit association who now writes about saving money and runs Ultimatecheapskate.com, is so amusing.
Here's one quick example: Conceding that he may have taken the idea of skimping on new clothing too far, Mr. Yeager tells what he says is a true story about arriving early for a book signing to which he had traveled by bicycle. (Driving costs you money in gasoline and depreciation.)
"I was dressed as I usually am when I am cycling, in ratty-looking shorts and a faded T-shirt," from a 1978 rock concert, as it turns out, he says. "I decided to take a few moments to relax before the signing, so I sat down on a park bench outside the bookstore with my trusty but tattered 10-speed" next to him.
"A nicely dressed older woman walked up to me, opened her purse and tried to hand me a $10 bill, saying, 'You poor man, you look you could use some help.' "
Mr. Yeager was at that book signing promoting his previous book, "The Ultimate Cheapskate's Road Map to True Riches."  In that one, he offered his personal money-saving tips like these: Never spend more than $1 a pound for meat at the supermarket — advice that leads him to eat such things as beef hearts and kidneys — and always rummage around in couch cushions at hotels for loose change. ("Those things are like upholstered A.T.M.'s.")
This time around, he talks to his fellow cheapskates, a moniker they wear with pride, about their money-saving ideas. Many of their tips are clever twists on the conventional.
For example, cheapskates always refinance their homes — when it makes sense. First, they make sure the length of the new mortgage is less than the years remaining on the old one. If they have 19 years to go on their old mortgage, for example, they get a 15-year mortgage when they refinance. That way, they will own the house free and clear four years earlier. And it goes without saying that they buy substantially less house than they can afford. Not only is the purchase price less, but so are the taxes and the upkeep.
But some of the suggestions are unsettling. Mr. Yeager introduces us to people who don't think twice about grabbing uneaten food off the adjacent restaurant table, once those diners have paid their check, and people who find nothing wrong with "Dumpster diving" for food that supermarkets have thrown away.
Mr. Yeager doesn't judge. He uses all the examples to support his "heartfelt belief that most Americans would be happier, and the quality of their lives would actually increase, if they would spend and consume less." — New York Times

"Ah, yes, belt-tightening is the procedure of the day, from how giant businesses conduct themselves to
managing one's own personal finances. It is the latter aspect of conservative spending that the author of
the popular Ultimate Cheapskate's Road Map to True Riches (2007) and of the blog Green Cheapskate
addresses in this delightful—yes, delightful—guide for me, you, and everyone else. Personal finance is a
universal concern, particularly in these tight economic times. It is a topic that people need to know about
but still shy away from. Yeager is here to draw you in and does so easily. He does not use the term
"cheapskate" in a pejorative fashion; after all, he lists himself as one and wishes that all his readers would
aspire to cheapskateness. A cheapskate to him is someone who lives below his or her means and does so
happily. How to spend less than you are spending now is the program he details; the amazing fact about
this book is that in addition to his instructions making perfect sense, like no other book of its kind, this one
can be read simply for the humor of the author's prose." – Booklist, starred review

"…Jeff Yeager, the author of The Cheapskate Next Door: The Surprising Secrets of Americans Living Happily Below Their Means (Broadway), doesn't care how he looks, and wants his book to bring out everyone's "inner miser." Believing that "money really has very little to do with true happiness," he traveled across the country to meet likeminded skinflints, a journey he tracked on his blog, the Green Cheapskate. Everywhere he found contented families who prospered on small incomes. Parsimonious parents — loving but never lavish — let their kids know early on that they'd be paying their own way through college. Others made paper from dryer lint or stretched grocery dollars by turning dumpster scraps into canapés. All of them adhered to a strict household budget. The result of Mr. Yeager's wanderings is a compendium of shrewd steps toward financial security that surely would work for anyone capable of obeying his principal rule: "Figure out what your take-home pay is, and then make it a point to spend less than that every month." —New York Times
Get the latest updates about Jeff Yeager
And go from well-read to best read with book recs, deals and more in your inbox every week.
And go from well-read to best read with book recs, deals and more in your inbox every week.
Dismiss
Thanks!
Something awesome is on its way.
Back to Top
Become a Member
Start earning points for buying books! Just for joining you'll get personalized recommendations on your dashboard daily and features only for members.
Find Out More
Join Now
Sign In
Success!
Your account has been created. Upload book purchases, access your personalized book recommendations, and more from here.