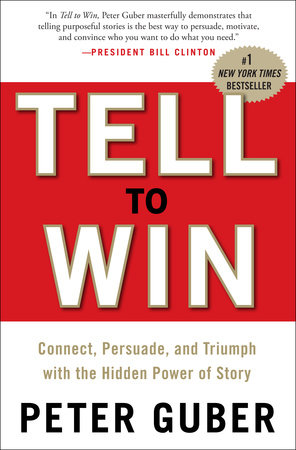 Tell to Win
Connect, Persuade, and Triumph with the Hidden Power of Story
Connect, Persuade, and Triumph with the Hidden Power of Story
Connect, Persuade, and Triumph with the Hidden Power of Story
By Peter Guber

By
Peter Guber
By Peter Guber

By
Peter Guber
By Peter Guber
Read by
Patrick Egan
By
Peter Guber


Read by

Patrick Egan




Best Seller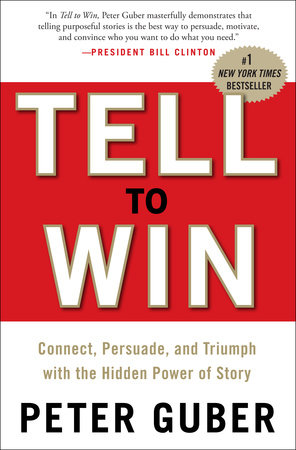 Mar 01, 2011
|
ISBN 9780307587954
Buy the Audiobook Download:
Inspired by Your Browsing History
Buy other books like Tell to Win
Praise
"In Tell to Win, Peter Guber demonstrates that telling purposeful stories is the best way to persuade, motivate and convince who you want to do what you need."
–President Bill Clinton

"Tell to Win gives great insight into why good storytelling skills are essential for a successful leader. It's both an engaging read and a great practical guide on how to listen, prepare and marshal facts to tell the right kind of story to the right audience."
–Robert A. Iger, President and Chief Executive Officer, The Walt Disney Company

"Peter Guber has a deep understanding of the lure of story and its capacity to transform…Inhale this book so that you may breathe energy and purpose into the lives of others."
–Muhammad Yunus, Winner of the 2006 Nobel Peace Prize, author of Banker to the Poor

"If anyone knows how to survive in business, it's Peter.   This book is a manual for that.  It gives you the two keys to success — first, everything starts with a good story, and second, don't drop names (actually Frank Sinatra told me that)."
–George Clooney

"Incredibly insightful…gets to the heart of why some entrepreneurs who start with a pile of money fail utterly and why others who begin with nothing succeed spectacularly.  It's not enough to have a vision or even talent.  You need to get others to see the world through your eyes, to buy into your dream…Peter Guber understands that, and in this book he shows you exactly how to do it."
–Ian Schrager, Chairman and CEO of Ian Schrager Company, and Co-Founder of Studio 54

"I wish I had this book when I was starting out, trying to break through.  It's not just a business book, it's a life book.  Buy it, and you'll hit all the right notes."
–Quincy Jones, Winner of 27 Grammy Awards

"For too long in our offices and boardrooms, story has been a mysterious and misunderstood force. Now Peter Guber draws on four decades of success to reveal [its] secrets…Whether you're running a business or navigating a career, Tell to Win is the ultimate guide to enlisting the power of narrative to do good and do well."
— Daniel H. Pink, New York Times bestselling author of Drive and A Whole New Mind

"With this book's fresh and helpful insight into how the best stories are crafted and delivered, you too, like Peter Guber, can become a storytelling virtuoso."
–Roger Ailes, Chairman and CEO, Fox News

"Every great business has a great story to tell. The businesses that realize their potential are the ones that figure out how to tell their stories well. When everyone—from executives to entry-level employees, from partners to customers and clients—understands and embraces their role in a company's narrative, success isn't just possible; it's inevitable. Tell to Win is astonishing, a lifetime of sharp insights and invaluable takeaways distilled into a couple hundred pages of pure gold."
—Hilary Schneider, Former EVP, Americas Region, Yahoo!

"An absorbing read.  The central concept is powerful. Guber shows that carefully crafted story telling can transform your ideas into action, win the day, and even move a few mountains."
–Tim Kelly, President of Global Media Group, National Geographic

"I couldn't put Peter Guber's new book down.  It reads like a novel, entertains like a movie, and yet manages to hammer home a message everybody should take to heart."
–Al Ries, co-author of Positioning and War in the Boardroom

 "Exceptionally well done… If your goal is making a difference, this is a book you'll want to own."
–Dr. Mehmet Oz, co-author of the New York Times bestseller You: The Owner's Manual

"Offers some of the best advice money can buy…Guber is particularly good at spotting patterns, and through his eyes, we come to see that behind every success there's a good story lurking.  How we, in turn, can create such stories is the great reward of this book."
— Frank Cooper, Chief Consumer Engagement Officer, PepsiCo Inc.
"Wonderful…packed with stories [that] make the point that whatever you're trying to do in life, it's vital to be able to tell a good story."
—Financial Times

"Guber throws off ideas the way a storm hurls bolts at the prairie…a surprisingly self-aware tour."
—New York Times

"Brisk and readable…This valuable and inspiring book will help readers deliver an authentic and meaningful story to customers, colleagues or prospective clients."
—Publishers Weekly
 
"Excellent advice…Guber is always entertaining and the book never flags, even while offering some of the soundest and most practical tips you will get from any business book this year."
—The Financial Times

Back to Top